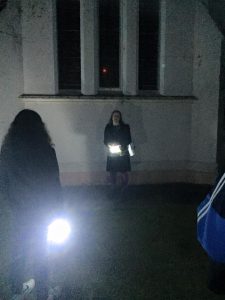 Local business Haunted Hills Tours has recently expanded east to the pastoral and agricultural community of Rosedale to explore the town's historical relevance. Friday October 28th was the inaugural tour in which owner and guide Tegan Dawson recounted stories and anecdotes of past events spanning over a century. With twelve people in toe including a few resident business owners, we set off into the night to explore some of Rosedale's lesser known history pertaining to crime and other significant moments. From one pioneering immigrant who built much of the town's landmark structures, to one woman's unglamourised task of collecting bed pans, it was the insight into the lives of numerous individuals that garnered much respect and admiration.
As the sun began to set tales took on a darker tone with themes of malpractice, injustice and loss recurring the most. While some stories related mostly to petty crime and small town shenanigans, others provoked a vocal reaction from those in attendance such as the spontaneous act of a gun wielding youngster and the unlawful practice of a local doctor. Atmosphere was at its height with bats and other creatures of the night being heard in the trees above as we approached a chapel which was an ominous sight in the fading light.
The evening came to an end with a brief epilogue in relation to Rosedale's contribution to horse racing both locally and nationally, the crown jewel of its many sporting achievements. I walked away from this enlightening tour with a greater sense of what the quite rural community represents and the value of the countless accomplishments that have occurred over the decades.
For more information on Haunted Hills Tours please visit hauntedhillstours.com.au
You can follow cinematic randomness on Twitter and Facebook where you'll find all my cinematic exploits. Thank you!