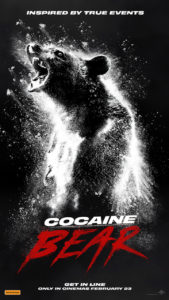 After a six-month hiatus from my local cinema, fear of missing out and wanting to see something not associated with the 'Awards Season' brought me to Cocaine Bear; an outdoorsy black comedy about an equally black bear that unintentionally ingests some Columbian nose candy. As a result, a subsequent bloody rampage ensures. 
Set in 1985 and loosely based on a true story, an assortment of characters converge at the Chattahoochee National Forest in Georgia for various reasons, but all encounter the out-of-its-mind high apex predator.
Directed by Elizabeth Banks, who co-produces the film along with Phil Lord and Christopher Miller, we have a trio who clearly share the same mindset as they embrace the absurdity and give the audience what they want; a popcorn flick with no agenda or any whiff of political correctness, and a subtle jab about at Wikipedia being a "reliable" source of information. I think their approach is comparable to what Tom McLoughlin brought to Jason Lives, which has a simple and signal message of 'have fun', which is very much the case during a hilariously frantic scene involving two paramedics and one inept park ranger, played by Margo Martindale.
Cocaine Bear is violent but not overly gory; in fact, it's cartoonish in that regard, with torn-off limbs thrown to the ground and accident gunshot wounds. Although, I suspect there will be an extended cut once the movie hits home media as I got the impression more transpired along our character's deathly walk in the wood. Speaking of which, our ensemble cast features a mixed variety of actors, including the late Ray Liotta in his last film role, who plays a patriarchal drug dealer desperate to retrieve what's left of the cocaine. Alden Ehrenreich plays his grief-stricken son, who has a good likeness to Liotta, while Kerrie Russell is a worried mum, looking for her young daughter, played by Brooklynn Prince. Remember her in The Florida Project? That was six years ago already.
Cocaine Bear brings the 80s vibe, but not in that usual hyper sense we've seen recently, it adds to the enjoyment and gently reminds us of what was cool about the decade, while the film may not be your cup of tea, you can can't the fact that it was mad in good spirits.
COCAINE BEAR
(2023, director: Elizabeth Banks)
★★★★
production stills courtesy of Universal Pictures 
You can follow cinematic randomness on Twitter and Facebook where you'll find all my cinematic exploits. Thank you for visiting!