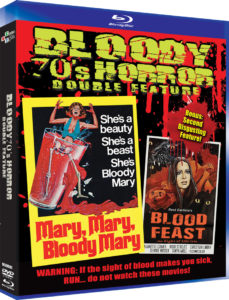 Quite the literal title, but every word piques my interest, '70s Horror' especially: Bloody 70s Horror Double Feature, available on Blu-ray & DVD from VCI Entertainment, presents two Mexican cult movies, Mary, Mary, Bloody Mary and Blood Feast, both of which live up to their name.
Contrary to the folklore legend of the same name, our first title or 'A' feature if you like, follow Mary, a talented artist with an unquenchable thirst for human blood, which she tries to satisfy in a small Mexican fishing town. While clearly vampiric in nature, the word is never used as Mary's condition seems to resemble more of a malady rather than something born of evil. Speaking of which, John Carradine makes an appearance as an elderly bloodsucker, 28 years after playing Dracula for Universal. Mary is played rather sympathetically by the film's attractive star, Cristina Ferrare, as she so desperately tries to live a normal existence, which includes a romance with a handsome American fellow (David Young). Unfortunately, our lead's unusual and very primal need for blood ultimately takes precedence. Mary, Mary, Bloody Mary is not scary by any means, but it's highly seductive with an elusive sense of mystery that leaves audiences wondering, and of course, it's as bloody as advertised. If you like unconventional 'Vampire Movies' with a touch of erotica, this will more than suffice.
Blood Feast on the other hand was a bit of a laugh, although not intentionally and I'm not being critical either. At only 63 minutes in length, this Hammer Horror imitation stars the original Hugo Stiglitz as a man very impressed with himself, named Hugo of course. He spends much of the movie hovering over the homes of attractive women in his private chopper, which is apparently a perfectly normal thing to do in Mexico City. However, his main jam is collecting the heads of the ladies, after he's had them in his bed. What about the leftovers, you ask? Well, they get fed to the hundreds of cats in his macabre castle. Hugo even has a mute and mentally deficient assistant in his employ. Although, I doubt he's paying him. Blood Feast is a little clunky and illogical, yet perfectly wired; and while Mary, Mary, Bloody Mary is technically the better film, the B-side to this Blu-ray double is more entertaining.
VIDEO AND AUDIO
VCI hasn't disclosed much on the mastering of this dual HD presentation, but like the many releases from this region of cult cinema, both movies look impressive with a raw quality synonymous with drive-in theatres. PCM Mono sound is naturally a little flat, but serviceable and optional English substiles are included. Both the Blu-ray and DVD are region-free encoded.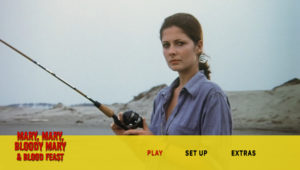 SPECIAL FEATURES
Mary, Mary, Bloody Mary – Video Essay with Film Historian Dr. David Wilt (42 Minutes)
Blood Feast – Video Essay with Film Historian Dr. David Wilt (44 Minutes)
Trailers
VCI have commissioned film historian and Mexican cinema aficionado, Dr. David Wilt, to give a very detailed and informative breakdown of both films, even proudly showing off his VHS copy of Blood Feast; the sign of a true fan indeed. What's interesting is that while these two very obscure cult titles appear to exist far outside the Hollywood spectrum, Wilt kind of plays a game of 'six degrees of separation' linking the movies to more prominent filmmakers.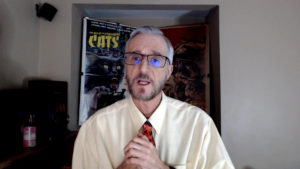 I hope there's more of this stuff to come from VCI, who is gaining a lot of momentum with their recent batch of releases, and even if much of it is considered low-brow, I feel that watching titles like Mary, Mary, Bloody Mary and Blood Feast help curb film snobbery and take us back to the fundamentals of watching and enjoying movies.
MARY, MARY, BLOODY MARY & BLOOD FEAST  
(1972 & 1975, director: Juan Lopez Moctezuma & Rene Cardona Jr.)
★★★½
direct blu-ray screen captures
You can follow cinematic randomness on Twitter and Facebook where you'll find all my cinematic exploits. Thank you for visiting!