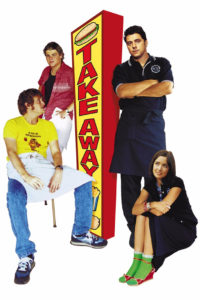 We all have our favourite 'Fish & Chips' takeaway, whether it be the modest corner shop or a more up-market establishment in the suburbs. For generations they've been the social hub for many communities; it's where you go to get the latest gossip and of course, an oil-soaked parcel of deep-fried gold. In this fast food-oriented comedy, Take Away, two shop owners maintain a long-standing rivalry in outer Melbourne. Trev (Stephen Curry) is known for his burgers, with a traditional approach to his cuisine and a very relaxed attitude towards food and personal hygiene. His more health-conscious counterpart, Tony (Vince Colosimo) is a hard-working self-motivator who strives for excellence in his beloved field of rapidly prepared fish and chips. However, with the unexpected arrival of a Hungry Jacks-style fast food chain called "Burgies", Trev and Tony reluctantly join forces to try and save their business before being crushed by the corporate competitor.
Opening with a scene that depicts its humble origins, Take Away is an amusingly accurate presentation of the characteristics and quirks of the Aussie fast food experience; all with a nice side order satire aimed at the rather callous nature of a national franchise. Tony and Trev have chemistry and share a fun dynamic as they regularly 'hang shit on each other', and there's a feeling of community among our protagonists. More or less dismissed as cheap comedy, Marc Gracie's direction doesn't reflect this sentiment, in fact, it's a well-made film, with some nice comedic camera work. Supporting players, namely Nathan Philips and a pre-Hollywood Rose Byrne are a measured counter to their respective bosses while Matthew Dyktynski, known simply as Bergies Manager is clearly having a fun time playing the villain. Take Away likely won't find a place among Australia's best films, but the affection and summer vibe brings me back again and again.
TAKE AWAY
(2003, dir: Marc Gracie)
★★★½
You can follow cinematic randomness on Twitter and Facebook where you'll find all my cinematic exploits. Thank you for visiting!