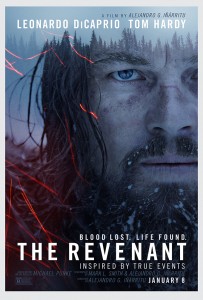 With the Oscars steadily approaching many of us movie fans embark on the frantic race to see as many Best Picture contenders before Hollywood's biggest night. The latest one I ticked off my list was 'The Revenant', which tells the story of Hugh Glass, a famed frontiersman who is left for dead after a vicious bear attack by the members of his party while on a fur trading expedition in the northern Louisiana territory during 1823.
The tall tales of legendary Mountain Men have for generations been etched in America's psyche, brought to life thanks to the grand scope of cinema on numerous occasions; most famously the Sydney Pollock classic, 'Jeremiah Johnson' from 1972, which stared Robert Redford. While 'The Revenant' takes a more realistic approach, there are still moments that defy belief, staying true to the myth. Recurring visions and dreams are factored into the film's story, bringing a spiritual subtext reminiscent of 'Gladiator'. However the frequency may take viewers out of the action. Seamlessly shifting back and forth from terrifying perspective shots to a much broader view, impeccable camera-work hurls the viewer amongst the chaos and gun-wrenching savagery. Director Alejandro G. Iñárritu encompasses the agony of both psychical and mental pain through a cast of diverse characters as they navigate the harshest of environments while avoiding relentless adversaries. Leonardo DiCaprio's performance as Hugh Glass is one of tremendous endurance and hardship. He not only personifies the film's central theme of revenge but the length of a parent's love. Will he win an Oscar for Best Actor? Probably, but I really wish he had won for playing Jordan Belfort in 'The Wolf of Wall Street'. Also I must acknowledge the exceptional performance from Will Poulter, who out of the entire supporting cast was by far the most relatable to the audience, while displaying a number of admirable attributes.
If you have the chance to see 'The Revenant' in theatres by all means do so. It doesn't need to be seen on the big screen although it certainly enhances the overall experiences, especially in regards to the breathtaking cinematography, and the wintry chill is a nice distraction from the blistering heat.
THE REVENANT
(2015, dir: Alejandro G. Iñárritu)
★★★★
You can follow cinematic randomness on Twitter and Facebook where you'll find all my cinematic exploits. Thank-you!