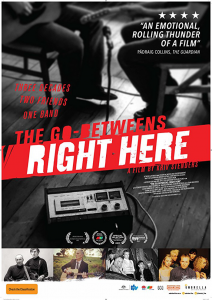 There's no comparison between my knowledge of movies and music. In fact, pretty much everything I've learned about the latter has come from watching various films throughout my life; which is why I can't champion The Go-Betweens: Right Here enough as a documentary feature that is both captivating and educational in equal measure. From seasoned director Kriv Stenders, audiences are taken on an intimate journey from formation to the turbulent highs and lows of what was possibly Australia's most underappreciated bands, The Go-Betweens, which sprung from Brisbane in the late 1970s.
Watching this 100-minute feature felt almost surreal as the narrative behind what was a such a unique micro-hive of creativity ultimately failed to reach that upper echelon of the music industry, never scoring a No. 1 hit on the charts. While members of the band each reflect on their own personaly experience, for the most part fondly, there's a sentiment that not all were on the same page, only by assumption and quite possibly illusion. Go-Betweens co-founder Robert Forster is positioned as the film's central figure, who speaks very candidly about not only the band's history, but his creative partnership with fellow co-founder and close friend Grant McLennan, who's untimely passing in 2006 still resonates strongly with all who knew him. They were a musical duo with a recipe for success, marred by huge egos that lead to squandered opportunities and decisions, which left other members, mainly drummer and violinist Lindy Morrison and Amanda Brown respectively feeling undervalued and momentarily betrayed. Undeniably the most remarkable aspect of the Go-Betweens story, one that Stenders explores in fascinating detail.
One could argue that The Go-Betweens: Right Here is a case study of a band on the cusp of superstardom, but was never embraced by the mass market, despite widespread admiration and respect for their peers and critics alike. You'll be left baffled, yet grateful and enlightened for being given the complete comprehensive story.
THE GO-BETWEENS: RIGHT HERE
(2017, dir: Kriv Stenders)
★★★★½
You can follow cinematic randomness on Twitter and Facebook where you'll find all my cinematic exploits. Thank you for visiting!