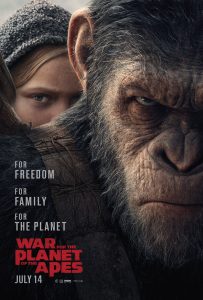 Usually when it comes to American summer blockbusters, they arrive on screens 'Down Under' around the same time, if not earlier. However, Australia's Planet of the Apes fans had two wait an additional two weeks before we could enjoy War for the Planet of the Apes, although anticipation was greatly heightened. We're now fifteen years from the events of the first chapter in this monumental trilogy, where apes are teetering on the verge of annihilation at the hands of rogue military faction lead by a ruthless Colonel. Weary of the future that grows grimmer by the day, Caesar embarks on a quest to avenge his kind while fighting a personal battle against his darker instincts.
Despite what the film's title suggests, there's a mythical quality at play throughout much of the story. Our protagonists journey for absolution with the aching desire for freedom, both figuratively and metaphorically. Prolonged suffering endured by both ape and human kind brings raw emotion, significantly more than we've seen previously. Digital effects have improved substantially over the past six years since this series began, revealing details and textures that now rival practical methods, an obvious indicator of proper utilization of the films considerable budget. Cinematography plays a crucial role is capturing the awe inspiring sights and locations seen throughout the feature, in addition to conveying sudden shifts in tone with vivid colours and prominent shadowing. Andy Serkis triumphs as Caesar in a performance that transcends the motion-capture technology from which it stems, eliminating suspension of disbelieve for the viewer. His dynamic shared with Woody Harrelson as the deranged Colonel is strong to say the least, symbolic of the bitter struggle between both species.
Unlike many of today's film franchises that more often falter than excel, Twentieth Century Fox have produced a rebooted film series that has no only stayed consistent in quality, but has push the envelope in terms of modern cinematic story-telling, proving a shining example for the industry.
WAR FOR THE PLANET OF THE APES
(2017, dir: Matt Reeves)
★★★★
You can follow cinematic randomness on Twitter and Facebook where you'll find all my cinematic exploits. Thank you for visiting!