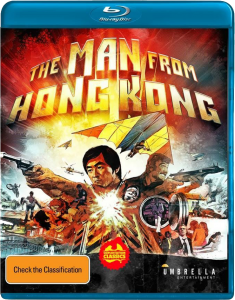 Umbrella Entertainment continue to provide a great service towards the preservation of Australian cinema. Raising the bar even higher with one of their latest Blu-ray releases, the 'Ozploitaion' classic, The Man from Hong Kong, boast an array of special features including extensive interviews, a making of featurette and much more, keeping fans engaged long after the film is over.
This down under kung-fu adventure follows Hong Kong Police Inspector Fang Sing Leng who travels to Australia in order to extradite a recently apprehended drug dealer, but when things go pear-shaped his sights are turned to a notorious Sydney crime lord who is likely responsible. Opening in a similar fashion to a classic James Bond film, things take a sudden turn for the cheesiest as we bear witness to a hand glider navigating the Hong Kong skyline, set to Jigsaw's 1975 hit Sky High. What follows is a consistently entertaining mash-up of martial arts action and death-defying stunts, many of which rival Mad Max. Our lead protagonist played by Jimmy Wang Yu is a man of all seasons; a diligent cop, vicious fighter and one smooth operator when it comes to the ladies. On the other hand, Fang's no-nonsense persona is juxtaposed by his two buffoonish Aussie counterparts, Bob and Morrie, who provide balanced comic relief.
Considering the obscurity of The Man from Hong Kong, not to mention its previous treatment on home media, what Umbrella t have been able to achieve in the way of picture and sound leaves little to be desired. Remastered from an exclusive 4K transfer, the theatrical scope and scale is captured for a new audience to enjoy in the comfort of their home cinemas.
For more information on this exceptional release visit Umbrella Entertainment where you can also browse the ever expanding catalogue of titles.
THE MAN FROM HONG KONG
(1975 dir: Brian Trenchard-Smith)
★★★★
You can follow cinematic randomness on Twitter and Facebook where you'll find all my cinematic exploits. Thank you!