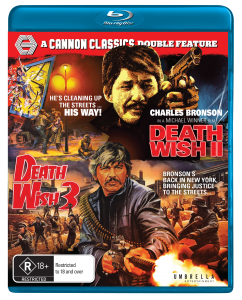 Capitalising on the newfound popularity of Cannon Films and its library of guilty pleasures, Umbrella Entertainment have released a second double feature highlighting another two classics, this time in the form of Death Wish II and Death Wish 3, starring the one and only Charles Bronson.
Eight years after the gritty original, audiences are re-united with architect Paul Kersey, who has since relocated to Los Angles to begin life anew. However, tragedy strikes again when his daughter falls victim to a gang of street thugs. With an incompetent police force unable to help, Kersey is propelled to seek revenge on those responsible via the avenue of vigilante justice. While an exploitation film in the purist sense, which fans of the genre will undoubtedly enjoy, Death Wish II seems to be pre-occupied with trying to be a little too serious. It's very apparent this unrated director's cut does not hold anything back in the way of graphic content and the sheer idiocy of the street roaming villains is contrary to the film's intended approach. Having said that, there is enjoyment to be had from the film's numerous miss-steps and shenanigans as we moonlight with our hero on the streets of L.A. Moving on to Death Wish 3, Kerseys return to his home city of New York to visit an old friend. This kind gesture quickly transitions to the self-appointed man of justice liberating the good residents of the worst neighbourhood in Brooklyn from an army of crazed reprobates. Unlike it's slightly confused predecessor, this time round the carrousel of inner city carnage is more of a self-aware romp. Arguably worse in terms of basic film-making techniques, it's an enjoyable experience nonetheless from the cheesy interactions between Kersey and his admirers to over-the-top scenes of gun play, which garner some unusual and disturbing public applause.
Once you've you breezed through these sequels in glorious 1080p accompanied with DTS surround, I recommend sinking your teeth into the generous offering of bonus content. Included are numerous trailers, TV spots, interviews with the cast/crew members. You'll also find an extra DVD complete with the theatrical, TV and Greek VHS cuts of Death Wish II, all with written introductions by Charles Bronson biographer Paul Talbot.
Based on this fantastic release by the Australian label, I can't wait to see which two films Umbrella will choose next upon sifting through the seedy vaults of Cannon.
DEATH WISH II / DEATH WISH 3
(1982 & 1985, dir: Michael Winner)
★★★★
You can follow cinematic randomness on Twitter and Facebook where you'll find all my cinematic exploits. Thank you for visiting!