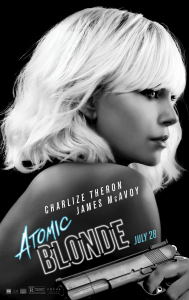 Resonating from the trailers and posters, there's a retro ambiance to Atomic Blonde that's almost impossible to ignore; even if you're too busy to give the latest action sensation your full attention. If you were like me over a week ago, intrigued but on the fence, allow me to give you a push. We're tossed into Berlin during the finals days of the Cold War where MI6 agent Lorraine Broughton is sent to investigate the death of a fellow spy and to recover a much sought after list containing compromising information, significant to both sides.
With throwback style films becoming more prevalent in mainstream cinema, many have been pre-occupied with trying to accurately replicate the chosen time period, whereas Atomic Blonde excels greatly by simply having fun with it, and actually manages to get the look and aesthetic down remarkably well. Charlize Theron is a radiant force of cool and badassery as Lorraine, striding effortlessly through neon-lit nightclubs, to inflicting bone-breaking carnage to those in her way; accompanied by a soundtrack which gives the film a massive pop. James McAvoy deserves much praise for his portrayal as ambiguous fellow agent David Percival, a charismatic product of the cultural clash between East and West.
Atomic Blonde is a cinema experience that doesn't come too often, one that gives the audience a front row seat to a turning point in world history, where a nation is finally unified after decades of political turmoil. It's exploitive, brutal, sexy and fundamentally entertaining to the nth degree!
ATOMIC BLONDE
(2017, dir: David Leitch)
★★★★
You can follow cinematic randomness on Twitter and Facebook where you'll find all my cinematic exploits. Thank you for visiting!