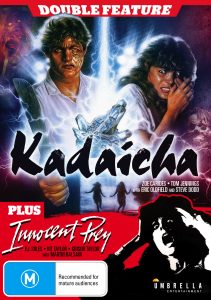 You really have to hand it to Umbrella Entertainment for exploring annals of Australian cinema to unearth two highly obscure titles from the glory days of VHS; and despite the less than desirable quality, packaging them into a neat world exclusive DVD. I'm taking about Kadaicha from 1988 and Innocent Prey from 1984, two cult classics you probably hadn't heard of, but have since been embraced by fans following their release back in August.
Kadaicha is a suburban horror flick that noticeably borrows from Tobe Hooper's Poltergeist. We follow a group of teens who discover their homes were built over a sacred aboriginal graveyard, unleashing its curse on those who disturbed it. While it's not masterpiece by any means, there's some squirmish kills (including a rare death by fresh water eel), a dream-like atmosphere that lingers eerily throughout and a rather strong statement about the disregard of aboriginal culture in favour of urban progress. Moving on to Innocent Prey, audiences are treated to a light slasher starring P.J. Soles (Halloween and Carrie) as a Dallas, woman who moves to Australia following the arrest and imprisonment of her deranged serial killer husband, but it's not long before danger again catches up with her. Apart from being a little cheesy in places Innocent Prey is somewhat reminiscent of Hitchcock's Psycho regarding some of the characters, enabling the film to unexpectedly change direction, which does keep things interesting.  Sydney's harbour setting gives the film a nice picturesque quality, providing stark contrast to the sinister subject matter, which certainly provides a fair portion of brutality.
I enjoyed both Kadaicha and Innocent Prey for what they were, genre cinema at its most obscure. Ported from U-matic videocassette and 2″ quadruplex videotape respectively, both films do come with minor faults, but are in no way a hindrance and actually make for a nostalgic experience. You can find this double feature DVD online at Umbrella Entertainment and in retailers across Australia. It's great value and a cool collector's title!
 KADAICHA / INNOCENT PREY
(1988 & 1984, dir: James Bogle & Colin Eggleston)
★★★½
You can follow cinematic randomness on Twitter and Facebook where you'll find all my cinematic exploits. Thank you for visiting!