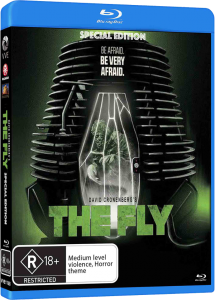 Back when my parents first subscribed to Austar (now Foxtel), a whole world of film and television opened up for me. One such channel, Encore, devoted to the titles of yesteryear became an instant favourite, and one of the most memorable viewings I had was my encounter with David Cronenberg's remake of The Fly, starring everyone's favourite quirky actor, Jeff Goldblum.
From a modest home VHS recording to DVD a short time later, I watched the body-horror classic numerous times. Now thanks to emerging label Via Vision Entertainment, The Fly now has an individual special edition Blu-ray, following The Fly Ultimate Collection that was released earlier this year. For those unfamiliar with the film's premise, we follow a brilliant scientist on the verge of perfecting a ground-breaking experiment, but when something goes horribly wrong, he finds himself slowly transforming into a human/fly hybrid.
While capturing the sentiments of traditional science-fiction cinema through high concept ideas and mind boggling technology, Cronenberg succeeds in making this remake his own, holding nothing back by way of the vividly grotesque, synonymous with the celebrated director. The film's eccentric lead, Seth Brundle, undergoes a transformation that is nothing short of a relentlessly horrifying experience for viewers, presented in shockingly realistic detail by Chris Walas and Stephan Duplus, who went on to win the Oscar for Best Make-Up at the 1987 Academy Awards. Jeff Goldblum is very likable as Brundle, who's subsequent fall is made all the more painful to watch by the sinister change to his personality. An interesting side plot stems from journalist and love-interest play by Gene Davis, one that carries the prospect of something truly horrifying as the story progress. With all the terror resulting from one's scientific endeavour, is it statement that man's technological progress should not be rushed or that we aren't as removed from primal nature as we like to believe?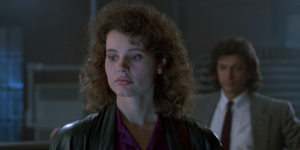 VIDEO/AUDIO AND SPECIAL FEATURES
We've certainly been treated to the complete package with perfect picture and sound in full high definition, not to mention a generous offering of bonus material. Fear of the Flesh: The Making of The Fly is a feature-length documentary from 2005 telling the complete story behind the film; compulsory viewing for any fan. There's also audio commentary, deleted scenes, films tests, still galleries and a featurette titled The Brundle Museum of Natural History in which legendary film historian and prop collector Bob Burns reveals the pieces he obtained from The Fly.
Now that I've had the pleasure of reviewing this favourite 80s creature-feature, I'll soon be taking a look at The Fly Ultimate Collection, which includes the original Vincent Price classic, it's two sequels and more!   
THE FLY
(1986, dir: David Cronenberg)
★★★★½
You can follow cinematic randomness on Twitter and Facebook where you'll find all my cinematic exploits. Thank you for visiting!