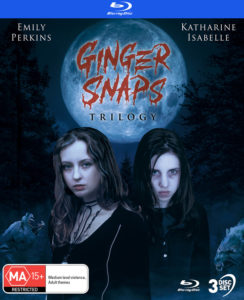 South Park satirized it and the internet mocked it, – the 'Emo' boom of the early 2000s, a sub-culture that found a kindred spirit in the form of Ginger Snaps. Three movies about two sisters, Ginger and Brigitte, who become entangled with lycanthropy, better known as werewolves; a vessel for teenage angst and an outsider mentality. Available now on Blu-ray from Via Vision Entertainment, the complete trilogy is not only a neat little time capsule but a perfect cinematic snack for October.
Obsessed with death, our two sibling leads played by Emily Perkins and Katherine Isabelle, are self-excluded outcasts, but when the eldest, Ginger (Isabelle), is attacked and bitten by a werewolf, they must deal with the horrific consequences. Despite the rapid transformation, which brings on many unwanted changes, Ginger is presented with newfound popularity among her high school peers, while Brigitte struggles with losing her sister to the sinister notions and dark forces they both worshiped.
Ginger Snaps is widely known for being a metaphor for puberty and all those crazy things our bodies do when adulthood starts to take hold, and it's done reasonably well. I can see why so many horror fans have latched on to these films, the first one especially. Traditional werewolf lore is adapted successfully to the modem setting, the practical effects are impressive for the film's relatively low budget, and for convenience's sake, the high school weed dealer so happens to be an expert on certain creatures of the night. He's a pretty cool character too.
Having said that, the wheels fall off at the end of each movie, which is especially frustrating with Ginger Snaps II: Unleashed. Arguably better than the original, Brigitte, having left her former life behind is in a psych ward and is desperately trying to stop from becoming the beast that consumed her sister, who now taunts her from beyond the grave. This first sequel deserves credit for going in a different direction and exploring an underlying theme of monsters in other forms and we have Tatiana Maslany (She-Hulk: Attorney at Law) as an obvious 'Bad Seed' homage.
Ginger Snaps Back: The Beginning of course goes back in time, and in this case, it's the dreary 19th century, and sisters, Ginger and Brigitte, who are amazingly identical ancestors to their modern descendants, find themselves at the remote Fort Bailey, surrounded by werewolves. While more confined and almost a clear-cut survival horror, this loose prequel felt very long-winded for a 94-minute run time and wasn't particularly interesting, which is a shame given the clean slate of changing the time and setting usually offers.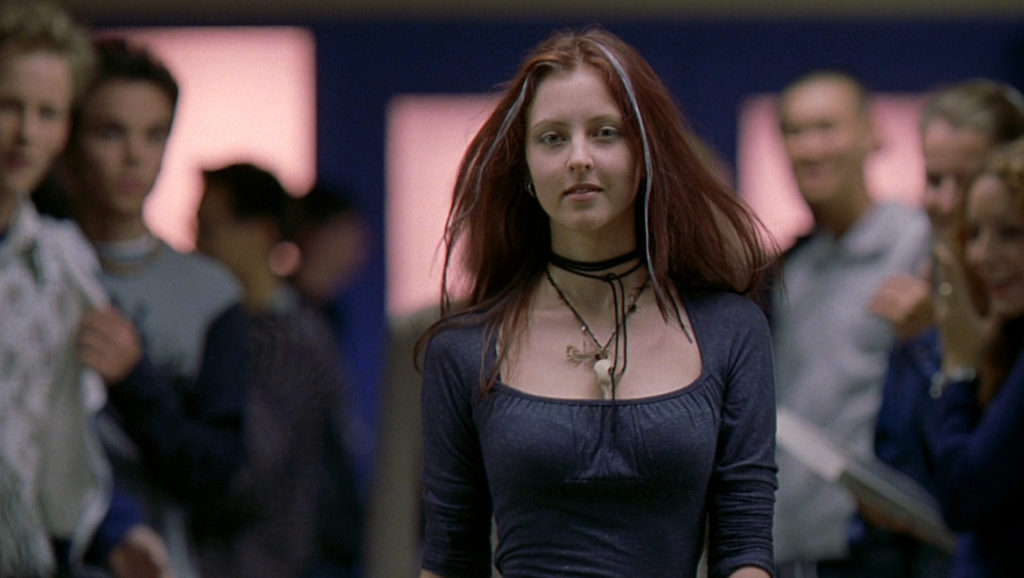 VIDEO AND AUDIO
Just like how Ginger Snaps is a perfect example of the early 2000s teenage culture, this set, while consistent and well presented, is an example of a first-generation Blu-ray releases. While more than watchable, the three 1.78:1 presentations lack vibrant colours and level of detail found in today's standard of HD mastering. However, the 5.1 DTS Surround track for each film does a great job with enveloping the viewing in the many nocturnal sounds. As a trade-off dialogue is a little low in volume, but English HOH subtitles are available.
SPECIAL FEATURES
GINGER SNAPS
• Deleted Scenes
• Cast Auditions and Rehearsals
• Being John Fawcett – featurette
• Making Of – featurette
• Creation of the Beast – featurette
• Theatrical Trailer
• TV Spots
GINGER SNAPS II: UNLEASHED
Production Audio Commentary with director Brett Sullivan, executive producers John Fawcett & Noah Segal, and producer Paula Devonshire
• Behind the Scenes
• Deleted Scenes
• Screen Tests
• Storyboards
• Theatrical Trailer
GINGER SNAPS BACK: THE BEGINNING
• Audio Commentary with director Grant Harvey, writer Stephen Massicotte and editor Ken Filewych
• Deleted Scenes
• Grant Harvey's Video Diary
• Wolf Boy – featurette
• Blood Guts & Fire – featurette
• Production Design Walk Through – featurette
• Fun On Set – featurette
• Costume Design – featurette
• Photo Gallery
• Theatrical Trailer
The special features for this set of the Ginger Snaps trilogy all come ported from their initial U.S DVD editions, many of which were unavailable on the Australian releases. Like many first-generation DVD supplements, these featurettes only run for about two to eight minutes each and contain raw-on-set footage. Those interesting special effects and make-up design may enjoy the corresponding featurettes which are filmed in a "time-lapse" fashion, while fans of our leads will no doubt enjoy their screen tests. Unfortunately, there's no "play all" option. For a more in-depth discussion on the making of each film and behind-the-scenes anecdotes, the final two discs come with commentary tracks.
I feel a little bad for saying this, since they are considered 'Horror Darlings', and for good reason, but Emily Perkins and Katherine Isabelle give rather limited performances. Maybe it's the film's very heavy mood that influenced the Canadian actresses, but in terms of their look, they personify the trilogy's style and edginess. Nevertheless, this tight little set of atmospheric horror from Via Vision is great value for money and overall, my viewing experience was mostly positive, so I say to Ginger Snaps with much gratitude, "angst for the memories".
GINGER SNAPS TRILOGY   
(2000-2004, directors: John Fawcett, Brett Sullivan & Grant Harvey)
★★★½
Head over to the Via Vision Entertainment Facebook page for the latest releases, giveaways, great deals and more!
direct blu-ray screen captures
You can follow cinematic randomness on Twitter and Facebook where you'll find all my cinematic exploits. Thank you for visiting!