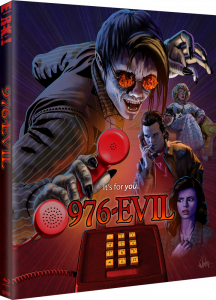 At the height of "Freddy Mania", actor Robert England capitalised on his widespread fame among the mainstream horror scene by trying his hand at directing. Offer a unique premise, 976-EVIL, is a late-night fantasy-horror centred around satanic "horror-scope" hotline, which when dialled, has a very transformative effect on the curious callers. Now the land-line classic is out now on Blu-ray from Eureka Entertainment.
Stephen Geoffreys (Fright Night) stars as the film's introverted protagonist, Hoax, who lives with his religious zealot of a mother, Lucy (Sandy Dennis) and his 'too-cool-for-school' cousin, Spike (Patrick O'Bryan). Often the subject of bullying and ridicule, Hoax turns to the ominous-sounding hotline in hopes to improve his constant misfortune, but it comes with grave results.
Imagine a feature-length dream sequence plucked right out of A Nightmare on Elm Street, specifically one of the later sequels; that's basically 976-EVIL. Viewers are thrown into a world which appears relatively normal, but there's something just not right, something that one can barely put their finger one. There's a very seedy quality to the film overall, that really hones in on that after midnight quality of wandering through TV channels, only to stumble on a movie of this perfect kind of weirdness. However, in terms of story and characters, it's not very realised; it almost seems to be made on the fly in that regard. While it's clear Stephen Geoffreys is the star, there is an indecisiveness about who's actually leading viewers through the picture, Hoax or Spike? Then we have two supporting players, a teacher and an investigator, both looking into the strange goings-on, who appear so infrequently, their contribution to the story seems insignificant. Geoffreys, who turned down Fright Night 2 for this leading role, fits the oddball character of Hoax well due to the actor' natural peculiarity. Although, he has the most unflattering haircut, which poorly hides his pre-mature balding. Patrick O'Bryan as Spike is a little bland as the 'Kevin Dillion' knock-off, but carries the latter half of the film as the de facto hero; while Sandy Dennis brings her own special brand of crazy, which heightens the film's nonsensical element.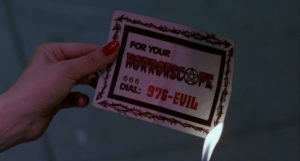 VIDEO AND AUDIO
Despite not having the same stature as other horror classics from the 1980s, 976-Evil comes to Blu-ray more out of necessity for collectors and fans via a 1080p presentation that's slightly on the softer side of HD. Although, I should point out that it's more in contrast to releases that push the visual limits of the format. Colours are a little pale and washed out, although some show up better than others, particularly during scenes which contain special effects. The 1.85:1 image itself is a little dark, but most of the film does take place at night so I can't be too picky. Sound on the other hand is very robust in DTS-HD MA 5.1, which offers a very immersive experience, working in well with the film's dream-like atmosphere, and the optional LPCM 2.0 offers solid volume and clarity. English subtitles are also available.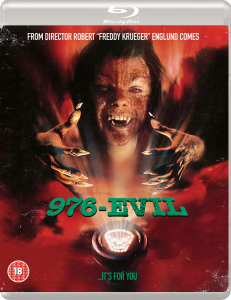 SPECIAL FEATURES
Limited Edition O-Card slipcase (2000 copies)
Audio commentary with director Robert Englund and set decorator Nancy Booth Englund
976-EVIL: home video version (105 mins, SD): An extended version of the film from its original home video release on VHS
New interview with special make-up effects artist Howard Berger (The Walking Dead)
New interview with special effects technician Kevin Yagher (Nightmare on Elm Street)
New interview with producer Lisa M. Hansen
Limited Edition collector's booklet featuring new writing by Craig Ian Mann (2000 copies)
I really dig the artwork on both the slip and the standard case; not deviating too far from the retro VHS style while creating two distinctive covers. In addition to the feature presentation, the additional cut of the film is a nice supplement for home video purists. Robert England's commentary with Nancy Booth, along with the three new interviews acquired by Eureka for this Blu-ray, set this edition well apart from previous releases and provide insight into the making-of creative process.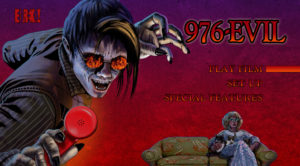 976-EVIL is kind of all over the place, but it's truly a product of its time. Robert Englund's involvement, Kevin Yagher's make-up effects, and the film's production under New Line Cinema ties it firmly to 'Elm Street Universe', especially since it has the same look and feel.
976-EVIL
(1988, director: Robert Englund)
★★★½
direct blu-ray screen captures
You can follow cinematic randomness on Twitter and Facebook where you'll find all my cinematic exploits. Thank you for visiting!