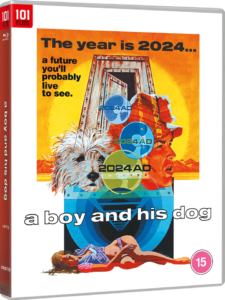 L.Q. Jones passed away on July 9th at the ripe old age of 94; an actor known primarily for westerns, particularly those of the Sam Peckinpah style, but he was also and just quietly, a director and screenwriter. Having penned his first screenplay The Brotherhood of Satan (1971) in which he appeared, Jones took full control with his next project, A Boy and His Dog, as writer and director, which has recently been released to the region B territories by 101 Film in the UK.
The action here is set in the not-too-distant future of 2024, sometime following the catastrophic events World War IV, which has all but reduced the planet to a desolate wasteland. Handfuls of survivors scavenge for food and supplies between watching stag films at makeshift trading posts where popcorn, oddly enough, is still plentiful. Vic, our titular boy, played by Don Johnson and his best friend, a dog named Blood, voiced by Tim McIntire, although it may as well be Burl Ives, roam the landscape until Vic is led down to another world beneath the surface. Oh, and did I mention that Vic and Blood communicate telepathically? It sounds a little absurd, but it's amazing how quickly you get used to the not-so-verbal exchanges.
I've always been interested to know what brought the world to its lowly state in post-apocalyptic movies and while not all of them offer an explanation, A Boy and His Dog does give a very brief timeline of events, basically suggesting that WWII transitioned to a new global conflict against Russia. Interestingly, this idea was an actual concern held by the Western Allies once Germany was defeated, fearing the Soviet Union will contend their march. A Boy and His Dog is in a way a satire of mutually assured destruction and the need to re-create what was lost, which brings us to the underground city of Topeka where a freakshow version of pre-WWII American life continues under an artificial biosphere in addition to an autocratic committee that resembles a small town municipal body, although far more ruthless. Jason Robards leads this parody society, face covered with clownish make-up along with his fellow citizens, the reason for their gaudy appearance is never addressed, and rightfully so. Vic is needed to fertilise the female population but quickly rejects the twisted way of life as does his love interest and disillusioned Topeka resident, Quilla, played by Susanne Benton. I'm not too sure what exactly A Boy and His Dog are trying to say other than no one can predict how mankind will respond to the end of the world or perhaps showing a small-scale example of the greedy behaviours that were our undoing in the first place. Nevertheless, it's a unique vision of the future, not to mention an enjoyable black comedy.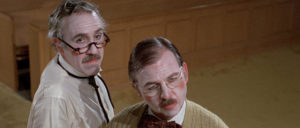 VIDEO AND AUDIO
101 Films has stated that this 1080p rendering comes from a "Newly Restored High-Definition Transfer", which is a little vague, but it's impressive, nonetheless. There's a lot of sharpness during the opening outdoor scenes, combined with some digital noise that becomes less noticeable throughout the movie. I find the quality is at its best when Vic enters the subterranean version of Topeka where the ambience of artificial light creates a nice contrast and allows the colours to appear quite vibrant. Presented in 2.35:1 with Dual Mono AC3 audio, the sound is loud and uncompressed. You can't ask for more than that.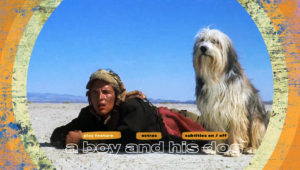 SPECIAL FEATURES
In Conversation: Harlan Ellison & L.Q. Jones
Commentary by Director L.Q. Jones, John Arthur Morrill, and Charles Champlin
Special features for this disc come ported from previous editions. While both featurettes can be found on the Shout Factory release from 2013, the commentary dates back all the way to DVD's heyday. Regardless, both supplements are worth a watch and listen and come packed with behind-the-scenes information, amusing anecdotes, and insights on the cast and crew. The 50-minutes spent with director L.Q Jones and author Harlan Ellison go by in a flash as the two are quite charismatic, funny, and get along great despite their long-standing dispute over the film's final line. Equally, it's easy to get caught up in the commentary track as Jones has much to say about his intentions for each major scene. – by Hannah Lynch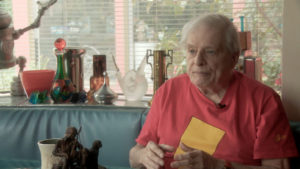 Don Johnson is synonymous with Miami Vice, but as the oversexed Vic with his pal, Blood, to keep him on the straight and narrow his performance is a rather convincing young man with a one-track mind in a lawless land; and Jason Robards proves that he was never above any genre of the subject a matter, with his 'work is work' mentality. You could argue he phoned in his performance, but if that was the case, he set the bar pretty high.
A BOY AND HIS DOG
(1975, director: L.Q. Jones)
★★★★
direct blu-ray screen captures
You can follow cinematic randomness on Twitter and Facebook where you'll find all my cinematic exploits. Thank you for visiting!