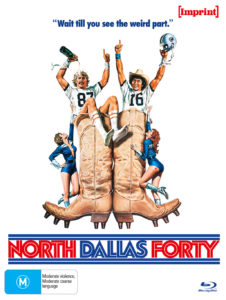 Widely hailed as not only one the best American football movies, but one of best sports movies of all time, North Dallas Forty continues to score touchdowns with film audiences and it's winning more fans thanks to its debut Blu-ray release from Imprint Films in Australia, limited to 1500 copies.
Directed by Ted Kotcheff, this on-and-off-field comedy/drama stars Nick Nolte as a wide receiver, Phil Elliot, of the Dallas Cowboys. Approaching his used-by-date, Phil masks the pain of his battered and worn body with pills and a little grass while finding himself at odds with the game he's given his life to.
Comparable to David Williamson's The Club, a light comedy about a struggling Australian football club entrenched by internal politics and backstabbing, North Dallas Forty examines the almost mechanised nature of a team owned by a corporate entity; being but one branch of industry, which is literally illustrated to Phil, by the team's wealthy owner. This thread of big business is presented throughout the film, from the Cowboy's dedicated monsignor proudly rockin' pair of Adidas trainers to the head coach, B.A. Strother, played by distinctive character actor G.D. Spradlin. Strother is a strict authoritarian who organised his playbook based on precise computer calculations and singles out Phil for having an immature attitude despite his obvious talent on the field.
Mac Davis as Seth Maxwell is the star quarterback and close buddy to Phil, both of whom share great chemistry with their often-blasé demeanour between games, enjoying a healthy diet of painkillers and Budweiser. Seth has figured out how to 'play the game' so to speak, by knowing when to placate to the higher-ups, keeping his prized position safe. He tries to encourage Phil to do the same, but his pal's growing disillusionment is taking hold. Nick Nolte's performance here is among his best. I like his loose quality and laid-back attitude, which we saw a lot throughout his work during the 70s. Every character in North Dallas Forty is interesting, not to mention it is a wildly entertaining movie; for example, Bo Svenson as the slightly insane enforcer, Jo Bob, and Charles Durning as the rather silly coach Johnson, but at the end of the day it's Nolte's film and his final scene in which he lays it all bear is phenomenal.
VIDEO AND AUDIO
Imprint called dibs on Paramount's new 4K scan and even on the Blu-ray format, it looks fantastic with a significant improvement in colour, clarity and detail over previous transfers. While the screen captures below may look a little soft, trust me when I say that on a modern TV screen in 2.35:1, you'll be impressed and equally so with the DTS HD 5.1 Surround track, which helps enhance the often loose vibe that comes with the numerous scenes of roughhousing. Optional LPCM 2.0 Stereo and English subtitles are included.
SPECIAL FEATURES
NEW Audio commentary by filmmaker/film historian Daniel Kremer and screenwriter Daniel Waters with the film's director Ted Kotcheff
NEW Introduction by director Ted Kotcheff
NEW Hit Me with Those Best Shots: Ted Kotcheff Remembers North Dallas Forty
NEW Looking to Get Out: A Comparative Analysis of the Ted Kotcheff Vision – video essay
Theatrical Trailer
This debut Blu-ray release of North Dallas Forty fittingly comes with all-new special feature content. Director Ted Kotcheff provides two brief supplements in the form of an introduction which runs for two minutes, and a video excerpt from his memoir in which he recalls key moments in the film's making-of. Reading from ready-prepared content, Kotcheff's contributions pack a lot of information in a concise manner. As someone who's only seen a fraction of the director's work (most likely the same as most viewers—Wake in Fright, First Blood, and Weekend at Bernie's), the video essay "Looking to Get Out…" by Daniel Kremer is an extremely insightful overview of his filmography. Sewing the filmmaker's works together with the connecting thread of a drive for his lead character's to "escape" their current situation, this featurette will no doubt leave fans with a whole new slew of movies to check out. For a more in-depth look at our feature presentation's themes and behind-the-scenes information, the commentary from Kremer and Daniel Waters is both comprehensive and amusing.
Ted Kotcheff gives a fun nod to Wake in Fright during one of the film's initial scenes, which if you're a fan, is pretty obvious and demonstrates Kotcheff's skill as a filmmaker who can balance tone and execute impressive technical aspects best than most of his generation. His name has never been up there with the likes of Scorsese and Spielberg, but when you watch North Dallas Forty, it's easy to see that it was made by a pro.
NORTH DALLAS FORTY  
(1979, director: Ted Kotcheff)
★★★★½
Head over to the Imprint Films Facebook page for the latest releases, giveaways, great deals and more!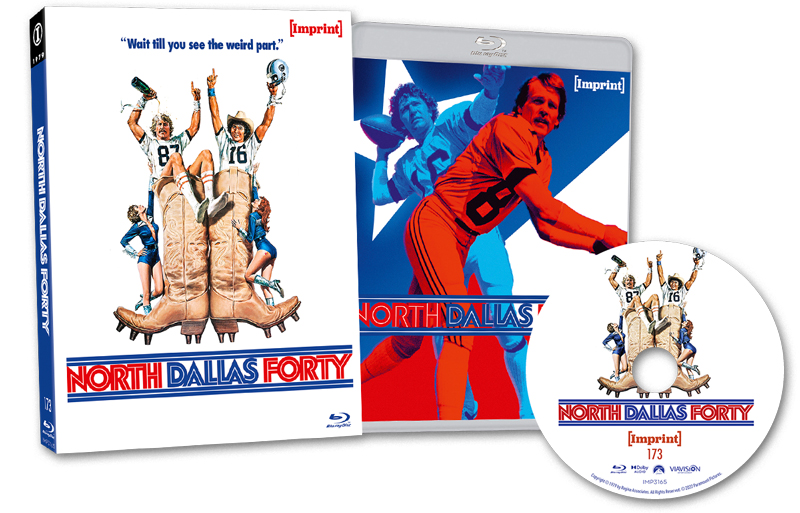 direct blu-ray screen captures
You can follow cinematic randomness on Twitter and Facebook where you'll find all my cinematic exploits. Thank you for visiting!