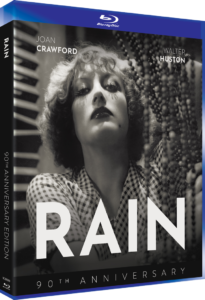 Embittered by the seemingly endless rain, a couple of Creedence's songs have been getting more plays in my head than Spotify, so I decided to embrace this lingering deluge that has plagued the spring months by watching the pre-code classic, Rain, starring a young Joan Crawford. Generously supplied by VCI Entertainment, who have put together a milestone 90th Anniversary Edition, this very isolated drama centres around an American prostitute, Sadie Thompson, who clashes with a stern missionary, Davidson, played by Walter Huston, who harbors an almost sinister desire to save her soul.
Set on a small island resort in the South Pacific, relentless rain keeps the assortment of stranded guests in relatively close quarters and while our protagonist fraternises with U.S. Marines stationed on the island, a strange vibe and mood clouds over the main dwelling. With many of our characters between their final destination, this rather overt drama explores the notion of starting afresh, especially in regard to Sadie's love interest, Sergeant Tim O'Hara who invites her to join him in Sydney, Australia. Although, I think they'd have a much better chance an of making it in Melbourne, that's just my opinion.
Davidson's presence as the film's antagonist presents a very critical view of religion and ironically, every encounter with Davidson evokes an unwelcoming feeling as opposed to the compassion and kindness one would normally expect from a man of such devote faith. His insistence that Sadie atone for her sordid lifestyle by serving a prison sentence in San Francisco eludes to a sort of perversion that's hiding behind his devilish eyes, which speaks volumes to Walter Huston's prowess as an actor. Joan Crawford as Sadie is in many ways is comparable to Mae West, who broke into motion pictures the year Rain was released, although Crawford is not as comedic, but her delivery is unmatched. Sadie is far more sophisticated than she appears and equally as crafty as her male adversary, yet she's an enigma in ways, who combined with Davidson, creates the strange aura the surrounds this story.
Rain's transformation from the poor-quality public domain renderings to this milestone release from VCI came about thanks to Uncle Sam himself with the film's 4K restoration conducted by The Library of Congress in association with The Mary Pickford Foundation, and the results speak from themselves. It would be bit unfair to compare it to some of the big studio restorations, but considering the film was practically homeless for over sixty years, this 1.37:1 presentation is remarkably sharp despite appearing rather dark at times. Although, we're able to see in much more detail in the very intimate exchanges between Joan Crawford and John Huston, whose facial expressions still carry over from the silent era.
PCM Mono certainly does a lot for the titular rain and the dialogue in terms of volume and while it's not the most crystal clear, the singular audio track certainly carries weight and optional English subtitles are included. Also, it's worth nothing that VCI's release is region-free, which is very fitting since the film has always been widely available.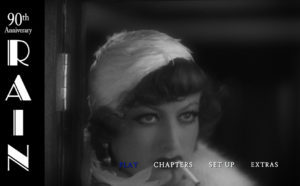 SPECIAL FEATURES
Commentary track by Mick LaSalle, writer for the San Francisco Chronicle and noted film historian
Commentary track by Richard Barrios, writer historian and commentator
Alternate 76-minute "cut version" of the 1938 Atlantic reissue for comparison
Liner Notes Pictorial Booklet written by Marc Wanamaker, author and film historian
Original Trailer
Extensive Poster & Photo Gallery
Period-appropriate Betty Boop Cartoon and Newsreel
VCI has assembled a release that rivals much of the competition, with audio commentaries that offer a lot of historical contexts. In particular, Mick LaSalle's knowledge of pre-code cinema puts you in the mind frame of the time. Whereas fellow historian, Richard Barrios, talks about the play in which the film is based, and the response audiences had to the various themes within. Also included is a nice booklet with some supplement text along with a nice array of production stills, more of which can be found on the disc's gallery.
Much like first-generation DVDs released by Warner Bros. – particularly the Humphrey Bogart classics, we get a cartoon and newsreel to help replicate the in-theatre experience of the time. Betty Boop's abridged version of Cinderella is well-intended but in retrospect a little terrifying regarding Paramount's animation style, which was clearly trying to replicate the more popular Looney Tunes, although Betty doesn't resort to using sticks of TNT to snag her prince.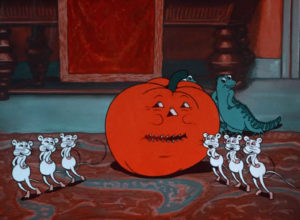 VCI have played "Moneyball" with Rain by taking a film that's obscure and undervalued, then bringing it to the forefront of mainstream home media with a release that I think is going to be regarded as a before and after point for the persevering independent label.
Rain is currently available for the discount piece of $20.96 USD as part of VCI's Black Friday Sale, which ends on Sunday, December 4th.
RAIN
(1932, director: Lewis Milestone)
★★★★½
direct blu-ray screen captures
You can follow cinematic randomness on Twitter and Facebook where you'll find all my cinematic exploits. Thank you for visiting!