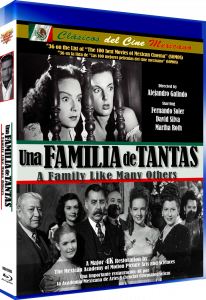 VCI Entertainment has been releasing various Mexican classics over the past two years, mostly titles horror titles, but among the most prominent dramas is A Family Like Many Others (originally titled, Una Familia de Tantas), currently available on Blu-ray for the very for time.
Set within an affluent Mexican household, this seemingly wholesome story takes a rather harsh turn upon an unexpected visit from a door-to-door salesman. Selling state-of-the-art vacuum cleaners, this polite and friendly gentleman makes the heinous mistake of talking business to the women of the household, while stern husband and father, Rodrigo Cantano (Fernando Soler) is at work. This rather comical encounter establishes what we quickly realise to be a home ran by an unruly patriarchal figure, much to the anxiety of his children, namely his teenage daughter Maru (Martha Roth).
A Family Like Many Others opens with a panning shot over a vibrant Mexico City, transitioning down into a sprawling urban home with Frank Capra vibes resonating from its fine wooden staircases and the sounds of a large family, reflecting the film's innocent title. However, it's Rodrigo's firm hand and demand for a subservient household that brings about an ironic twist. While well presented, the Cantano family lives under an orderly existence, but one without warmth, compassion and levity from the man of the house; and despite the film being made in 1949, Rodrigo's behaviour seems better suited to Victorian times, particularly his blatant sexism and favouritism.
Fernando Soler's very commanding performance as Rodrigo is quite intimidating and represents a man seated in old fashion traditions and practices that no longer has a place in the very modern Mexico that exists outside his front door. His children, especially his eldest three yearn for their own life and independence. Hector, the oldest male sibling, laments over the number and figures of the family business and the shame he suffers from having a child out of wedlock, a reflection of the pressure Rodrigo places on accountability. Although, Hector's actions are all but brushed aside when it comes to Maru and Lupita's (Alma Delia Fuentes) flirtation with the opposite sex, which is when the film becomes quite dark. Nevertheless, there is still a fun and somewhat jovial quality to this very stark and homely drama, that mostly stems from the younger cast members, particularly the women, who all add a degree of brightness.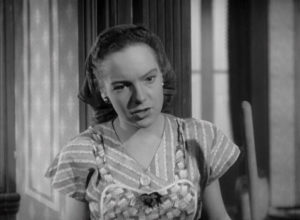 VIDEO AND AUDIO
Subject to a major 4K restoration by The Mexican Academy of Motion Picture Arts and Sciences, A Family Like Many Others looks very sharp beautifully via this 1080p rendering. While the disc itself is a BD-R, there has been no compromise in quality and playback on various machines were free of any issues. Presented in the film's original aspect ratio of 1.33: 1, VCI Entertainment's release may lack bonus material, except for clips from other Mexican classics, but the edition itself is region-free for international markets and collectors. In terms of overall quality, it rivals many Hollywood classics from the late 1940s that have also found their way to Blu-ray under mainstream distributors. English subtitles are included.
A Family Like Many Others is a sobering look at family life during the late 1940s that suggests it's time to move forward with a rapidly changing post-war society, which now has a place for more open expression and equal rights.
A FAMILY LIKE MANY OTHERS  
(1949, director: Alejandro Galindo)
★★★★
direct blu-ray screen captures
You can follow cinematic randomness on Twitter and Facebook where you'll find all my cinematic exploits. Thank you for visiting!