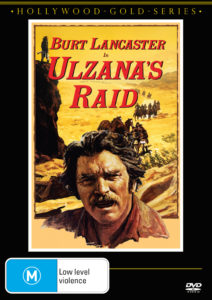 When I was a kid, the two most boring things on earth were cricket and classic westerns. While I still maintain my ignorant stance on cricket, I've since embraced the wild west genre, wholeheartedly in fact. Ulzana's Raid is my latest watch, an early 70s entry with a graphic edge starring Burt Lancaster as an aging U.S. Army scout, McIntosh, called in to track down the fierce Apache war chief, Ulzana, who's gone off the reservation, leaving a path of murder and terror in his wake. McIntosh is accompanied by the young idealistic Lt. Garnett (Bruce Davison) and his cavalry troop. What follows is a clash of morals as the two figures come face to face with unrelenting brutality.
During 1972, foreign involvement from the United States was declining in South Vietnam with the western superpower unable to weaken Northern resolve, finally acknowledging the conflict as a lost cause. Ulzana's Raid mirrors the controversial war as the supposedly civilised U.S troops adopt a nihilistic approach in fighting their Native American foe, while at the same proving ill-equipped to cope and fight the enemy on their terms, despite superior numbers and technology. Our antagonist, Ulzana, represents the breaking point after centuries of atrocities at hands of European settlers, and the fact that his savagery is met with shock and bewilderment from opposing forces is a staggering sign of ignorance and arrogance. McIntosh, being a seasoned veteran of the land understands the mindset of the Apache, and while he appears more sympathetic than his younger counterparts, he remains loyal to his country. Whereas the duty-bound Lt. Garnett is applauded by the actions of both sides, demanding that while the enemy be defeated the proper respect should be given to their fallen as they too fight for a noble cause. Lancaster and Davison are an affable pair and their dialogue is meaningful and insightful to the audience, particularly for the time. Robert Aldrich's direction is quite restrained in light of his split-screen epic, Airport (1970), as he chose a more straightforward style in portraying this bloody skirmish, which moves by at a steady pace over its 103-minute runtime.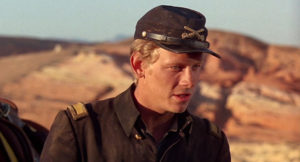 VIDEO AND AUDIO
Ulzana's Raid has quite the following and at present, it's floating around various streaming services, but this DVD from Shock Entertainment is a quick, cheap and convenient purchase. Furthermore, the transfer is sourced from a very crisp 1.85:1 HD master with vibrant colour for the dry outdoor setting and NTSC formatted for optimum quality. Dolby 2.0 provides a loud and sharp audio track that comes into full effect during the numerous encounters between the U.S Calvary and Native American warriors. English subtitles are not included, and the disc is region 4 locked.
If you're looking for westerns that aren't black and white, literally and figuratively, then Ulzana's Raid is for you, which is currently available under Shock Entertainment's Hollywood Gold Series, in leading retailers and online.
ULZANA'S RAID  
(1972, director: Robert Aldrich)
★★★★
direct dvd screen captures
You can follow cinematic randomness on Twitter and Facebook where you'll find all my cinematic exploits. Thank you for visiting!