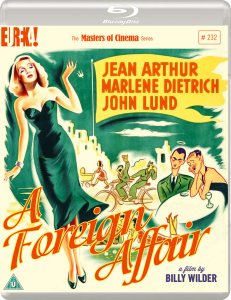 Billy Wilder is someone with a vast filmography which spans several decades, and it's good to know some of those titles stared people other than Jack Lemmon. One such film, A Foreign Affair, is a romantic comedy set in post-war Berlin where a U.S. Army captain is torn between an ex-Nazi night club singer and a visiting congresswoman investigating moral conduct. The somewhat satirical look at the American military occupation in Germany is out now on Blu-ray in the United Kingdom from Eureka Entertainment under their popular and collectable "Masters of Cinema" series.
Not surprisingly, A Foreign Affair is a little on the sexist side, which you can simply boil down to the time period and audience expectations. Jean Arthur is our congresswoman, Phoebe Frost, a prude of sorts and one-woman fun police on a mission to weed out unruly behaviour exhibited by American soldiers. Of course, it takes the firmness of leading man John Lund as Captain John Pringle to tame this "wild creature"; who's having it on with scene-stealing Marlene Dietrich as Erika Von Schluetow. However, it turns out that Von Schluetow's past romantic association with a prominent Nazi officer, now in hiding, has cast suspicion over her character. On the surface, this film sounds like a pulp novel, which is far beneath the ability of Wilder as a filmmaker, but A Foreign Affair is a very enjoyable piece despite the outdated characterisations and is very well made. The post-war picture is actually shot in and around Berlin, and to see the all-but-ruined city slowing rebuilding after Hitler's reign is inspiring, shining a positive light on the country's occupation by Allied forces. Our three leads all turn in excellent performances with Jean Arthur as our heroine putting out an especially strong showing, even managing to hold her own against the unmatched screen presence of Dietrich, who exhibits a noticeable mysterious quality. Among the small supporting cast, Millard Mitchell as the very level-headed Colonel Rufus J. Plummer almost speaks to the audience about the importance of giving the German people a new sense of normality after enduring a fever called "fascism". There's a comforting feeling of hope in A Foreign Affair that surrounds the romantic escapades within, and while some may call it phoney, I sure bought it.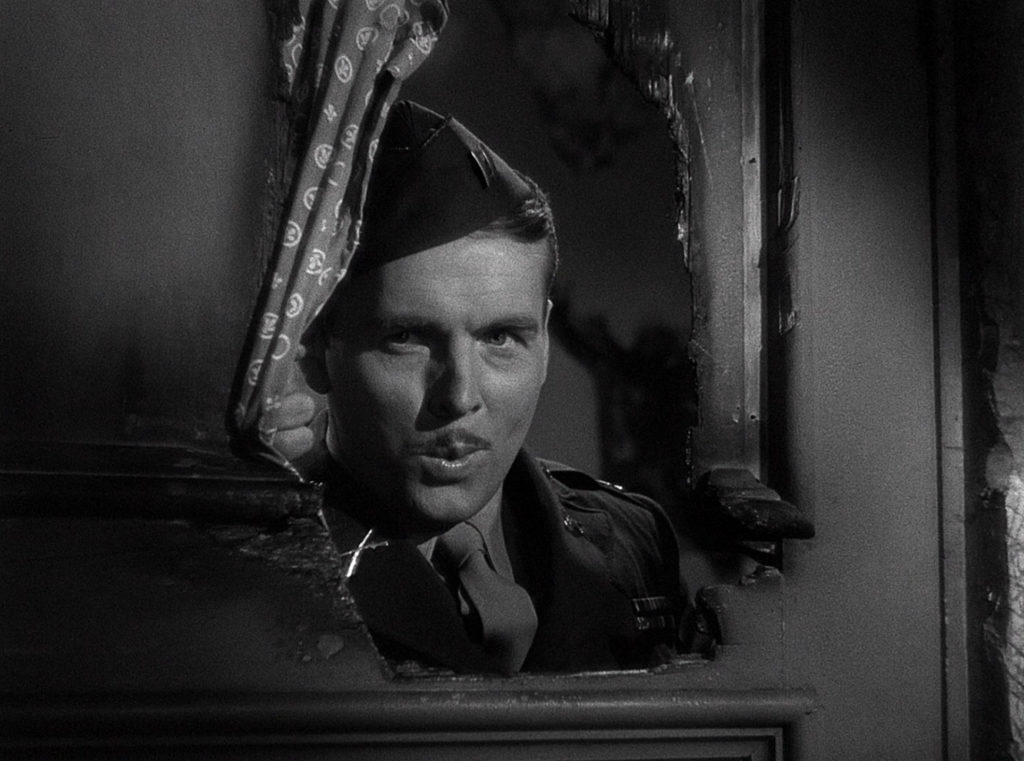 VIDEO AND AUDIO
Eureka's HD treatment of black & white cinema has never failed to impress and A Foreign Affair is no exception, boasting a very sharp and clear image, which does a great service to the actual footage of post-war Berlin which is still shocking to see almost 80s years later. However, the picture does dip in quality during the final act, which would suggest damage to the film stock. Overall the film offers a perfectly grainy 1.37:1 presentation and the uncompressed LPCM 2.0 audio track comes out loud and clear, giving an extra bit of quality to the release.
SPECIAL FEATURES
Audio commentary by film historian Joseph McBride
New video piece on the film by critic Kat Ellinger
Two radio adaptations of A Foreign Affair, broadcast as part of the Screen Directors Playhouse in 1949 and 1951. Featuring the voices of Billy Wilder, Marlene Dietrich, Rosalind Russell, John Lund, and Lucille Ball
Archival interview with Billy Wilder
Theatrical trailer
A collector's booklet featuring new writing by film historian Alexandra Heller-Nicholas; a new essay by critic Richard Combs; and more!
A Foreign Affair did not receive an exclusive slipcover like a many of Eureka's recent release, but there's a good amount of bonus material that will appeal to lovers of old Hollywood. Commentaries from a number of individuals in both audio and video form provide a retrospective view of the 1948 classic, in addition to their personal thoughts. The archival interview with Wilder is well worth watching for further insights. I haven't seen the collector's booklet as I'm reviewing the release via sample disc, but I' sure you can expect the same quality of content that's previously been presented.
I've been on a somewhat German kick at the moment following the final season of Dark, which lead to a newly released indie title called Lysis, and then A Foreign Affair, which granted is an American point of view, but the language is in full use here and without subtitles, making the viewing experience more authentic.
A FOREIGN AFFAIR
(1948, director: Billy Wilder)
★★★★
direct blu-ray screen captures
You can follow cinematic randomness on Twitter and Facebook where you'll find all my cinematic exploits. Thank you for visiting!