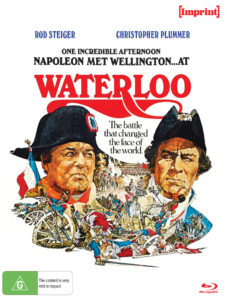 My, my, at Waterloo Napoleon did surrender: the climactic battle fought by the famed French leader depicted is a spectacular film epic of the same name which is now on Blu-ray from premium Australian label Imprint Films, No. 5 in their first assault on the physical media market.
Produced by none other than Dino De Laurentiis, Waterloo focus on Napoleon Bonaparte's infamous Hundred Days; his short-lived resurgence after escaping exile from the island of Elba, which culminated at the decisive battle.
I was initially expecting somewhat of a long-winded biography, but I'm pleased that Waterloo subverted my expectations by really getting down to the nitty-gritty of the historical battle, which was an impressive feat of practical filmmaking (to say the least). With an opening scrawl remarkably similar to Star Wars, but set to a more restrained theme, much of the film's first half is devoted to setting the scene for what is to come. Straight forward, yet eloquent dialogue gives context and enables the viewer to easily understand the circumstances which lead to Napoleon's final bid for "power and glory", to quote one of the film's several taglines. We also spend significant time with our two leads. Rod Steiger steps into the boots of Napoleon with an accent by way of New York, but delivers a ferocious performance nonetheless, one that suspends disbelief from the first moment he appears on screen to his very last. Christopher Plummer commands the screen as Napoleon's military rival, the Duke of Wellington, who's quite a likeable character. Our hero spends much of the time looking very impressed with himself, but in a sort of tongue-in cheek-way; he's not arrogant, rather just very confident in his abilities, and of course extremely well-spoken along with his fellow officers. The battle itself is presented from a very strategic point-of-view, exploring the thought process and logic of both commanders, which gives a great sense of how the war was fought during the time period. With thousands upon thousands of extras, the scope and scale of Waterloo is represented accurately and even learning that the location's geography was partly altered speaks volume about the filmmaker's dedication to authenticity. It's a captivating experience from start to finish and a sad reminder of the fact, they don't make 'em like they used to.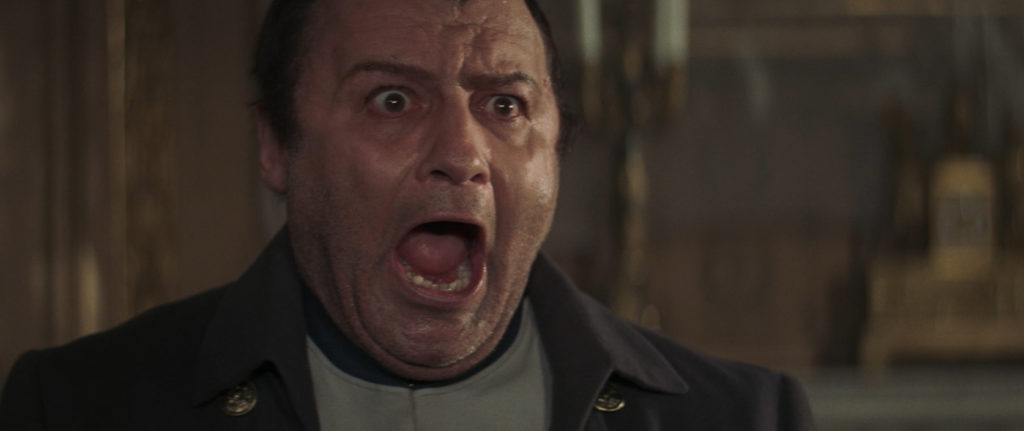 VIDEO AND AUDIO
Waterloo comes via a 1080p presentation and even in this age of 4K scans, it looks really nice in 2.35:1 with very strong colures and textures in addition to being free of any noticeable damage. Sound is very triumphant in a robust DTS-HD Master Audio track, creating a very sensory experience during the titular battle scenes. Meanwhile, the optional LPCM 2.0 track is an adequate alternative, although there are no English subtitles included on the region-free disc.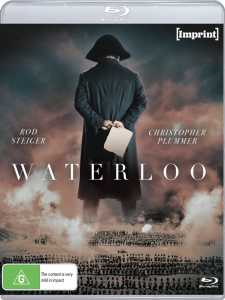 SPECIAL FEATURES
"Sheldon Hall on Waterloo" Featurette
Theatrical Trailer
Limited Edition slipcase on the first 1000 copies
Despite lacking in bonus material compared to the previous four Imprint releases, "Sheldon Hall on Waterloo" more than makes up for the shortfall with 38 minutes of a thorough dissection of not only Waterloo, but its development and place among the unofficial sub-genre of large scale battle re-creation pictures. Both the slipcover and standard artwork are a nice representation of the different styles between classic and contemporary. While theatrical illustrations are used on the Limited Edition sleeve, some digital photo work has created a very dignified image on the Blu-ray insert, which also serves as a subtle homage to the painting Napoleon on Saint Helena.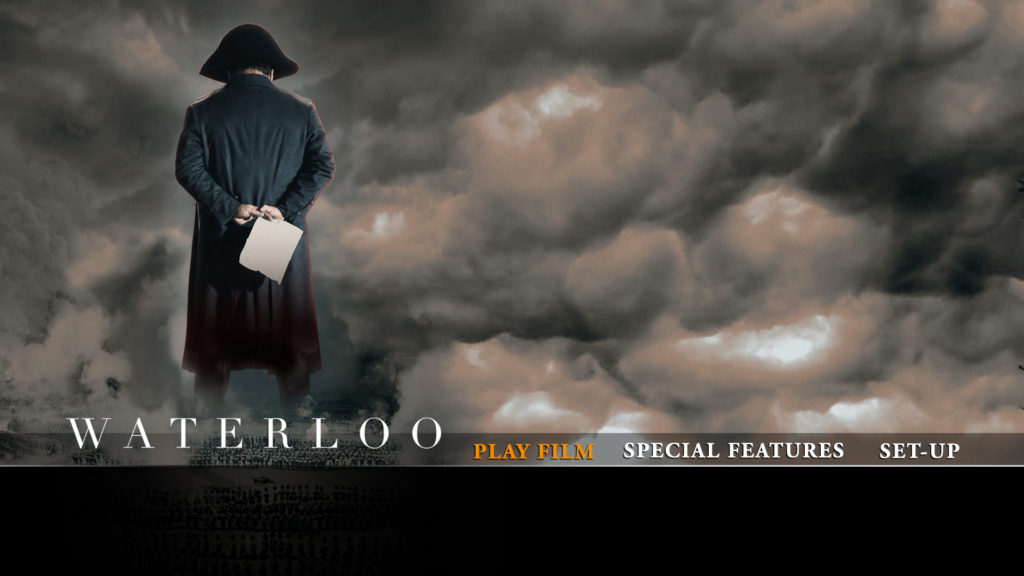 Waterloo would make a great companion piece with Ridley Scott's The Duellists, which also takes place during the Napoleon era. Two exceptional films and polar opposites in terms of size. Now that I wrapped my coverage on Imprint Film's first wave, I eagerly await their next five titles that are all available for pre-order at viavision.com.au/imprint-films/ and currently 13% off.
WATERLOO  
(1970, director: Sergei Bondarchuk)
★★★★
Head over to the Imprint Films Facebook page for the latest releases, giveaways, great deals and more!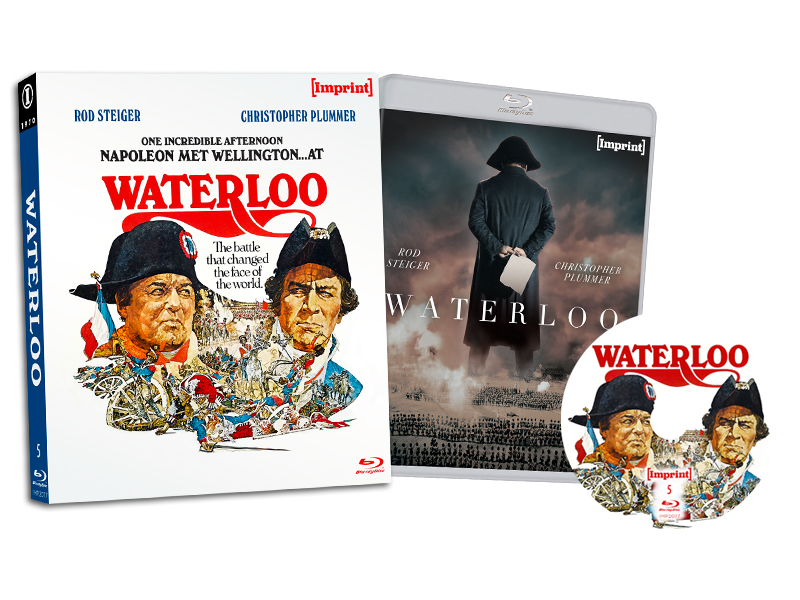 direct blu-ray screen captures
You can follow cinematic randomness on Twitter and Facebook where you'll find all my cinematic exploits. Thank you for visiting!