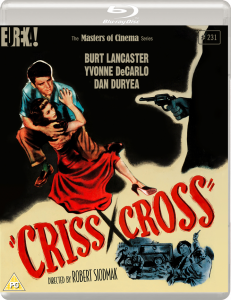 Burt Lancaster cut his teeth as an actor while making his screen debut in Robert Siodmak's noir classic The Killers in 1946. As a result of this successful collaboration, the pair reunited for the relatively lesser-known, Criss Cross, which is now available in the UK on Blu-ray from Eureka Entertainment under the label's "Masters of Cinema" series.
Steve Thompson (Burt Lancaster), an every-day drifter, returns home to Los Angeles where he resumes his previous job as an armoured truck driver. Steve's ex-wife Anna (Yvonne De Carlo) re-enters the picture, who is now married to prominent gangster Slim Dundee (Dan Duryea), but embarks on an affair with Steve, leading them both down a dangerous road.
We meet a lot of characters like Steve in films that deal with organised crime, people who are often fairly innocent but down-on-their-luck for whatever reason; which makes them susceptible to the lure of easy money. However, in Steve's case, his predicament is both the result of the prospect of a big payday and a "dame", to use the film's language. Criss Cross takes a closer look at why some people choose to brush up against the criminal underworld. For some, it's simply the thrill of doing something "wrong", while for others the vulnerability of having nothing prompts them to take very needless risks. The "gangster" element here is tame compared to other films of the era as this is more of a character-driven piece with Lancaster as our sympathetic protagonist. The leading man often looks very sharp in the stylish late 40s get-ups, as though he's modelling for J. C. Penney, but the film's eye for fashion is heightened by the noir aesthetic, which is especially prevalent throughout the feature with some of the action sequences taking on a dream-like quality; one, in particular, feels detached from reality. Supporting players Yvonne De Carlo and Dan Duryea complete the ill-fated love triangle, with the latter being particularly menacing as the deadly jealous Slim, one of the genre's more notable villains.
VIDEO AND AUDIO
There have been seven Blu-ray releases of Criss Cross in total throughout the world, which even made its HD debut in Australia back in March, 2017 under a local label. Eureka's offering comes from a new 4K scan of the original nitrate negative, and if you've seen Inglourious Basterds you'll know all about them. Needless to say, viewers are in for a treat with the 1.37:1 picture offering a level of clarity that defies age. Many of the daylight scenes appear as though they were filmed only recently, part of some sort of late 40s mock-up. It's one thing being able to enjoy an old movie in such high quality, but I think it's also important to note that tiny slices of day-to-day life are also being preserved for prosperity, thanks to the tireless work of boutique labels like Eureka. Sound comes in an uncompressed LPCM 2.0, which is quite flat compared to most modern mixes of newer features, but it's as clear and rich as a 2 channel track can get, so I have no complaints. Optional English subtitles are included.
SPECIAL FEATURES
New audio commentary by film author Lee Gambin, and actress Rutanya Alda
New audio commentary by film scholar Adrian Martin
Screen Director's Playhouse radio adaptation from 1949, featuring Burt Lancaster
Isolated music & effects track
Theatrical trailer
A collector's booklet featuring new writing by film historian Kat Ellinger; an essay by Adam Batty; archival writing and imagery
Over these past several months of reviewing classic titles, I've built up a modest collection of radio plays, which are more often than not accompany movies of this nature. They're a welcome addition that give film audiences a chance to experience life before the convenience of television. In the case of Criss Cross, its radio adaptation runs for 29 minutes over a slideshow of posters and an assortment of colour lobby cards. Film-noir aficionado, Lee Gambin, provides one of the two new commentaries who is never shy about letting his fandom seep in, while Adrian Martin takes a more intellectual approach in talking about the film.
Criss Cross is followed a by a feeling of pending doom as the viewers bask in the ambience of a what I would cite as "seminal film-noir classic"; one that I think will surprise modern audiences as it did for me during my first viewing. Eureka Entertainment has produced a quality release that will no doubt find a place on many shelves.
CRISS CROSS
(1949, director: Robert Siodmak)
★★★★
direct blu-ray screen captures
You can follow cinematic randomness on Twitter and Facebook where you'll find all my cinematic exploits. Thank you for visiting!