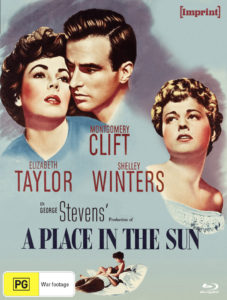 I have to admit I wasn't particularly excited to watch A Place in the Sun following its announcement from Imprint Films, No. 8 in the label's second wave, and I'm not mistaken, the only one which hasn't sold out …yet. Winner of six Oscars including Best Director for George Stevens, this tragic tale of love and life follows young man, George Eastman (Montgomery Clift), a poor drifter who gets a job working for his rich uncle. Our hero soon falls for a co-worker, Alice (Shelly Winters), then shortly after forms an intense infatuation with the more well-to-do Angela (Elizabeth Taylor).
I know how it sounds, a pretty stock-standard love triangle divided by social class, even for the early 50s, but there's a darkness to this story that I was not expecting. A Place in the Sun has a melancholic feeling that emanates from George, who carries a sadness with him that's never quite defined. We know little about his previous life other than his family chose a life of religious worship and selflessness, which is implied to be the origin of some trauma. While he's welcomed into his uncle's world with open arms, it's clear George is struggling to find his footing in this new life that's been generously bestowed upon him, which is perhaps why he's drawn towards Alice. Monotonously folding boxes on a production line, she's content but practically invisible due to company policy and her modest appearance. She speaks to the longing we all have for love and companionship or at least acknowledgement; and although a little desperate, Alice is a remarkably realistic character for this romanticised Hollywood featured. Angela's entrance into the picture becomes a gateway for George into the upper echelon of society, although it doesn't seem to interest him. While his proclaimed love for Angela appears genuine and mutual, it's still unclear what George is looking for, which sets him on a tragic course with destiny. Montgomery Clift delivers a performance that's pleasant, but also quite sullen. You can also see the wheels turning inside his head, full of confusion, anguish and indecisiveness. George Eastman symbolises that finding our 'place in the sun' can be a lot more difficult for some than it is for others. Winters and Taylor are both perfect in their respective roles of two relatively innocent women, separated by maturity who are both drawn to the sympathetic quality of our male protagonist.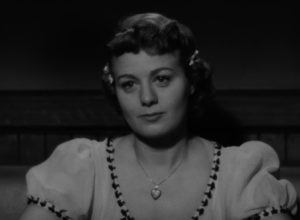 VIDEO AND AUDIO
Many black & white classics from Hollywood's Golden years found a new audience thanks to high definition, which in some cases revealed more stunning detail than their Technicolor counterparts. Imprint Films' 1080pm presentation of A Place in the Sun comes from a 4K restoration by Paramount Pictures, which has yielded an impressive 1.37:1 image with a beautiful matte texture and a very radiant quality. However, there are brief moments scattered throughout when the quality dips slightly, taking on high contrast with less detail, but they're usually toward the end of scenes. Sound comes in 5.1 DTS-HD Surround with an optional LCMP 2.0 Stereo track, which really elevates the film with its sweeping romantically-styled score. Dialogue is very much front and centre with solid volume, not becoming blended with background sounds.
SPECIAL FEATURES
Audio commentary with George Stevens Jr. and associate producer Ivan Moffat
• "George Stevens and His Place in the Sun" featurette
• "George Stevens: The Filmmakers Who Knew Him" – Warren Beatty, Frank Capra, and others reminisce about working with Stevens
• Theatrical Trailer
• Optional English subtitles
• Limited Edition slipcase on the first 1000 copies
There's a nice amount of bonus material, although it's mostly geared towards the life of director George Stevens, there are a number of accompanying interviews with numerous stars and fellow filmmakers. Elizabeth Taylor reveals in George Stevens and His Place in the Sun that working with co-star Montgomery Clift changed her entire approach to acting, which was interesting and it's a shame there wasn't more about Clift's life on the disc. Overall the release is perfect for film buffs and I really like differing artwork between the slipcover and standard case, which will hopefully get a second pressing should the title sell well.
A Place in the Sun is based on the 1925 novel, An American Tragedy; a more appropriate title, but probably a harder sell for film audiences of the time. It's a well-made film which holds up to this day due to its universal themes and pondering nature about one's desires, ambitions and finding what truly lies in our heart.
A PLACE IN THE SUN
(1951, director: George Stevens)
★★★★½
Head over to the Imprint Films Facebook page for the latest releases, giveaways, great deals and more!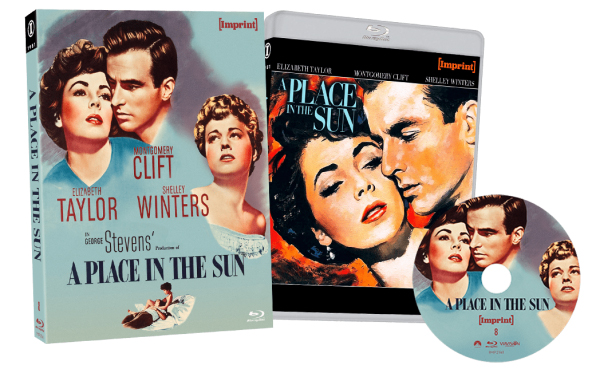 direct blu-ray screen captures
You can follow cinematic randomness on Twitter and Facebook where you'll find all my cinematic exploits. Thank you for visiting!