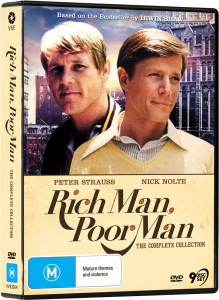 American television during the 1970s treated audiences to a number of absorbing and landmark mini-series', often exploring the life experiences of everyday people. Rich Man, Poor Man is one such classic, based on Irwin Shaw's 1969 novel of the same name and follows the diverging paths of two German-American brothers from an improvised migrant home in upstate New York. Now on DVD from Via Vision Entertainment, Rich Man, Poor Man – The Complete Collection (1976-1977) includes all 33 episodes covering both Book I and Book II in a 9-disc set.
BOOK I
We're introduced to brothers Rudy (Peter Strauss) and Tom Jordache (Nick Nolte) on VE Day, 1945 in their home town of Whitby. Rudy, the eldest of the two, is well educated and ambitious while the younger brother, Tom, is rebellious but good-natured. These defining traits are significant in steering the course of their lives to come, which paint a very poignant and realistic portrait of post-war America with its social dynamic and economic boom. Storytelling is structured with an even focus on both leads, and the contrast lends itself to much of the show's emotional factor. Many of the characters we meet are well fleshed out and defined, in particular, Susan Blakely as Rudy's high-school sweetheart, Julie Prescott. She's an independent woman, exceptional for her time, who enjoys great success but endures much anguish and heartbreak due to personal sacrifice and tragedy. Rudy's rapid success in the commercial development world makes him somewhat personification of the rise of suburban America during the Eisenhower administration; an upper-class citizen who is in part dictating how average folk will live. Needless to say, this change reflected through the character's personality resulting in an almost villainous turn compared to the young go-getter we first meet. Tom on the other hand is dealt one bad hand after another with a life plagued by scandal and upheaval. However, despite the seemingly endless streak of misfortune, Tom remains a decent human being to his fellow man with plenty of love and generosity. While he finds success hard to come by, even though the avenue of professional boxing, his spirit echoes the message of wealth being so much more than a dollar figure. Yes, the show does get little corny in that regard, but it's wonderful television and story-telling.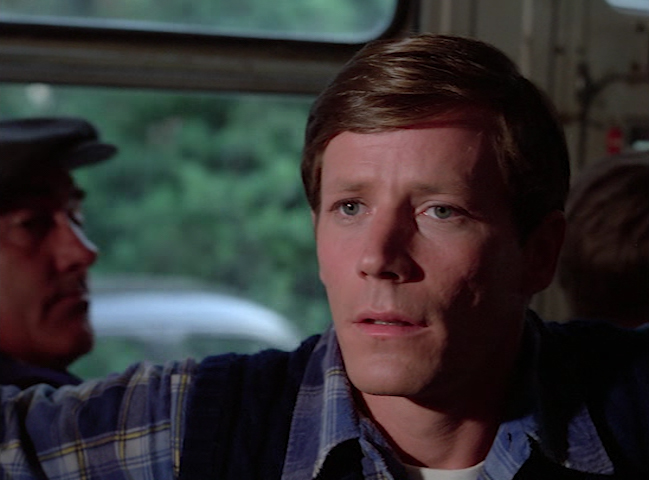 Peter Strauss as the titular 'Rich Man' gives arguably his most famous performance. He reminds me of Nucky Thompson in HBO's Boardwalk Empire; a man from humble beginnings who makes moral compromises for the sake of climbing the corporate ladder and furthering his professional ambitions. While not an outright antagonist, his conduct is almost villainous at times, which will have viewers feeling very conflicted about the character. Nick Nolte delivers a breakout performance as the less fortunate brother Tom Jordache, who never ceases to be a likeable figure and is very much the heart and soul of Irwin Shaw's story. He journey is the most rewarding and despite the numerous setbacks he suffers, Tom remains a decent human being throughout. As you would also expect from a show of this magnitude, there's an almost endless list of supporting characters, played by a multitude of television's finest at the time. Seeing who pops up in each episode is half the fun and while there's too many to name, I have to mention Ed Asner as the self-loathing patriarch, Axel Jordache. He's the type you love to hate, whereas Robert Reed, fresh off The Brady Bunch, chews up the scenery as a wealthy mentor figure to Rudy during the show's early episodes.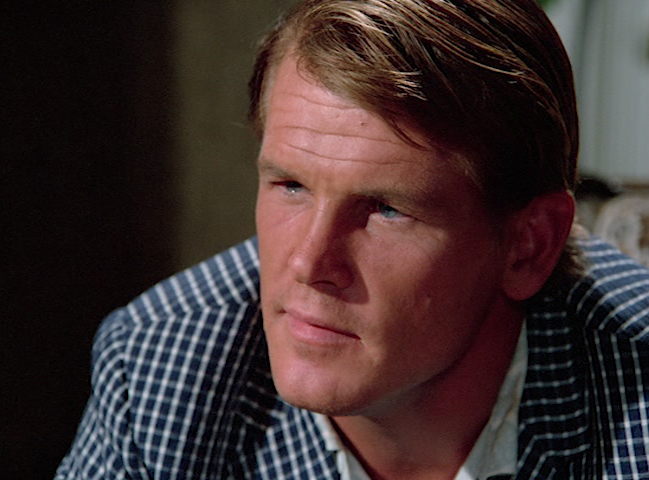 BOOK II
Following the success of its predecessor, Book II was a follow up by popular demand. However, it's far less dignified as Book I and without getting too critical, because there are a lot of fans out there, it was clearly made for a different audience, or demographic if you like. Despite a glaring continuity error, the show picks up directly where the previous series concluded, but does not go in a direction one would expect, opting for story-lines and plots that are commonly found in daytime soaps. With almost twice the amount of episodes, viewers certainly do get good value for money and Peter Strauss as Rudy is the central heroic figure opposite super villain, Falconetti, played by William Smith, who we first meet in Book I. He clearly made a big impression on TV audiences, which I assume why he was given a far more prominent role and to Smith's credit, he has tremendous presence and gives it his all as an actor despite the character being quite one dimensional, and in some instances, cartoonish.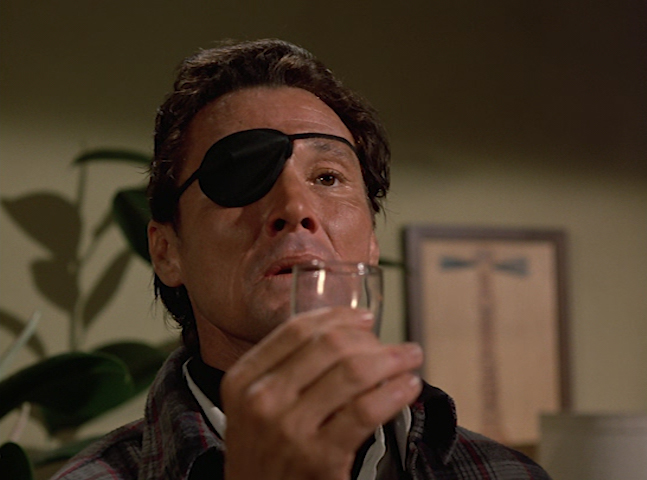 VIDEO AND AUDIO
People often challenge the relevance of DVD in a world that's largely embracing the Ultra HD format, primarily through streaming services. However, I think the first mainstream disc-based medium has proven to be a comfortable and viable platform for classic television, particularly programs which haven't undergone extensive restorations. Rich Man, Poor Man comes digitally remastered and is presented in its original 4:3 aspect ratio via a very crisp NTSC formatted image, which up-scales well on modern TV screens, resulting in picture quality that far exceeds that of the show's original broadcast. While the sound is understandably in 2.0 Mono, it comes through very clear and with good volume, plus English subtitles are included. Unfortunately, the set is region 4 locked, which may be discouraging to potential customers in the U.S. – but in this age of Google, the barrier of region coding is easy to overcome if you catch my drift.
Priced at $79.95 on Via Vision's web site, Rich Man, Poor Man – The Complete Collection is worth it for Book I alone. It's very obvious why this landmark series is held in such high regard, not to mention the high standard it set for writing on television, which we are enjoying today.
RICH MAN, POOR MAN
(1976-1977, writers: Dean Riesner & Irwin Shaw)
★★★★
Head over to the Via Vision Entertainment Facebook page for the latest releases, giveaways, great deals and more!
direct dvd screen captures
You can follow cinematic randomness on Twitter and Facebook where you'll find all my cinematic exploits. Thank you for visiting!