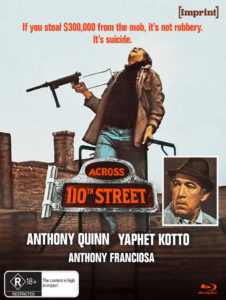 Quentin Tarantino opened his dialogue-heavy and street-crime opus, Jackie Brown, with the song, Across 110th Street, originally written by singer/songwriter Bobby Womack for the film of the same name. Out now on Blu-ray from Imprint Films, this seminal and influential genre classic is being celebrated once again by critics and fans alike.
When a mafia "bank" is ripped off in Harlem by small crew of impromptu criminals, they unknowingly sign their death warrant as two opposing New York detectives, played by Anthony Quinn and Yaphet Kotto are tasked with finding them before the city's criminal underbelly brings war to the streets.
Across 110th Street is an exciting and racially charged feature that brushes against elements of Blaxploitation, although the film plays out its plot and story quite seriously; and the friction between our two law enforcement leads paints a rather damming portrait of institutional racism and the use of outdated police practices. Furthermore, the film's title, which references an invisible barrier between classes both social and criminal, serves as a central theme, with the wealthier Italian gangsters yielding control over their black associates in Harlem, a relationship that's proven lucrative, but often volatile.
Performances are explosive, especially between Quinn and Kotto, who despite their difficult relationship, gradually start to gain mutual respect as the story progresses, but it's not done in a ham-fisted way. It's very subtle, which I think is realistic given the circumstances.  Anthony Franciosa deserves praise as the film's most despicable supporting player, Nick D'Salvio, an upstart son-in-law to the boss, who overcompensates with sadistic and psychotic behaviour, unable to climb the ranks on his own merit. He's truly menacing with a smile that screams lingering insanity.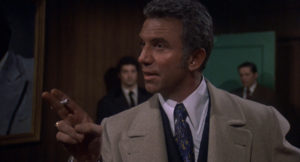 VIDEO AND AUDIO
Presented in the film's original 1.85:1 aspect ratio, this 1080p transfer from MGM is among the best I've seen among Imprint's range of titles. While the picture is quite dark at times, the deep levels of black and high contrast give the film a very natural appearance and bring much detail and texture to the image. Bobby Womack's titular theme sounds great via the LPCM 2.0 stereo track, as does the film in general. Although volume does tend to dip here and there for short periods with character dialogue, the overall quality is rich. English language and optional HOH subtitles are included.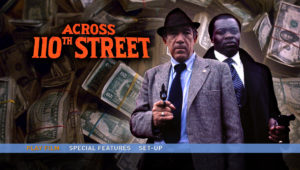 SPECIAL FEATURES
NEW Audio commentary by cinema author/critic Matthew Asprey Gear (2022)
Anthony Quinn: An Original – 1990 documentary
NEW Interview with author Mikel J. Koven (2022)
Theatrical Trailer
Imprint's special features for Across 110th Street may be few, but they certainly are informative and engaging, and an improvement on the bare bones U.S release from 2014. Matthew Asprey Gear's commentary is filled with in-depth background trivia on pretty much everyone who worked behind, and in front of the camera on this crime film, while also explaining its connection to other genre films from the period. The interview with Mikel J. Koven goes into specific detail about Across 110th Street's connection to blaxploitation and offers several convincing reasons why its not a member of the subgenre; being Imprint's sole new featurette on this release, its obvious they put extra effort into the editing for it. Anthony Quinn: An Original is a 1990 TV documentary that runs for 50 minutes and covers the actor's personal life and career, and features interviews with several Hollywood legends whom he worked with.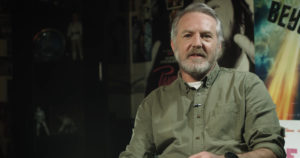 I was born over a decade after Across 110th Street was released, so I can't attest to its authenticity, but this movie is a time machine. You can almost smell the streets of early 70s New York, a crime-ridden city heading towards financial ruin. It isn't address directly, but the cinematography often captures striking shots of urban decay that more resemble a post-war setting as opposed to a modern metropolis.
ACROSS 100TH STREET
(1972, director: Barry Shear)
★★★★
Head over to the Imprint Films Facebook page for the latest releases, giveaways, great deals and more!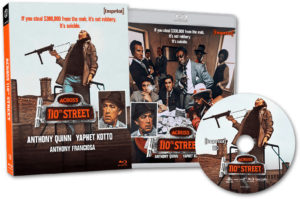 direct blu-ray screen captures
You can follow cinematic randomness on Twitter and Facebook where you'll find all my cinematic exploits. Thank you for visiting!