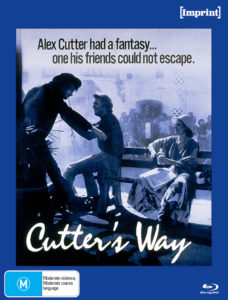 When actor John Heard passed away in 2017, there was a surprisingly moving reaction from fans. Not just of Home Alone, but Heard's body of work in general, from his days as a New York thespian to his memorable appearance in The Sopranos. However, it was a little film named Cutter's Way that people were citing as his absolute best; a neo-noir classic that came in under the radar during its initial release but is now being celebrated with a new Blu-ray release under Imprint Films.
Jeff Bridges is top-billed as Richard Bone, a causal guy, who witnesses a body being dumped in a dark alley after his clunker of a car breaks down. When he later spots who he thinks might be the culprit, a prominent member of society, his buddy, Alex Cutter (John Heard), a belligerent one-eyed and one-armed Vietnam vet becomes obsessed with bringing the alleged killer to justice.
Cutter's Way belongs to John Heard, who portrays a character thriving on chaos, lashing out at the world, or more specifically the nation he once fought for. He's a casualty of America's arrogance and corruption. Meanwhile, the man he seeks, a tycoon of industry represents those seemingly above the law. It is indeed Heard's best performance. He's raw, poetic, cruel and at times humorous with his complete lack of filter.
These are just the facts, Rich. I mean, I haven't even begun to let my imagination loose on this one. – Alex Cutter
Jeff Bridges, while very chill, is a counter to Cutter's hectic nature but often to no avail. Bone's efforts to reason with his friend's relentless pursuit only add to the growing tension and turmoil that begins to engulf their lives, along with Cutter's depressed wife Maureen (Lisa Eichhorn); who, like her damaged husband, is an alcoholic, often drinking herself into the night. I get a low-key 'Big Lebowski' vibe from Bridges as Bone. He seems to get by with minimal effort, – "Goldbricking" if you like, and is rather flaky, especially when Cutter recruits the victim's sister in his crusade.
As a film, this genre hybrid has an ambiguous quality that lies between Bone's unwillingness to commit to what he saw on the night in question and Cutter's unwavering certainty. It's a captivating mystery that makes the viewer think logically about the events that transpire, which keeps the plot grounded and from indulging in any larger conspiracy.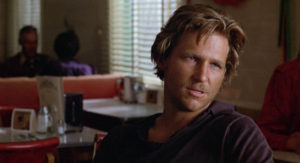 VIDEO AND AUDIO
Cutter's Way previously enjoyed a Blu-ray release under the now-defunct but respected label, Twilight Time, the transfer of which, a 1080p presentation by MGM, has been utilized by Imprint Films. It's a nice 1.85:1 image that's sharp but not too polished and has a warm hue to suit the Santa Fe setting. There's also a nice wash of colours that are toned to the film's neo-noir style. Twilight Time's use of a DTS-HD track has been replaced with uncompressed LPCM 2.0 Mono, which has a remarkable richness and the dialogue is of decent volume. English language and optional HOH subtitles are included.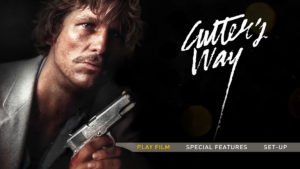 SPECIAL FEATURES
Audio commentary by film historians Julie Kirgo and Nick Redman
NEW Audio commentary by assistant director Larry Franco and unit production manager Barrie Osborne (2022)
NEW Introduction video by Jeff Bridges (2022)
NEW Two Plus One – screenwriter Jeffrey Alan Fiskin on Cutter's Way (2022)
NEW Gurian's Way: The Road to Cutter and Bone – featurette (2022)
NEW Cut to the Bone: Inside the Score – featurette (2022)
Isolated Score Audio track
Theatrical Trailer
Imprint often delivers interviews, commentaries, and video essays from film experts, fans, and authors that are highly informative and interesting. That being said, it's always a treat when labels can get material from people who worked on the movie in question; thankfully, this is the case with Cutter's Way. Star Jeff Bridges offers a warm introduction, that while short, is still filled with amusing anecdotes and touching comments about his co-stars. Unlike some Blu-ray releases, this introduction is only available to play via the menu and is separate from the main feature; it is spoiler-free so feel free to play it beforehand! Screenwriter Jeffrey Alan Fisk gives a 17-minute sit-down interview that details his involvement and work on the film as a then-unknown who was given the freedom to work on set while shooting. As a producer, Paul Gurian offers a more in-depth and complete picture of how the film went from page to screen, as well as its sometimes-hectic production. On the score-side of things, Curt Sobel, who worked as a music editor on the picture, recounts in an audio interview how some of the more unique sounds in Cutter's Way were obtained; isolated music and effects score is included too. Even this release's newest commentary is supplied by the movie's assistant director and production manager, but the older Twilight Time commentary is worth a listen as it's provided by very committed fans. – by Hannah Lynch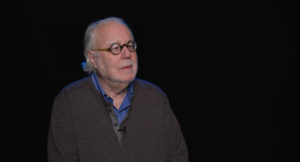 Cutter's Way is a transitional film of the New Age Hollywood era that feels neither pessimistic nor optimistic. It's an aimless wander for a post-Vietnam generation desperate to start living again. Its mellow setting and mood with an ominous undercurrent, I think, resonates with those feeling out of sorts with the world today.
CUTTER'S WAY  
(1981, director: Ivan Passer)
★★★★½
Head over to the Imprint Films Facebook page for the latest releases, giveaways, great deals and more!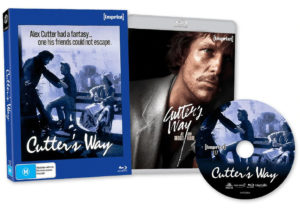 direct blu-ray screen captures
You can follow cinematic randomness on Twitter and Facebook where you'll find all my cinematic exploits. Thank you for visiting!