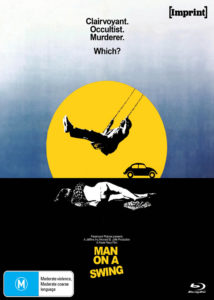 Murder was the theme of Imprint Films' April bundle, from the overwhelmingly popular The Wicker Man to the previously hard-to-find cult thriller, Man on a Swing; starring Joel Grey in a chilling post-Oscar performance opposite all-American leading man, Cliff Robertson.
Lifted for the grisly annals of true crime, more specifically The Girl on the Volkswagen Floor, by journalist William Arthur Clark, homicide detective, Lee Tucker (Robertson) is hard-pressed to solve the murder of a young female teacher. Things take an unexpected turn when a local factory worker, Franklin Wills (Grey), claiming to be a clairvoyant, offers his unique insight into the case. However, it's not long before Tucker begins to wonder if this usual and seemingly good Samaritan has an ulterior motive.
An unexplained murder has been the set up for countless thrillers, to the point where we've almost become numb to the notion of life cruelly taken. However, in Man on a Swing the impact and pain of the killing are felt throughout the opening act, from the shocking discovery of a body in a supermarket parking lot to the uncontained grief of loved ones.  Joel Grey's unceremonious entrance into the film, first via telephone, immediately has the wheels turning inside our lead detective's head. As Wills goes into impromptu trances followed by a burst of theatrics, the question is repeatedly posed to his audience, on and off the screen, of whether he's a concerned citizen or a guilty party. Grey's performance as the eccentric psychic balances a very thin line between pleasant and threatening, and despite his apparent good intentions, there's a sinister aura surrounding him that's only countered by Tucker's unphased demeanour. Robertson plays the hardened detective convincingly, who literally never blinks, but there are moments of doubt as to whether Tucker can handle someone like Wills, or to go a step further, can Robertson handle an actor like Grey?
Man on a Swing encroaches on the paranormal and elements of the occult, but never ventures any further than a suggestion, which helps to maintain a constant level of intrigue and fascination for the viewer. What's happening remains inconclusive, which I think is the main reason why the film is so disturbing and works so well.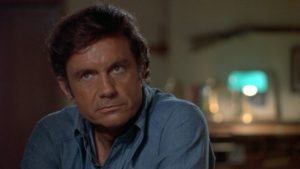 VIDEO AND AUDIO
Man on a Swing hasn't seen a Blu-ray release since its debut on the format back in 2012, under Olive Films (U.S.) and Mongrel Media (Canada) which were more or less the same edition. Imprint Films has used the same 1080p transfer from Paramount Pictures, which looks very typical of mid-70s classics with an image that doesn't carry much detail, featuring a somewhat muted colour pallet. However, the 1.78:1 presentation is free of any noticeable damage and still appeared eye-catching, taking up almost the entirety of my TV screen. LPCM 2.0 Stereo has a more defining quality of sound compared to more common 2.0 Mono tracks, but volume was quite low during many scenes, so expect to crank up your sound system. English substiles are included.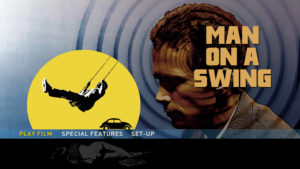 SPECIAL FEATURES
NEW Audio commentary by film historian/filmmaker Daniel Kremer (2022)
NEW Audio commentary by film historian/filmmaker Howard S. Berger and Frank Perry archivist Justin Bozung (2022)
NEW Other Worlds – Joel Grey on acting and Man on a Swing (2022)
NEW Schifrin On A Swing – featurette with film music historian Daniel Schweiger discussing Lalo Schifrin's music score
NEW The Show Must Go On: Frank Perry & The Framing of the American Dreamland – a video essay by Howard S. Berger and Kevin Marr (2022)
Limited Edition slipcase on the first 1500 copies with unique artwork
A vast improvement on previous Blu-ray releases in the supplementary department, Man on a Swing comes with a slew of all-new exclusive featurettes. Fans have two commentary tracks to choose from which both go into vast detail on the film's themes and how they relate to the director's overall filmography; the main difference between them is that the second track features two commentators and therefore is more of a "conversation". For those who don't feel up to sitting through the film again, The Show Must Go On video essay offers a similar listening experience to a commentary but in an abbreviated 45-minute form. Film historian Howard S. Berger certainly discusses from outside-the-box ideas relating to the movie, but I think the essay relies too heavily on clips that spoil other of Perry's movies (word of warning). Schifrin on a Swing is a brief 10-odd minute discussion on the film's score and is an interesting listen for Dirty Harry fans as the commentator compares similarities in various music tracks from both movies. Finally, the interview with star Joel Grey may be the most interesting addition to this list of special features as the actor recalls his experience playing such an eccentric character over 45 years later.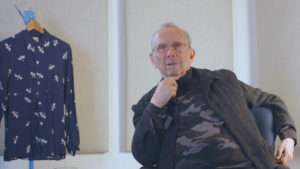 Imprint Films have given an almost Criterion-level treatment to Man on a Swing, compared to previous editions, which I expect will help lift this classic out of obscurity and given the popularity of 'True Crime' in mainstream media, I think fans will latch on it.
MAN ON A SWING
(1974, director: Frank Perry)
★★★★
Head over to the Imprint Films Facebook page for the latest releases, giveaways, great deals and more!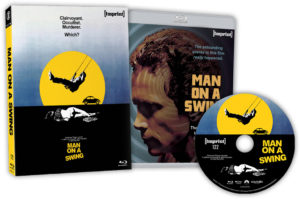 direct blu-ray screen captures
You can follow cinematic randomness on Twitter and Facebook where you'll find all my cinematic exploits. Thank you for visiting!