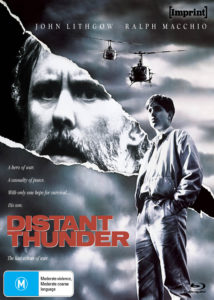 With the studio vaults wide open to boutique labels, Imprint Films have been taking full advantage by giving an HD home to overlooked back catalogue titles, such as Distant Thunder, a movie that' "so far down it's not even on the map", to quote The Warriors. However, this isn't a bad thing, just your typical case of a smaller film getting lost among a stack of blockbusters, which 1988 wasn't short on.
John Lithgow stars as a mentally scarred Vietnam veteran, Mark Lambert, who, for the past 18 years has been secluded in Washington's wilderness, estranged from his fortunate son, Jack, a bright high school graduate played by Ralph Macchio, because that's believable. With encouragement from a friend, Mark attempts to reach out, which leads to an uneasy reunion followed by a sudden fight for survival spurred on by past trauma and unresolved guilt.
Rambo III was released the same year as Distant Thunder, a sequel far removed from the PTSD roots of First Blood, along with Cannon's discount offering, Braddock: Missing in Action III; which makes me wonder if the story by Robert Stitzel and Deedee Wehle was a sort of countermeasure to give the plight of the traumatised soldier depth and meaning again. Either way, I think Distant Thunder does succeed in doing so, especially for the first hour, most of which is spent with Mark who clearly has a lot of weight on his shoulders; between an army buddy's suicide and re-entering society. Lithgow's very restrained and distant performance is effective in conveying the very deep and profound feelings buried within him, while Macchio, despite being almost ten years older than his character, is very convincing as a young man coming of age.
Rick Rosenthal's direction is generally focused, but the film does veer off the rails for a lengthy period in its second half, unsure if it wants to become an action film. This unfortunately undercuts the heart of our story while wandering into some melodramatic territory, even playing up common "Vietnam Era" tropes like Creedence's Bad Moon Rising playing while our war-torn hero drowns his sorrows. Thankfully though, there's a course correction towards the end, which amounts to a satisfying and somewhat optimistic conclusion.
VIDEO AND AUDIO
Distant Thunder makes its Blu-ray debut under Imprint Films, accommodated by Paramount Pictures who has supplied the 1080p master, which I suppose at this point is now the new standard definition. It's a decent 1.78:1 image that generally displays a dark tone, which to be fair, more reflects Washington State's overcast weather, whereas the DTS HD 5.1 audio track certainly does a lot for the titular distant thunder, constantly tricking me to think there was an actual thunderstorm occurring. Suffice it to say it's an immersive track, but for if you want the dialogue to be a priority, I recommend switching over to the LPCM 2.0 stereo track.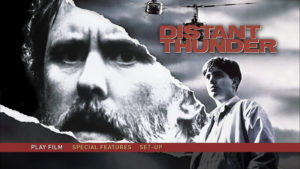 SPECIAL FEATURES
NEW Audio commentary by author David J. Moore
Theatrical Trailer
There's not a lot to write home about with this release supplement-wise, but Imprint's choice of artwork is a nice call back to the days of VHS. David J. Moore's commentary is educational in quality regarding the film's subject matter, both comparing it to similar works and providing historical context for various plot points.
Distant Thunder is a perfect title that speaks volumes about how the war is always in earshot for many who served, despite the conflict itself being over for many years. As a film, it does get faulty, but I think fans of the genre will still enjoy it as did I, and I'm sure Imprint's efforts won't go unnoticed.
DISTANT THUNDER   
(1988, director: Rick Rosenthal)
★★★½
Head over to the Imprint Films Facebook page for the latest releases, giveaways, great deals and more!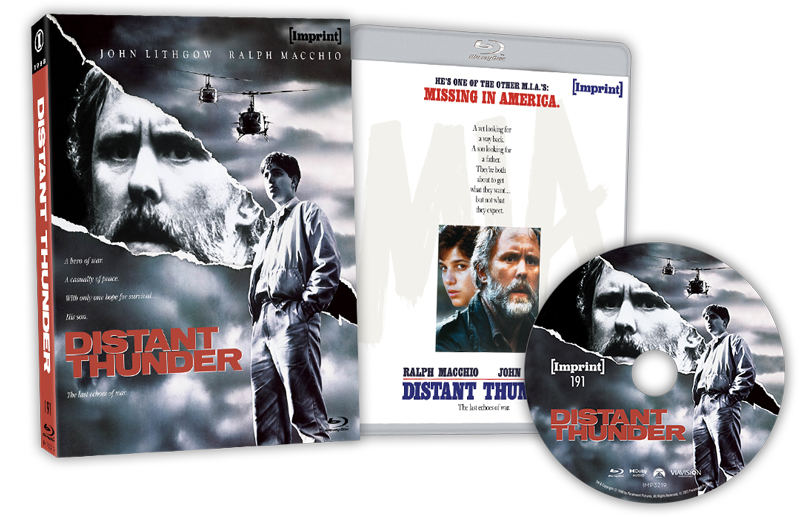 direct blu-ray screen captures
You can follow cinematic randomness on Twitter and Facebook where you'll find all my cinematic exploits. Thank you for visiting!