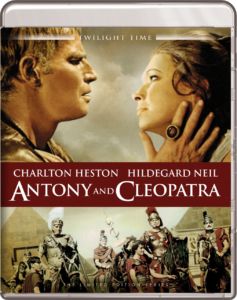 With a strong a background in Shakespeare, not to mention a larger than life screen presence, actor Charlton Heston fought tooth and nail to bring Antony and Cleopatra to the big screen, despite no interest from major Hollywood studios. Stepping into the director's chair for the first time, in addition, writing and starring, the star ultimately succeeded with a less than modest budget (much out of his own pocket) and some savvy resourcefulness.
Antony and Cleopatra is essentially a power play gone wrong, instigated by the temptress Queen of Egypt, Cleopatra who encourages he lover, the Roman general Mark Antony to embark on an ambitious military conquest against Octavius Caesar. I'm not particularly well educated when it comes to Shakespeare apart from the crash-course most of us took in high school, but it's very obvious that all those involved in this work had great respect for the original text. Shakespeare's very distinctive style of language here is delivered with the same heated passion and dignity that one would expect from a stage performance. Charlton Heston as our flawed hero, Antony, personifies not only the character perfectly, but the actor's own legend. He's never better, despite being past his prime, and his efforts as a first-time director are impressive. Costumes and set design defy what one would expect from such a small budget as they sport much detail, although some interior structures do look noticeably superficial, but I dare say it's more a result of the HD upgrade. Heston cleverly re-uses leftover footage from the sea battle in Ben-Hur, which are spliced in well resulting in little inconstancy. English actress Hildegard Neil known mostly for her stage work is very fiery as Cleopatra while conveying her insecurities over Antony. She isn't overshadowed by Heston, who rightfully treats her as a legitimate star in her own right, despite the film's failure to reach a wide audience.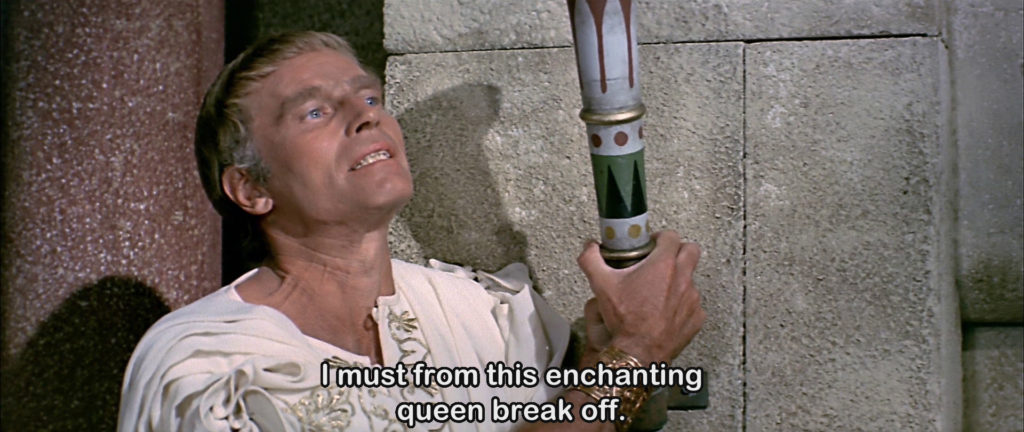 VIDEO AND AUDIO
While the 1080p picture is very sharp, it's not the best we've seen from Twilight Time, but I doubt it's not from a lack of effort. I'm not sure how to describe the look other than it has a sort of "weathered" appearance, like VHS tape that's been watched too many times, although colour remains very strong. Presented in 2.35:1 widescreen, sound is in 1.0 DTS-HD Master Audio and come through quite low in volume with a very audible background hissing. However, English subtitles not only help with the audio track but serve as helpful aid for those not accustomed to the Shakespeare text.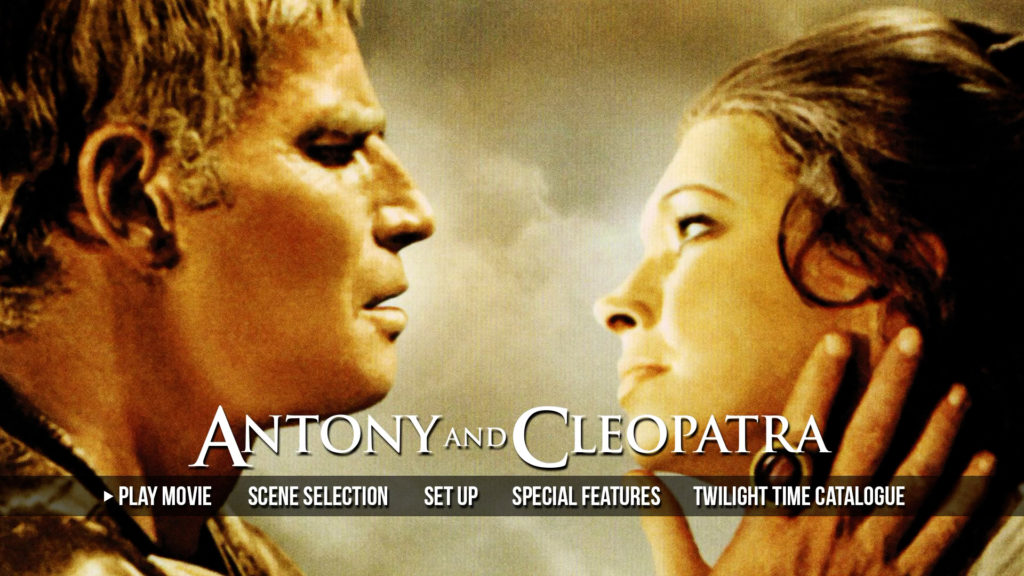 SPECIAL FEATURES
Isolated Music Track
Audio Commentary with Film Historians Lee Pfeiffer and Paul Scrabo
The Making of Antony and Cleopatra with Filmmaker Fraser C, Heston
Original Theatrical Trailer
6-Page Booklet
Antony and Cleopatra has a magnificent score by composer John Scott, which can be heard best via the isolated music track. Commentaries and a thirty-minute 'Making-of' give a nice outlined history behind the film in addition to Julie Kirgo's essay about the laboured production, found inside the booklet with some appropriately epic theatrical poster art.
Antony and Cleopatra may have been a labour-intensive production, which ended up going unnoticed by mainstream film audiences, but it's a commendable film even though the genre wasn't in vogue at the time. Twilight Time Movies have turned out a quality Blu-ray release, which is well-worth your money, especially with the label's current sale of their back catalogue.
ANTONY AND CLEOPATRA    
(1972, director: Charlton Heston)
★★★½
direct blu-ray screen captures
You can follow cinematic randomness on Twitter and Facebook where you'll find all my cinematic exploits. Thank you for visiting!