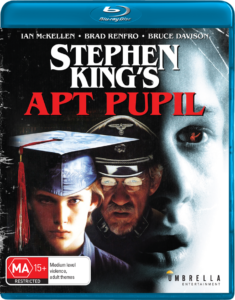 Umbrella Entertainment's announcement of Apt Pupil Blu-ray release to come out of left field but was met with a generally positive response from fans of the suburban thriller. Based on Stephen King's novella of the same name, our story takes place in Southern California, 1984. Todd Bowden, a 16-year-old student discovers that his elderly neighbour is a former SS officer, now a fugitive war criminal evading justice. What follows is a twisted journey of blackmail, depravity and murder.
Stephen King's body of work is pretty terrifying stuff, with stories often stemming from an other-worldly or supernatural source. Whereas with Apt Pupil, the basis revolves around real-world evil, particularly the Holocaust, perpetrated by the Third Reich. It's a subject that will forever warrant curiosity, mostly due to the fact that it occurred in the western world and the immense scale on which it was carried out. Todd's fascination with this unfortunate side of history, however, is undeniably morbid and seems to come from a dark place within the boy's mind. When our hero confronts his elusive German neighbour Kurt, we want to believe his actions are noble, but we know a sinister agenda is about to be put into play. Despite the generational divide, the connection between our two central figures quickly becomes apparent. Both prove to be as cunning and manipulative as each other during their unspoken game of cat and mouse. Kurt's stories of genocide are nightmarish in both their telling and depiction on screen via flashes of subtle yet horrifying imagery. These graphic accounts are arousing to Todd, fuelling his dalliance for Nazism, which begins to affect his social and academic life. While this setup and the disturbing relationship between Todd and Kurt is intriguing to the viewer, I didn't think the film goes deep enough. It more or less flirts with the idea of a young impressionable, yet a troubled boy, dancing with the devil. However, Ian McKellen and Brad Renfro are at the top of their game as sociopathic pair. Their scenes together are eerily quaint but spoken from an unseen veil of darkness.
VIDEO AND AUDIO
Considering how almost the entire film looks like it was shot during sunset, I was quite impressed with the transfer, which archived a level of clarity I didn't expect. Having previously seen the film on an old Tube TV and then via a poor digital film, the contrast with this Blu-ray release is night and day. The sound on the other hand is a little low in volume but is very clear in 2.0 DTS-HD.
SPECIAL FEATURES
Behind the Scenes
Theatrical Trailer
TV Spots
Apt Pupil failed to turn a profit at the box office in 1998 and the film has since slipped into obscurity among the more popular Stephen King screen adaptations, which may be why it's been a rare sight on home media. Umbrella has fortunately managed to dig up a vintage behind-the-scenes featurette, which runs for around 6 and a half minutes, plus a theatrical trailer and TV spots to boot. However, the icing on the cake is Simon Sherry's paperback novel cover design, fitting perfectly in line with Umbrella's previous releases of Cat's Eye and Silver Bullet.
Given the subject matter, Apt Pupil serves best as a film to revisit every ten years or so. It's an exceptional film, quite daring in fact, but certainly not one designed to click with people, although I'm sure some do. Unfortunately, it's become somewhat tainted by the actions of its director, but I am glad that Umbrella Entertainment has seen fit to give Apt Pupil the HD treatment it deserves.
APT PUPIL
(1998, dir: Bryan Singer)
★★★★
You can follow cinematic randomness on Twitter and Facebook where you'll find all my cinematic exploits. Thank you for visiting!