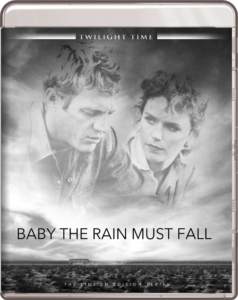 I haven't seen many of Steve McQueen's films, but enough to consider myself a fan and I've been a keen admirer of Lee Remick since watching The Omen as a teenager, so I figured enjoying Baby the Rain Must Fall was a safe bet. New to Blu-ray from Twilight Time under their selective 'Limited Edition' series, this sombre country-town drama is based on the play The Traveling Lady by Horton Foote. Georgette Thomas arrives in Columbas, Texas with her small daughter to join her husband Henry, newly paroled from prison. With dreams of being a singer-songwriter, Henry's hopes and aspirations as a husband and father are fraught by his quick temper and traumatic upbringing.
We tend to think of Steve McQueen as this unflinching, on-screen tough guy: confident and courageous for any given occasion, but his turn as Henry Thomas, a likeable and fairly casual type, reveals a vulnerability we haven't seen before. Baby the Rain Must Fall is a heartbreaking portrait of abuse and its subsequent effects on an individual, and echoes the desire to break free from a gruelling environment and patterns of troubling behaviour. With his wife and child now by his side, we share in Henry's new-found optimism, but also the weight of an over-bearing maternal figure mentioned ominously at the tail-end of conversations by locals. Commentary on rural society is subtle but reiterates the lingering sadness of an attitude that regards fruitful endeavours overmodest and simple living as frivolous; and how common values such as respecting one's elders should be upheld regardless of their behaviour and actions. McQueen's performance as Henry has a lot of energy, yet there's a quietness which enables the emotional burden he's under to be felt through all his scenes. Meanwhile, his co-star, Lee Remick, offers sensitivity and warmth as Georgette. She beautifully personifies sought-after qualities in a community less receptive to one another's feelings. Shot almost entirely on location in Texas, the production has a genuine and rustic feel with Ernest Laszlo's cinematography capturing the dusty and dry setting in a style that's slightly bittersweet.
VIDEO AND AUDIO
Contrary to the obvious emphasis on colour regarding high-definition media, some of the best transfers I've come across have been of black & white classics, Psycho being the first that really stood out for me. Twilight Time's presentation of Baby the Rain Must Fall is very comparable, offering such a high grade in quality that it makes you question how it was possible to achieve. Being a classic title, film grain is noticeable throughout the MPEG-4 encoded image in 1.85:1 widescreen, which has strong contrast and clarity, while sharpness isn't too harsh. Elmer Bernstein's rockabilly opening score sounds fantastic under the disc's 1.0 DTS-HD MA track, which has some solid base behind it and volume is conveniently high. Sound, in general, does not vary at all in the slightest, amounting to an overall sturdy and balanced experience for the ears.
SPECIAL FEATURES
Original Theatrical Trailer
With only a single trailer as bonus content, a small well-presented booklet featuring an essay by Julie Kirgo is a nice extra, backed with a nice print of the film's original theatrical poster. Cover-art is simplistic while echoing the story's poignant quality accompanied by a beautiful production still of Lee Remick as a fitting inside image.
Released just shy of the American New Wave, Baby the Rain Must Fall feels more mature than many of the big studio films of the time. Maybe it was due to the source material, but there's a sincerity that isn't glossed over by Hollywood clichés; it's a slice of life I'm sure many can relate to.
Note: Baby the Rain Must Fall is limited to only 3,000 units and can be purchased by visiting www.screenarchives.com and www.twilighttimemovies.com  
BABY THE RAIN MUST FALL    
(1965, dir: Robert Mulligan)
★★★★
direct blu-ray screen captures
You can follow cinematic randomness on Twitter and Facebook where you'll find all my cinematic exploits. Thank you for visiting!