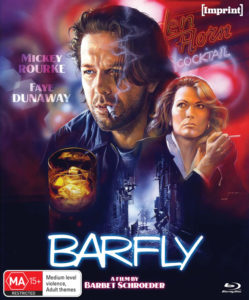 Cannon Films were far from achieving the upper echelon of quality moviemaking in their heyday, but the notorious production company pumped out a few gems, such as Barfly, now available on Blu-ray from the more profitable Imprint Films.
Starring former Hollywood rebel, turned Instagram figure, Mickey Rourke, this cinematic night-cap follows the exploits of poet/writer and alcoholic, Henry Chinaski, loosely based on the real-life Charles Bukowski. Henry spends most of his time between a sleazy flophouse and his regular, The Golden Horn, where he spouts his whisky-fuel philosophy; often while provoking a hot-headed bartender, played by Frank Stallone, into brutal back-alley fistfights.
One night, our inebriated protagonist catches sight of Wanda (Faye Dunaway), a fellow boozer and it's not long before the two form a somewhat volatile yet co-dependent relationship, which ushers in a very surreal and comedic form of chaos that seems to gravitate toward our two leads.
Cheers may have romanticised the local bar, but Barfly offers a hyper-reality of lowly individuals on skid row. Imagine the painting, Nighthawks, but with far less desirable figures in a far less idealistic establishment. We don't know a great deal about our cast of supporting patrons, but enough to invite curiosity and to create your own 'head-cannon' – for example, Henry's neighbours, an elderly couple who enjoy a rather extreme sex life. I imagine them as a personification of a fractured post-WWII America, in which a minority of otherwise normal and innocent couples went off the rails when 'Johnny' returned home from the front, with a bag full of demons.
Mickey Rourke's performance is almost cartoonish regarding his physical manner and distinctive way of speaking, but he's still a character of substance, an enigmatic personality who despite having very little, enjoys the company of others and is content with the simple pleasures in life. These qualities attract a wealthy book publisher, Tully Sorenson (Alice Krige), who is oddly more infatuated with Henry than his writings, whereas Faye Dunaway, at her most non-glamourous, has no preconceived notions. She's just a woman in search of companionship and love.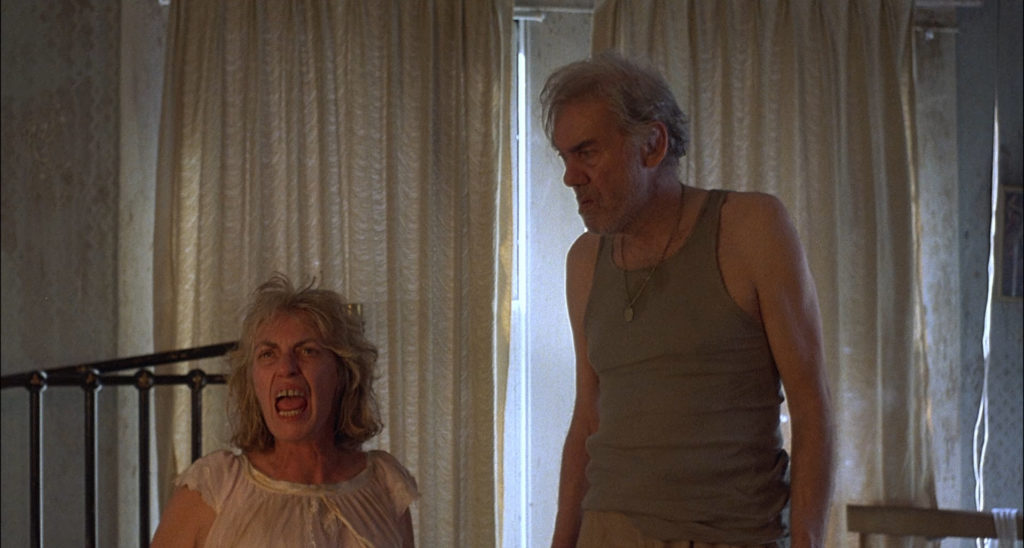 VIDEO AND AUDIO
Barfly was previously served to home viewers in Australia on Blu-ray under Cinema Cult in 2016, which was basically a re-issue of the MGM release from 2010. Imprint is using the same HD master supplied by MGM, but despite its age, the image is a very nice 1080p presentation in 1.85:1 widescreen that certainly does justice to the film's very specific ambience of after-hours on skid-row. LPCM 2.0 Stereo is a simple and robust track, with which you don't have to adjust the volume in order to hear the dialogue, with optional English HOH subtitles.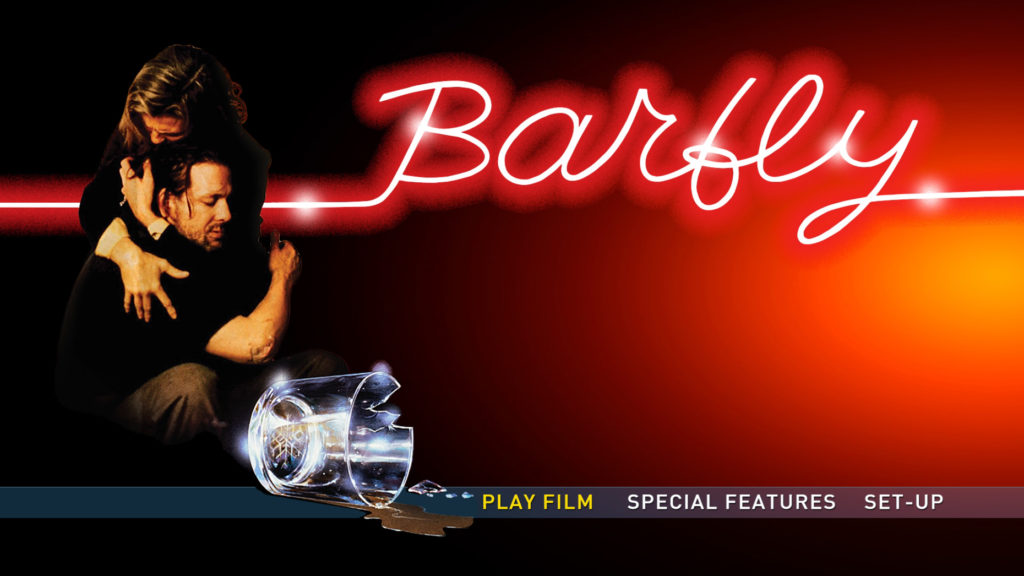 SPECIAL FEATURES
NEW Audio commentary by Kim Cooper and Richard Schave of Esotouric Tours, Los Angeles historians and preservationists
NEW High Society – interview with actress Alice Krige
NEW Another Round – interview with actor Frank Stallone
NEW To All My Friends – interview with editor Eva Gardos
NEW Low Lifes and Dive Bars – interview with production designer Bob Ziembicki
I Drink, I Gamble, I Write… The Making of Barfly – vintage featurette
Theatrical Trailer
Disc Two: The Bukowski Tapes
Original Aspect Ratio 1.33:1
Audio English LPCM 2.0 Mono
Imprint's release of Barfly is certainly a love letter to the film, even at first glance, with our feature presentation and the accompanying Bukowski Tapes packaged in separate plastic cases, housed in a beautiful hard box depicting the Italian Poster art. Aside from an interesting vintage "making of" featurette and commentary from director Barbet Schroder, this edition comes with all new special features. Kim Cooper and Richard Schave prove to be an extremely likeable pair who are hard to turn off once the viewer starts listening to their location-based commentary track; they definitely earn their self-appointed titles of "keepers of the flame for Bukowski's old L.A". Star Alice Krige, who is always a pleasure to listen to, offers a 20-minute video interview and shares some interesting interpretations of the film as well as amusing anecdotes about working on it. Frank Stallone gives a similarly positive recollection of his experience working on Barfly and goes into detail on how co-star Mickey Rourke helped get him the role. Editor Eva Gardos and production designer Bob Ziembicki provide their thoughts on working behind the scenes, which is especially insightful regarding the latter who sheds light on how authentic shooting locations were. Of course, a massive selling point for fans of the film and its inspiration is the inclusion of The Bukowski Tapes; a series of interviews with author Charles Bukowski which run for around four hours. Captured on video, the recordings are raw and candid; they are more so anecdotes rather than in-depth conversations. Viewers who aren't familiar with the author will no doubt find the interviews interesting as many include stories that serve as inspirations for Barfly's key moments. – by Hannah Lynch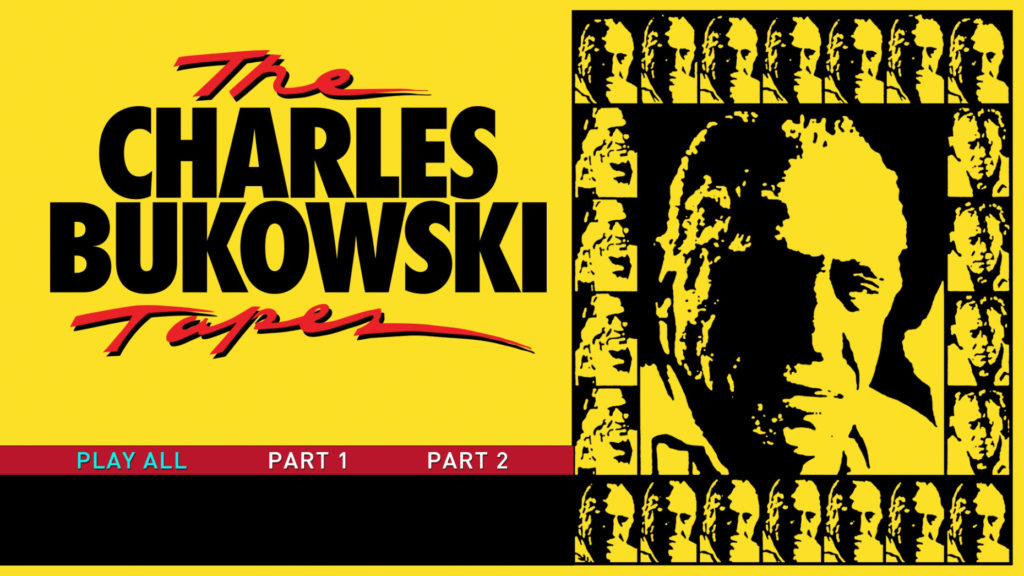 I watched Barfly coming off a night shift and sliding straight into the after-hours drama, in the roughest part of L.A offered just the right vibe with an enticing neon hue. Imprint's release is certainly a top-shelf collector's edition so to speak and packaged in their signature hard box, it's a release worth putting on your tab while stocks last.
BARFLY
(1987, director: Barbet Schroeder)
★★★★½
Head over to the Imprint Films Facebook page for the latest releases, giveaways, great deals and more!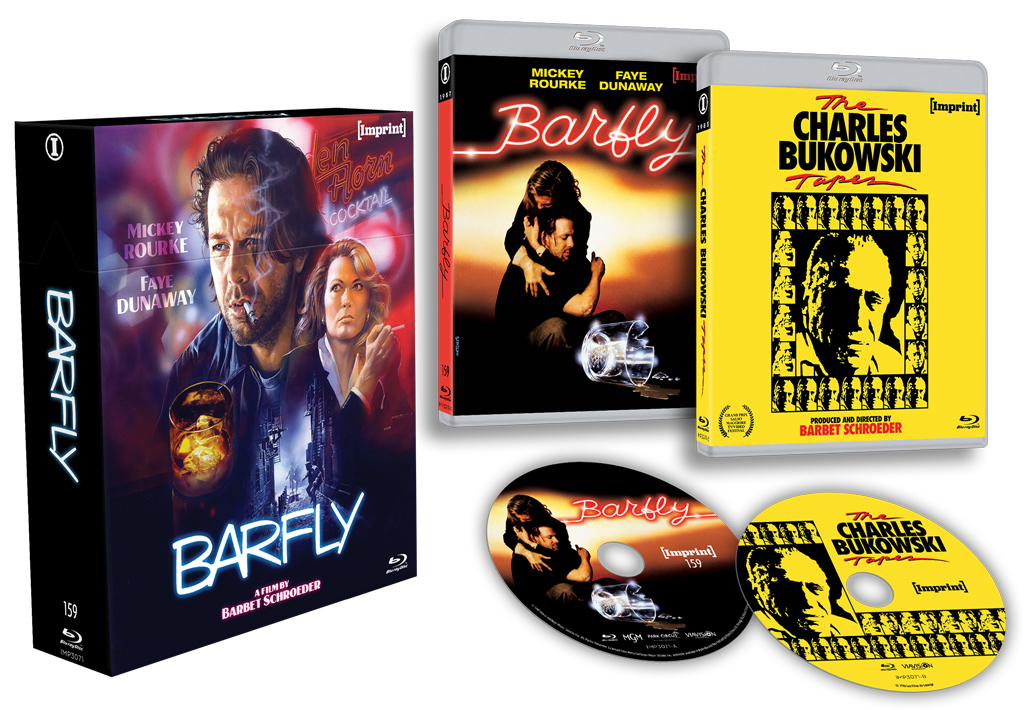 direct blu-ray screen captures\
You can follow cinematic randomness on Twitter and Facebook where you'll find all my cinematic exploits. Thank you for visiting!