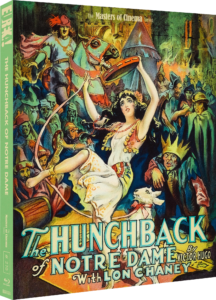 When I was a child, many Saturday mornings were spent at a local abattoir that was managed by my grandfather, along with my father and uncle to a lesser degree. Since there was no work on weekends, the somewhat shabby slaughterhouse was 'the' place to socialise and occasionally a neighbouring local would stop in for a chat. Now as bizarre as it sounds, he bore a striking resemblance to Charles Laughton as 'Quasimodo', although minus the hunched back. He was a rather odd fellow, at least he was to my 8-year-old self, and while I don't know what became of him, I know his house sits long abandoned, which funnily enough has a slight medieval quality.
I've had a long-standing fascination with Notre Dame's vilified bellringer, which sprang from an early memory of seeing the final moments of what I conclude to be one of the several made-for-TV adaptions, that I'm probably misremembering. Although now, I've finally been able to watch Universal's silent classic The Hunchback of Notre Dame, released on Blu-ray in October by Eureka Entertainment. Starring "The Man of a Thousand Faces", Lon Chaney in the titular role of Quasimodo, we follow our hero as he falls in love with a gypsy girl, while a cunning plot to provoke social upheaval among Paris's peasant population is instigated by the self-proclaimed "King of the Gypsies" along with the evil brother of Notre Dame's archdeacon.
It's quickly become apparent why this film is considered the gold standard of Hollywood's silent age. Not only were thousands of extras employed by the major studio for scope and scale, but the production design overall is of exceptionally high quality, despite the limitations of capturing it on film at the time. I honestly couldn't tell the difference between the facade of Notre Dame and the actual cathedral. Even the closed sets offer amazing detail and some of the quick composite birds-eye shots of Quasimodo heckling the crown below don't appear any worse than the films made thirty years later. Lon Chaney embraces the almost clownish nature that Quasimodo exhibits as well as the palpable resentment he spews down to his repulsed onlookers, who take great pleasure in the public torture they inflict upon him. Esmeralda, the gypsy princess, is the film's object of desire, although, for varying reasons, she shows compassion towards Quasimodo, looking past his physical deformities as does archdeacon Don Claudio. With the story exploring themes of social class or social inequality, our freakish protagonist symbolises the ugliness or mistreatment towards the lowly citizens in a city ruled by royalty and aristocracy.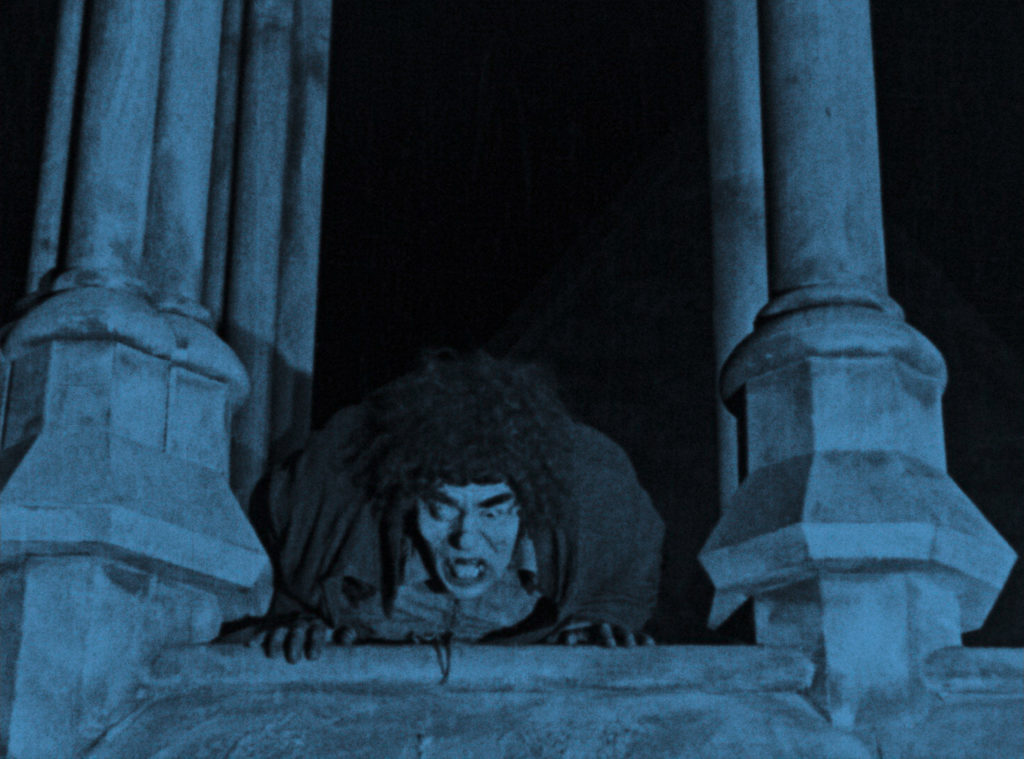 VIDEO AND AUDIO
Silent films have always been in good hands under Eureka, in fact, Der Golem was the first review I wrote for the renowned UK label. Sourced from a 4K restoration conducted by Universal Pictures, this stunning 1080p presentation in 1.33:1 really is an experience combined with Nora Kroll-Rosenbaum & Laura Karpman's tremendous music, which at times even contributes to the film directly by filling voids left by the absence of sound.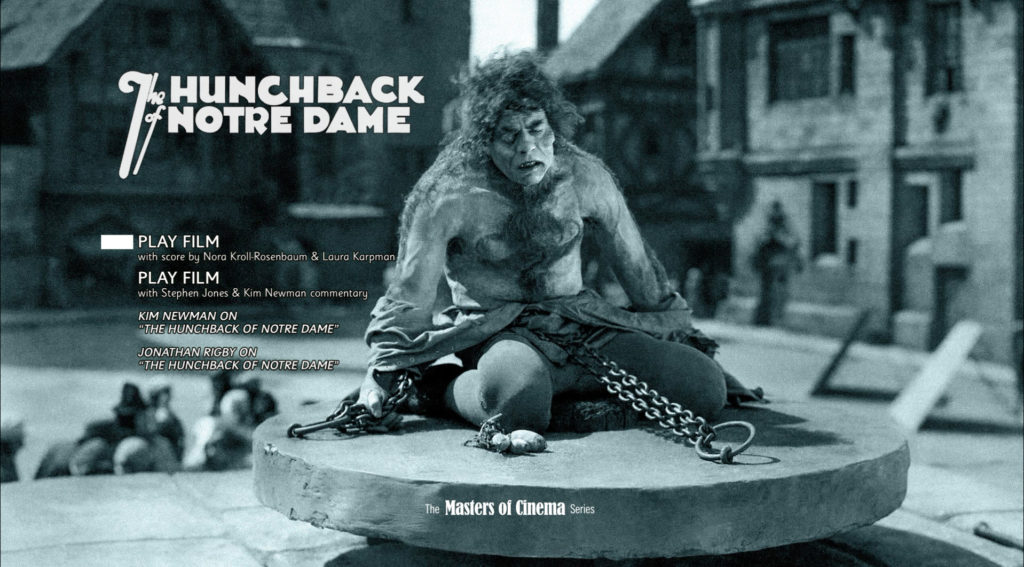 SPECIAL FEATURES
Music by Nora Kroll-Rosenbaum & Laura Karpman (presented in uncompressed LPCM stereo)
Brand new audio commentary with author Stephen Jones and author/critic Kim Newman
Brand new interview with author/critic Kim Newman on the many adaptations of Victor Hugo's novel
Brand new interview with film historian Jonathan Rigby
A collector's booklet featuring a new essay by journalist Philip Kemp, illustrated with archival imagery
Kim Newman charts a very comprehensive history of The Hunchback of Notre Dame, from the silent era all the way up to Disney's animated adaptation, even mentioning Lon Chaney Jr.'s efforts to play the famed role of Quasimodo like his father before him. Newman's more well-to-do counterpart, Jonathan Rigby, who is known famously for his critique of 'Hammer Horror', talks more about the 1923 film itself and its interesting behind-the-scenes goings-on such as how active of a producer Chaney was (despite being uncredited in the role). All up both featurettes run for almost an hour and are well-researched and worth a listen.
THE HUNCH BACK OF NOTRE DAME
(1923, director: Wallace Worsley)
★★★★
direct blu-ray screen captures
You can follow cinematic randomness on Twitter and Facebook where you'll find all my cinematic exploits. Thank you for visiting!