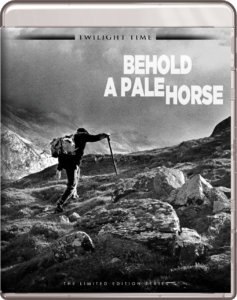 Fred Zinnemann, the four-time Oscar-winning director and producer behind such monumental classics like High Noon, From Here to Eternity and A Man for All Seasons delivers a sombre fable born from the Spanish Civil War. Behold a Pale Horse stars Gregory Peck, Anthony Quinn and Omar Sharif and is out now on Blu-ray from the very classy Twilight Time Movies, under their coveted Limited Edition Series.
Famous bandit, Manuel Artiguez (Gregory Peck) is coaxed into returning to his native Spanish village after 20 years in exile, by a Civil Guard officer named Viñolas (Anthony Quinn), with plans to trap and kill the folk hero. With an abundance of information on practically any subject at our fingertips, it's nice once in a while to go into a film where we know little about its main topic. I was aware of the Spanish Civil War, but not so much of the mechanics behind it, so I knew this was going to be partly an educational viewing. Opening with a prologue comprised of archival footage, we learn briefly about the two warring factions, the Republicans and Nationalists, the latter of whom would emerge victorious in 1939 after three years of armed conflict.  Behold a Pale Horse is a drama of whits between our two leads who still harbour strong feelings of ill-will towards one another, despite their status as heroic figures by their respective sides. Artiguez has spent his years in French exile conducting sporadic and daring attacks over in neighbouring Spanish villages, much to the humiliation of Viñolas. As an older man Artiguez lacks the motivation and desire he once had, but news of his dying mother and a young boy's wish for vengeance convinces him to makes one final visit to his former home, knowing what awaits him there. The wounds of war can take generations to heel, if not at all. We're shown Spain to be a nation that is clearly prospering, free of political unrest, but it's resentment on a personal level that the film focuses on. Artiguez and Viñolas personify two opposing ideologies, which are implied to being somewhat redundant and bridged together by a compassionate priest, Francisco (Omar Sharif), the reluctant messenger of Artiguez's dying mother. Driven by a plot based around deception and cunning acts, stunning cinematography of the French landscape provides some welcome contrast to film's main components with the religious mecca of Lourdes taking centre stage during a beautiful and pivotal sequence.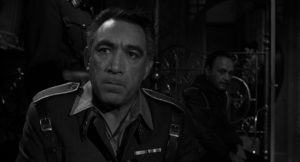 VIDEO AND AUDIO
Behold a Pale Horse would have shown up magnificently in colour which was very much in wide use by 1964, but the black & white presentation is more fitting regarding the film's historical context and looks tremendous. Shot on location in France, outdoor sequences serve the HD transfer well, especially the Sunday procession at the spiritual town of Lourdes, which feels almost like a documentary. Some interior shots appear very dark and noir in style, although faces remain highly visible and bright. I had to crank up the volume for the 1.0 DTS-HD MA track, which is understandably a little flat, but perfectly serviceable for the film. I just wish it were a little louder.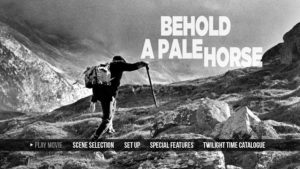 SPECIAL FEATURES
Original Theatrical Trailer
Not everyone considers trailers to be bonus material, but I've always appreciated them, particularly those for older titles. However, inside the case backed with an image from the film, there's an informative and very rich essay, written by Twilight Time's own Mike Finnegan. With three pages of written material, the booklet offers an insightful look into the background mechanics of the film's production and motivation of our characters.
Gregory Peck and Anthony Quinn both commanded the screen in their respective roles, reuniting three years after playing adversary protagonists in The Guns of Navarone, but it's Omar Sharif as the film's unsung hero, Francisco who delivers the most poignant performance. Behold a Pale Horse explores a chapter in history that was largely overshadowed by WWII, but is nonetheless important. Produced during a post-war generation, it still manages to resonate today.   
BEHOLD A PALE HORSE
(1964, dir: Fred Zinnemann)
★★★★
direct blu-ray screen captures
You can follow cinematic randomness on Twitter and Facebook where you'll find all my cinematic exploits. Thank you for visiting!