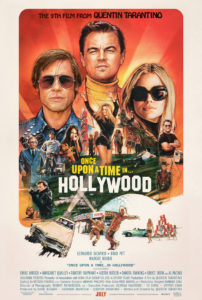 Whether you love or loathe director Quentin Tarantino, the release of his films is an event and Once Upon a Time in Hollywood, his most movie-centric piece to date, has warranted the status like no other.
Set firmly in 1969 Los Angeles, an established but fading TV star and his long-time stuntman struggle to achieve fame and success during the final year of Hollywood's Golden Age. Leonardo DiCaprio and Brad Pitt headline this cavalcade drama-comedy, taking audiences on a prolonged walking tour of tinsel town, occasionally rubbing shoulders with celebrities and other industry personalities. I'm a movie fan with tremendous affection for the era Tarantino is showcasing but unfortunately was left underwhelmed due to its very narrow focus. There was a newfound maturity sweeping across the major studios by the late 60s with films cutting deeper and reflecting reality more than ever before. However, Tarantino's take seems to stem more from a personal view and idolisation, highlight the more frivolous side of showbiz. I definitely see younger audiences finding more enjoyment as the time period would appear more exotic and to be fair, there are plenty of fun moments throughout the film. Brad Pitt as the very chill stuntman, Cliff Booth, challenging a far-from-bashful Bruce Lee to a friendly bout was a terrific exchange in both dialogue and physicality.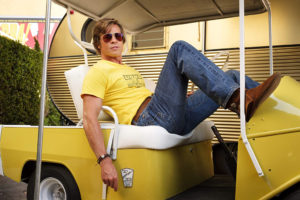 On a darker note, the film's interwoven narrative crosses paths with Charles Manson's desert community cult, alluding to the horror that would bring about the end to the 'Summer of Love'. Sharon Tate, the would-be victim of Manson's wrath and wife of director Roman Polanski is portrayed by Margot Robbie, quite optimistically despite Tate's relatively unknown status as an actress. While not an accurate portrayal, she serves more a vehicle for the young an enamoured, entering the world of movies and all that comes with it.
Leonardo DiCaprio as our pessimistic lead, Rick Dalton, is somewhat sympathetic but has very much embraced the culture, often exhibiting reckless behaviour, which makes his journey to reach the upper-echelon as an actor difficult to get behind. His stand-in, on the other hand, Cliff, has a more carefree outlook on life with an eagerness to continue his profession as a Hollywood stuntman. He's not the inside player like his buddy Rick, but knows the lay of the land well enough and doesn't take any shit. Despite their genuine chemistry and top-notch performances from the actors themselves, neither character feels fleshed out, which is a shame considering the film's very bloated runtime.
Once Upon a Time in Hollywood is a love letter to a bygone era in movies, much like how many are describing. Aesthetically it's very pleasing and feels authentic with a nice summery vibe and one awesome made-for-radio soundtrack, but the film as a whole feels quite empty for one with so much in it.
ONCE UPON A TIME IN HOLLYWOOD
(2019, dir: Quentin Tarantino)
★★★
productions stills sourced from IMDb
You can follow cinematic randomness on Twitter and Facebook where you'll find all my cinematic exploits. Thank you for visiting!