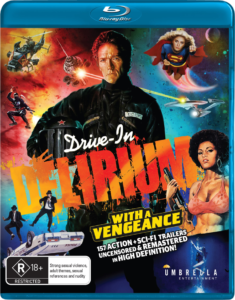 Out now on Blu-ray from Umbrella Entertainment, Drive-In Delirium: With a Vengeance offers up a fine blend of 157 action and sci-fi trailers, uncensored and remastered in high definition. Divided into two parts Cruise Control and The Year We Make Contact, the six-hour plus runtime speeds by faster than Roy Scheider in The French Connection's spiritual sequel The Seven-Ups.
Following a short pre-show at Umbrella's ambiguous Drive-In landscape, Shaft kicks off a wave of the best, worst and downright shameful Blaxploitation classics, including Blackenstein and 'Dolemite' (coming soon to Netflix) vehicle The Human Tornado. We then take to the streets with an international mix of police-themed action-drama like Bullitt, the more literal French Connection II, Serpico and The Sweeney. Without spoiling the other themes, it's worth noting that they're all are bridged together nice via a connective set of trailers, which marries the action and sci-fi showcase. Anyone who has watched a volume of Drive-In Delirium will know that while it's hard to stop watching, you're constantly prompted to revisit titles, especially if you already have them on your shelf. I watched The Magnificent Seven earlier in the week along with the Clint Eastwood classic Hang 'Em High, who is proudly featured on the cover art in his Firefox get-up. Now, of course you can't have a trailer compilation without a slice of Hammer Films and while some of the selected trailers aren't particularly flattering towards the British studio, I'm keen to their Robin Hood adventure, The Sword of Sherwood Forrest along with The Pirates of Blood River.
VIDEO AND AUDIO
REGION FREE, this filled-to-the-brim Blu-ray disc measures up well next to its Dead by Dawn counterpart, offering the best of both worlds in the form of a solid HD image, while retaining the pops, hisses and scratches from the source material. Presented in 16:9 widescreen, although the aspect ratios do vary depending on the trailer. Sound is nice and loud in Dolby 2.0, reflecting the hectic tone and nature of the release.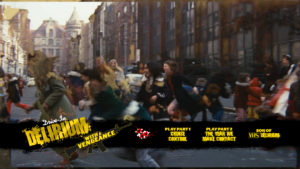 SON OF VHS DELIRIUM
I like the names Umbrella give these supplement VHS compilations and this 90-minute SD package certainly lives up to its R18+ rating as it ventures into territory that would best be described as softcore pornography. Although, like previous editions of Drive-In Delirium, they capture the nostalgia factor of VHS glory days, bad tracking and shoddy playback.
Drive-In Delirium: With a Vengeance is a definite step up from Dead by Dawn, which struggled to maintain momentum. I thoroughly enjoyed this experience and if this shall be the final volume, Umbrella Entertainment have capped off this popular series on a high.
★★★★
direct blu-ray screen captures
You can follow cinematic randomness on Twitter and Facebook where you'll find all my cinematic exploits. Thank you for visiting!