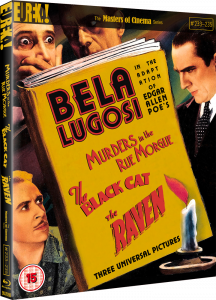 Between the Draculas and Frankensteins, Bela Lugosi made a number of horror films for Universal, three of which were suggested by the gothic and poetic works of Edgar Allen Poe, Murders in the Rue Morgue, The Black Cat and The Raven. Eureka Entertainment in the UK has presented them as a unique 'Triple Feature' Blu-ray set, released earlier this month.
In what turned out to be a somewhat uneventful horror-mystery, Murders in the Rue Morgue, has Lugosi playing mad scientist, Dr. Mirakle, who is determined to mix the blood of beautiful women with an ape. Quite a disturbing premise on paper, which suggests a very barbaric approach to biology, but unfortunately we don't really get anything more than literally a few scrapes of flesh. The film seems to suffer from a mixed tone and a narrative that hasn't been properly mapped out. One minute it's something ghastly, then it's a murder-mystery, although without-much-mystery. However, the film certainly looks the part with many of the sets and backgrounds heavily influenced by German expressionism, which brings a very twisted and distorted aesthetic. Bela Lugosi as the crazed antagonist really sells the character of Mirakle and clearly enjoyed playing the role, which is evident from his very outgoing performance. Supporting player sadly pale in comparison, who are often very stiff in their delivery of dialogue and there's a strange comedic element that doesn't really land and again, goes back to the mixed tone. Murders in the Rue Morgue no doubt has its fans, but I was disappointed, considering that it was the one which interested me the most in this triple pack. It's a strange little movie, which may be why it works for some people.
MURDERS IN THE RUE MORGUE
(1932, dir: Robert Florey)
★★★
---
Cinemassacre founder James Rolfe has an infectious love for horror films of this era and cites The Black Cat as one of his favourites outside of Universal's tentpole, Dracula, Frankenstein and Wolf Man series. It's definitely more on the obscure side, despite being generally well-known by film fans and edges towards darker material in regards to satanic worship and torture. Our honeymooners aren't really significant to the plot, which is quite flimsy, they're more of a means for Karloff and Lugosi to face off in what begins as a game of wits. Later the pair's interactions bring about something a lot deadlier. Lugosi is Hungarian psychiatrist, Dr. Vitus Werdegast, who seeks the whereabouts of his wife and daughter. He believes they were taken by an old friend, Hjalmar Poelzig (Boris Karloff), an Austrian architect during what was presumably World War 1. It probably won't come as a surprise that the titular black cat is nothing more than an object of paralysing fear for certain characters. Much of the film's value comes from its visual style and architecture, which has a very strikingly modern appearance. Ink blacks and haunting set design help create a haunting atmosphere whilst hinting evil the undertones that come more into play towards the film's climax. Karloff and Lugosi play off each other well, two formidable figures of equal measure and their final scene together takes an unexpectedly graphic turn.
THE BLACK CAT
(1934, dir: Edgar G. Ulmer)
★★★½
---
The Raven has Lugosi playing the brilliant surgeon, Dr. Richard Vollin, who of course is harbouring a secret madness and likens himself to Edgar Allan Poe.  After he saves a beautiful woman from near death, he becomes obsessed, but soon learns he can't have her. Enraged, Vollin then hatches a cunning plan involving a sympathetic criminal, Edmond Bateman (Boris Karloff), who he manipulates as a tool for games of torture. While I enjoyed The Black Cat, I have to call The Raven as my pick for this set, even if it's just for Lugosi reading from Poe's haunting poem. Through playing a fan-driven mad by admiration, the actor gives off a very commanding presence on screen, but also has moments of sheer maniacal joy while honing his craft. Boris Karloff, who for years shared a mutual rivalry with Lugosi is excellent as Bateman; a lowly man at the mercy of his unflattering looks, but has a desire to do good. Their scenes together are among the best in the entire film, and while their respective characters vary, they're evenly matched as actors. Much like the previous two films, the set design is a real highlight, exhibiting more of that modern-style architecture seen in The Black Cat, adding a lot of atmosphere next to Vollin's dungeon of horrors where the film's nail-biting climax take place.
THE RAVEN
(1935, dir: Lew Landers)
★★★★
---
VIDEO AND AUDIO
All three films come presented in full 1080p, with The Raven sourced from a 2K scan of the original film elements and it definitely shows. Despite noticeable signs of age, which is only natural considering they over 85-years-old, they look great and earned their place in this HD age. The uncompressed LPCM monaural audio tracks of course don't compare to modern standards, but they're authentic and reasonably clear with good volume. Eureka Entertainment have a done a great service in preserving Universal's legacy of early horror films; a task that would not have been easy.
SPECIAL FEATURES
Limited Edition Set (2000 copies)
O-Card Slipcase
48-PAGE collector's booklet featuring new writing by film critic and writer Jon Towlson; a new essay by film critic and writer Alexandra Heller-Nicholas; and rare archival imagery and ephemera
Murders in the Rue Morgue – Audio commentary by Gregory William Mank
The Black Cat – Audio commentary by Gregory William Mank
The Raven – Audio commentary by Gary D. Rhodes
The Raven – Audio commentary by Samm Deighan
Cats in Horror – a video essay by writer and film historian Lee Gambin
New interview with critic and author Kim Newman
American Gothic – a video essay by critic Kat Ellinger
"The Black Cat" episode of radio series Mystery in The Air, starring Peter Lorre
"The Tell-Tale Heart" episode of radio series Inner Sanctum Mysteries, starring Boris Karloff
Bela Lugosi reads "The Tell-Tale Heart"
Vintage footage
English Subtitles
With a list of bonus material this long, you'll be an accredited expert on the genre if you decide to take full advantage. Packaged nicely in a Limited Edition slipcase which perfectly matches the aesthetic of the three films, The Black Cat and The Raven especially, there's an abundance of text and commentary from noted critics and authors, but I have to mention the "Vintage Footage" which is a silent one-minute clip of Lugosi and Karloff with kids and bunch of black cats. It's completely innocent, but also extremely eerie.
Spread over two discs, you could comfortably watch all three movies in one sitting as each run for roughly 60s minutes, although some move faster than others. Eureka Entertainment has put together a set that's great value for money, one that enlightens viewers to the many lesser-known titles from Universal's first era of horror movies.
★★★★
direct blu-ray screen captures
You can follow cinematic randomness on Twitter and Facebook where you'll find all my cinematic exploits. Thank you for visiting!