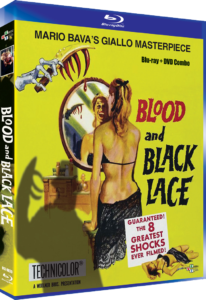 Closing out 2018 in style, VCI Entertainment released Mario Bava's giallo triumph Blood and Black Lace on Blu-ray in a complete 2-disc set fitted with numerous extras for hard-core fans. Translated as Six Women for the Murderer from its original Italian title of Sei donne per l'assassino, the foreign mystery-horror follows murder in a scandalous Rome fashion house, where models are being brutally slain by a masked assailant.
I find gialli to be of an acquired taste, but in the case of Blood and Black Lace, there's an obvious effort to replicate the style of American film-noir, which does bring about feeling of familiarity for reluctant viewers. Music is dominated by a jazz-heavy soundtrack, typical of the genre, giving the narrative an energetic sense of rhythm, but dips down to a slow and ominous rendition when our killer is about to strike. We have the imposing Inspector Sylvester, played by towering German actor Thomas Reiner, who's thoroughness and line of questioning is a subtle call-back to Hollywood private-eyes played by the likes of Humphrey Bogart. Blood and Black Lace guarantees "the 8 greatest shocks ever filmed", a tagline to be taken with a pinch of salt. However, in the film's defence there's level savagery displayed by our killer which will make the most seasoned of horror fans wince in discomfort. While not always visually confronting, moments of implied violence still amount to what is a graphic feature and strong source of contention for censorship boards. Setting the film around a fashion house gives it an up-market aesthetic, radiant with class and style that's in stark contrast to the unleashed terror. It's hard to gauge performances with such obvious and unfortunately underwhelming dubbing, but I honestly can't complain. Actresses, Mary Arden, Eva Bartok and Arianna Gorini aim for a very dramatic style, which was quite typical of the era, while leading men Cameron Mitchell and Thomas Reiner deliver more dignified and reserved performances.
VIDEO AND AUDIO
The final line in Tarantino's Inglourious Basterds, "I think this just might be my masterpiece", I feel is highly applicable to VCI's HD treatment of the popular Mario Bava classic. Maintaining the film's original aspect ratio of 1.85:1, viewers well and truly get the full image on screen, as opposed to Blu-ray put out by Arrow Video in 2016 under a cropped 1.66:1 presentation. Italian horror is well known for its jarring use of colour, an effect that's captured extremely well with red being the most prominent. Sound doesn't fare as well, but the disc's LPCM 2.0 track is more than adequate and is still impressive given the film's age.
SPECIAL FEATURES
2018 Commentary by Kat Ellinger, Editor-in—Chief and author, Diabolique Magazine (on Blu-ray)
2018 Commentary by film historian, David Del Valle and director/writer, C Courtney Joyner – (on Blu-ray)
Video Interview with Dawne Arden – (on DVD)
Archival video interview with star, Cameron Mitchell, with David Del Valle – (on DVD)
Original Italian Theatrical Trailer – (on Blu-ray & DVD)
Extensive Photo Gallery (on Blu-ray & DVD)
Alternate original US theatrical main titles
Languages: Original Italian (on DVD), English (on Blu-ray)
Subtitles: English & Spanish – (on Blu-ray & DVD)
Bonus Isolated Music Score by composer Carlo Rustichelli – (on Blu-ray & DVD)
Video Comparison: American Version Cuts / Euro Uncut (on Blu-ray & DVD)
2-Sided Coverwrap with Alternate Coverart
VCI have provided a comprehensive assortment of bonus content, including two commentaries, one featuring film historian David Del Valle, who is often amusing in his own unique way. You'll also find Del Valle in a vintage light video interview with the film's star Cameron Mitchell, who reflects on his days in Italian cinema. Video Comparison: American Version Cuts / Euro Uncut is one featurette I really appreciate as it saves having to find a web site that details edits made to which version of the films it gives you a more visual sense of censorship between the two regions.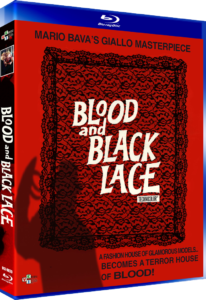 Blood and Black Lace feels quite grounded compared to most giallos, catering to perhaps a more sophisticated audience, but is a must see if you're a fan of the Italian sub-genre and this edition from VCI screams collectability and is a testament to their hard work and devotion to classic horror cinema.     
BLOOD AND BLACK LACE
(1964, dir: Mario Bava)
★★★★
You can follow cinematic randomness on Twitter and Facebook where you'll find all my cinematic exploits. Thank you for visiting!