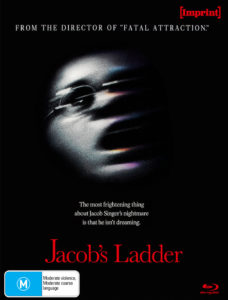 Possibly one of the most spoiled movies next to The Sixth Sense and The Crying Game; the psychological horror film, Jacob's Ladder has been dropped onto Blu-ray by Imprint Films, taking fans and physical media collectors alike on a trip like no other.
Tim Robbins, the tallest actor to win an Oscar, stars as Vietnam vet, Jacob, who has rotated back to the world, working as a postman and shacked up with a lady colleague following his divorce. Jacob is plagued by flashbacks of combat, but also strange visions and moments of waking fright at the sight of grotesque figures. As he searches for an answer his reality becomes distorted, challenging perceptions of life and death.
Jacob's Ladder is a terrifying representation of what might lie between life and death, based on the screenwriter, Bruce Joel Rubin's, life-changing acid trip in the 60s. It's a film that's very clever with symbolism and metaphors, to the point of warranting multiple viewings. Without encroaching on spoiler territory for protentional first-time viewers, Jacob's Ladder is without a doubt one of the most creative and dark reflections of the Vietnam experience, made when the subject was still a hotbed of controversy. Dissociation is the most prominent theme as our protagonist Jacob, like many returned servicemen, struggles to readjust and is unable to escape the trauma that now manifests itself in ways unimaginable to most, disconnecting the individual from reality.
It's presented in relentless fashion with only a few fleeting moments of comfort, that come oddly enough in the form of Jacob's very caring and insightful chiropractor, played by Danny Aiello. Tim Robbins' performance is an emotional one, to say the least, and I can't imagine how exhausting it must have been to play that character. His pain is almost palpable and his portrayal of the character is quite relatable even though his situation is unique; I think anyone who has suffered periods of depression will pick up on some of the nuances.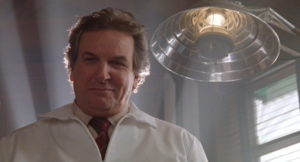 SPECIAL FEATURES
Audio commentary by director Adrian Lyne
NEW Audio Commentary by film historian and host of The Projection Booth Mike White
Building Jacob's Ladder – featurette
3 Additional Scenes (with optional commentary by director Adrian Lyne)
Archival interviews with director Adrian Lyne, actor Tim Robbins and actress Elizabeth Pena
NEW Prepare the Way – interview with screenwriter Bruce Joel Rubin
NEW Where is the Ladder? – the locations of Jacob's Ladder
NEW Hidden in Plain Sight: Spirituality in Jacob's Ladder – video essay by film historian Alexandra Heller-Nicholas
NEW Something's Wrong with My Head: Vietnam War Trauma and Jacob's Ladder – video essay by film historian Josh Nelson
Teaser and Theatrical Trailers
Imprint deliver a stacked selection of supplements for this release of Jacob's Ladder. For those who missed out on previous DVD editions, a commentary by director Adrian Lyne, a 20+ minute interview with Lyne and writer Bruce Joel Rubin, and three deleted scenes come ported to this release. Despite their age, separate sit-downs with Adrian Lyne and stars Tim Robbins and Elizabeth Peña conducted in 1990 are exclusive to this edition. Running for around five-to-seven minutes each, the interviews offer fresh perspectives from their respective subject from the time filming completed.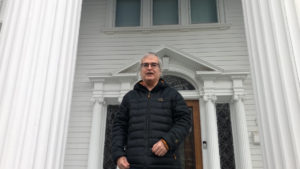 Scriptwriter Bruce Joel Rubin delivers an updated and more in-depth background for his latest interview conducted for this release. Specifically, the author discusses his inspiration for Jacob's Ladder, which includes his life-changing experience with LSD and subsequent journey into Eastern philosophy in the 1960s. Film historian Alexandra Heller-Nicholas elaborates on the constant presence of Eastern spirituality in the film, and how the narrative mirrors several ideas from the Tibetan Book of the Dead in her film essay, Hidden in Plain Sight. Running for 21 minutes, this featurette is extremely insightful due to most discussions on Jacob's Ladder usually touching on Judeo-Christian ideas only. In a second video essay, Something's Wrong With My Head, film historian Josh Nelson argues the importance of the Vietnam War setting and subject matter in lieu of the aforementioned themes of spirituality and elaborates on how the two subject matters coincide. A location-based featurette hosted by Michael Gingold proves to be a perfect palette-cleanser for such a mind-bending film, and subsequent thought-provoking essays and commentaries. Gingold takes viewers to several shooting sites from Jacob's Ladder such as the infamous subway. Most interestingly, the homeowner of the location used for Jacob's flat is interviewed and gives his impressions of meeting Adrian Lyne, Tim Robbins, and Macauley Culkin. –  by Hannah Lynch
VIDEO AND AUDIO
Imprint has treated us to a release that will likely never be matched, but the 1080p presentation falls a little short. Technically it's HD, but visually the 1:851 image is on the lower end of the spectrum, and much of the film appears quite soft. However, the muted appearance does help with the mood, which is far from happy, and sound has far more impact with a deeply immersive DTS-HD 5.1 Surround. However, if you want a far more dialogue-favourable track, go for the 2.0 LPCM. Optional English HOH subtitles are included.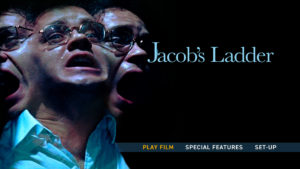 It's not fun watching Jacob's Ladder, but it's interesting on top of it being 117 minutes of nightmare fuel. I've seen it twice and the second time was more enlightening and thanks to Imprint's release I feel very educated in relation to the subject matter.
JACOB'S LADDER  
(1990, director: Adrian Lyne)
★★★★
Head over to the Imprint Films Facebook page for the latest releases, giveaways, great deals and more!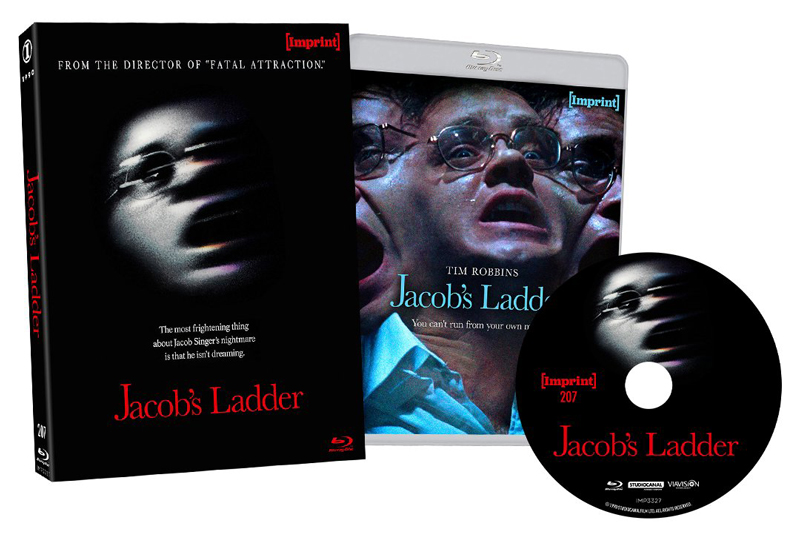 direct blu-ray screen captures
You can follow cinematic randomness on Twitter and Facebook where you'll find all my cinematic exploits. Thank you for visiting!