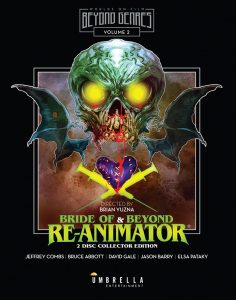 Not one to leave fans hanging, Umbrella Entertainment's second volume of its dedicated sub-label, Beyond Genres: Worlds on Film, brought with it sequels Bride of Re-Animator and Beyond Re-Animator. Producer Brian Yuzna takes the reins from Stuart Gordon and while the results were mixed, Umbrella's Blu-ray treatment of both films is nothing short of impressive.
Dr. Herbert West (Jeffery Combs) and his longsuffering colleague Dr. Dan Cain (Bruce Abbott) resume their former positions at the Miskatonic University. Eight months following the climatic massacre from the original film, Dr. West has shifted his horrific experiments to entail creating new life. Bride of Re-Animator retains the maniacal nature and aesthetic of its predecessor and is a film even more confident in what it's setting out to achieve. Operating on a level of absolute lunacy, moments of repulsion and laugh-out-loud comedy co-exist in twisted harmony. As our two lead characters' fumble about as modern grave-robbers, their ultimate goals differ and West's descent into (a sort-of justified) madness becomes more apparent with his many monstrous creations. Speaking of which, his beheaded rival Dr. Carl Hill (Dave Gale) makes a rather spectacular return. With an increased budget of $2 million, special effects don't disappoint and are even more insane than what came previously, culminating in gruesomely spectacle final act.
Four-teen years later, Beyond Re-Animator finds the mad but undeterred Dr. West behind bars serving time, and a new prison doctor becomes a valuable tool in the experimenter's research, which has taken its most bizarre turn yet. Followed by a limited run in U.S. theatres, this Spanish-American produced sequel premiered on the Sci-Fi Channel, cut to a TV-PG rating. Since the subsequent home video release, fans have been able to enjoy the intended R-rated version. I personally felt the film was a letdown from the previous two, feeling very removed in tone, appearance and overall quality. As a fairly new fan to the Re-Animator series I don't have the history that others do, so that very well be a factor in my poor opinion of this. However, to the film's credit and its star, Jeffery Combs is still very much the same Herbert West we've come to know and love. Brian Yuzna shows a lot of respect towards the character, giving the infamous doctor an ambiguous yet fitting send off, leaving the door open. In this age of nostalgia-driven fan culture, Beyond Re-Animator probably would have fared better than it did and likely been a different film entirely.
VIDEO AND AUDIO
Needless to say both movies look fantastic, crisp, clean and clear across the board! Presented in 2.0 and 5.1 English DTS-HM Master Audio respectably, I'm glad to see such a high grade in sound becoming the norm for so many classic releases. Overall, a testament to the sublime quality of Beyond Genres: Worlds on Film.
SPECIAL FEATURES
Disc 1 – Bride of Re-Animator
Presented in both R-Rated and Uncut versions
Audio Commentaries: Director Brian Yuzna; Brian Yuzna, Jeffery Combs, Tom Rainone, John Carl Buechler, Mike Deak, Robert Kurtzman, Howard Berger and Screaming Mad George; Jeffery Combs and Bruce Abbott
Brian Yuzna Remembers Bride of Re-Animator
Splatter Masters: The Special Effects Artists of Bride of Re-Animator
Getting Ahead in Horror featurette
Behind the Scenes: Special Effects Artists
Dark Adventures Radio Presents: Herbert West: Re-Animator
Deleted Scenes and Trailer
Disc 2 – Beyond Re-Animator
Audio Commentary with Director Brian Yuzna
The Making of Beyond Re-Animator
Re-Animator Move Your Dead Bones music video
Interviews with: Brian Yuzna, Jeffery Combs, Jason Barry, Elsa Pataky, Santiago Segura, Simon Andreu
Behind the Scenes
Trailer
Right off the bat (no pun intended) I highly recommend the Uncut version of Bride of Re-Animator for maximum effect, followed immediately by deleted scenes. Featurettes ad commentaries provide a great retrospective insight and show the affection that still exists towards the popular sequel. While not as plentiful, the bonus content for Beyond Re-Animator covers the obscure entry well, while providing some welcome insight behind-the-scenes.
Bride of Re-Animator and Beyond Re-Animator proves to be Umbrella's most comprehensive double feature to date and with excusive cover art from exceptional Simon Sherry, you'll only be doing yourself a disservice by not picking it up. Available now online and in selected retailers!
Note: Umbrella Entertainment have also released these films on DVD in triple pack with the original Re-Animator.
BRIDE OF RE-ANIMATOR / BEYOND RE-ANIMATOR
(1989 & 2003, dir: Brian Yuzna)
★★★★
You can follow cinematic randomness on Twitter and Facebook where you'll find all my cinematic exploits. Thank you for visiting!