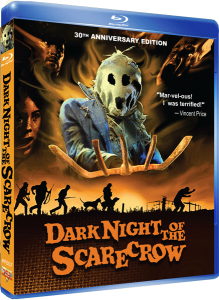 From a festive-themed community dance to a climactic scene within a lush pumpkin patch, Dark Night of the Scarecrow certainly has an appetising Halloween flavour. Despite not knowing of the appealing trait, I couldn't help but wish I was watching the popular TV movie on October 31st. Produced by CBS Fox on the back of J.D. Feigelson's original teleplay, this tale follows a mentally handicapped man who is wrongfully killed by four local men in a small rural town. When justice isn't served, our group of assailants lead by the town's self-righteous postman are tormented from a spectral being seemingly from beyond the grave.
One could easily be forgiven for assuming the lack of graphic content is a result of the rules set in place by network television, but as the special features informally point out, gory sights common to the genre are intentionally omitted by Feigelson. Implied violence and horror not only allows the viewer's imagination to flourish here, but help in maintaining the film's ambiguity. Events that befall our band of characters, as eerie as they are, can be explained in rational terms with no definite evidence to whom might be responsible. We all know who we want it to be, the thought alone is thrilling and exciting, but everything we're seeing is to the contrary.
Many fans suggest that Dark Night of the Scarecrow is almost a family-friendly movie, due largely in part to its timeless themes which establish a wide-appeal to horror fans of most age groups. Stranger danger is among the most prominent lessons youngsters can take away from here, epitomised in the form of our main anthologist Hazelrigg, played brilliantly by Charles Durning; a despicable predatorily figure under the guise of an upstanding citizen. More importantly love and acceptance are embodied by 9-year-old heroine Marylee Williams (Tonya Crowe) and her friendship with child-like Bubba (Larry Drake), our hapless victim, whose mental disabilities leads to blind assumptions made by our three remaining yocals, played by Lane Smith (My Cousin Vinny), Robert F. Lyons and Claude Earl Jones (Bride of Re-Animator). I think showing the film to a child no young than 10 wouldn't be harmful and would likely give them a good scare in a positive sense.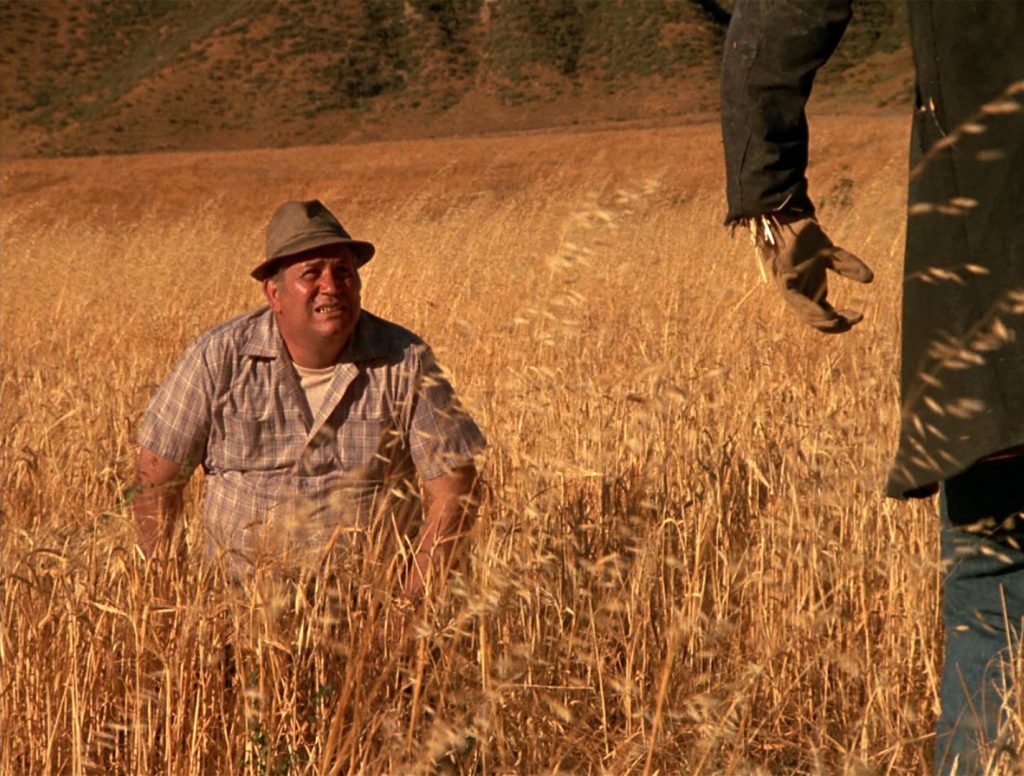 VIDEO AND AUDIO
J.D. Feigelson personally supervised the whole restoration and mastering process of Dark Night of the Scarecrow undertaken by VCI Entertainment, who had previously collaborated with the writer/director in releasing two of his earlier works, One of the Missing and The Windsplitter. For a made-for-TV movie I was amazing by how great this Blu-ray looks. Presented in its original 1.33:11 aspect ratio, there's a sharpness and clarity to the picture than would have been considered fantasy back in 1981. For some reason my sound system opted for the disc's rather flat PCM 2.0 audio track, but I quickly switched to 5.1 enhanced, which was equally impressive as the picture.    
SPECIAL FEATURES
Production Documentary (30 min)
Q&A with Larry Drake, Tonya Crowe and J.D Feigelson (50 min)
Rebroadcast Promo
Behind the Scenes Photo Gallery
Director and Writer Commentary
CBS Network World Premier Promo
English and Spanish Subtitles
I highly recommend checking out both the production documentary and the Q&A. Both are fantastic and informative, especially regarding how the film was made and how it's manage to maintain a steady popularity with fans over the years.
Dark Night of the Scarecrow is an excellent horror movie without a doubt and easily of the best produced by network television. Clearly on the same page in terms of style, director Frank De Felitta and writer J.D Feigelson were the perfect creative duo with a profound understanding of the genre. VCI's treatment of this seasonal classic deserved the highest of praise; as both a collector and reviewer I'm very grateful for the copy. Criterion could not have done a better job.
Note: VCI Entertainment have also released this film on DVD.
DARK NIGHT OF THE SCARECROW
(1981, dir: Frank De Felitta)
★★★★★
You can follow cinematic randomness on Twitter and Facebook where you'll find all my cinematic exploits. Thank you for visiting!