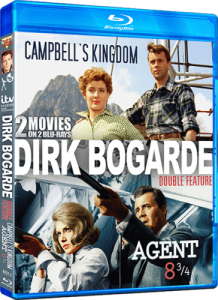 VCI Entertainment stock a large selection of classic British cinema, including a considerable portion of celebrated English actor Sir Dirk Bogarde's filmography. I recently had the opportunity to check out the label's double feature Blu-ray release of two such titles, Campbell's Kingdom and Agent 8 ¾ (Hot Enough for June) from director and long-time Bogarde collaborator Ralph Thomas.
Our first feature takes audiences to the rugged Canadian country where Englishman Bruce Campbell has arrived to take possession of his late grandfather's land. Met with hostility from locals and a ruthless contractor, he struggles to secure his family legacy under threat of a new hydro dam whilst dealing with failing health. Campbell's Kingdom is a rather grounded adventure/drama, and provides a lot of spectacle derived from the film's location and the actions of our protagonist. Bogarde is well cast as the selfless and good natured Bruce, who risks it all to bring pride and purpose to his grandfather's name.  Our hero's daring exploits against a corrupt corporate machine makes for some exciting sequences, reminiscent of the type you would likely find in a WWII picture, such as cunning diversions and the blowing up of bridges in impressive fashion. Throughout what is quite often a literal uphill battle for our characters, moments of triumphs are rewarding and effectively bring viewers into the story.
Shifting to a lighter tone, Agent 8 ¾ no doubt come in response to the wave of popularity received by the first James Bond film Dr. No and with its follow-up Goldfinger on the way, cinematic espionage was a sought after flavour. Bogarde is Nicholas Whistler, a Czech-speaking, unemployed writer, who unknowingly lands a position with a British Intelligence agency. Not long after his hire, our hero finds himself whisked off to Prague a secret mission. Normally I find spy movies rather vanilla, despite a few exceptions. However, in this case, interjecting a comedic fish-out-of-water spin allows the often inconsequential plot to obtains more laughs at the expense of our oblivious protagonist. The film's satirical nature playfully implies that while conflict may exist between two separate nations, there are no personal feelings of ill-will shared by those on the front-line, or behind the curtain; just a friendly game of one-upmanship. Whistler is pawn in these rather school yard antics and despite no real danger to his well-being, his creative flare as a writer assists him in regularly evading capture, resulting in film's most entertaining scenes. Bogarde is a nice fit for light comedy, delivering an awkwardly amusing performance, which come across as effortless for the accomplished actor.
VIDEO AND AUDIO
Apart from the odd moment of washed-out colours, picture quality overall is vibrant and sharp with both films and technical specs. Audio quality is even more consistent between the two films which respectfully utilise 2.0 Dolby tracks. Differing are the aspect ratio of 1.66:1 and 1.78:1 respectively, but represent and preserve both film's original theatrical exhibition.
Campbell's Kingdom and Agent 8 ¾ are both available separately on both Bu-ray and DVD, but if you want more bang for your buck then this double feature certainly delivers and is a solid representation of Dirk Bogarde's prowess, range and diversity as an actor.
CAMPBELL'S KINGDOM / AGENT 8 ¾  
(1957 & 1964, dir: Ralph Thomas)
★★★★
You can follow cinematic randomness on Twitter and Facebook where you'll find all my cinematic exploits. Thank you for visiting!