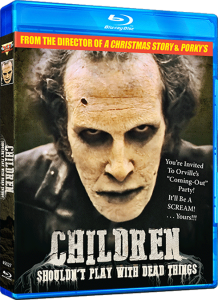 Not all that long ago, exploring a director's early filmography would often be a short venture with a number of titles having not make the convenient leap to home video. In recent years the rise of many independent distributors have provided a great service to audiences by unearthing many cinematic obscurities. One such label and possibly the oldest one left operating in the United States, VCI Entertainment, have an impressive catalogue of classic titles, including Children Shouldn't Play with Dead Things on Blu-ray, Bob Clark's first foray into horror.
Under pale moonlight, six friends in a theatrical troupe arrive on an abandoned island where they intend to dig up a corpse and perform a mock Satanic ritual, but grim reality quickly descends upon our aspiring performers. As horror films were taking on a more serious and metaphorical nature like in George A. Romero's Night of the Living Dead, this notably similar zombie-oriented feature opts for a lighter and an unapologetic cheesier tone. However, this offers the type of atmosphere I personally can't get enough of, packed with the fundamentals of a good ol' fashion Saturday night spook-fest. Despite being over 40-years-old, our cast of characters bare an amusing resemblance to today's hipster culture; our leader especially, played by Alan Ormsby, who co-wrote the film with Bob Clark.
Bringing Children Shouldn't Play with Dead Things to HD was no easy task according to Film Restoration Specialist, Tiffany Beseau Clayton, who has been in the industry for over 20 years, responsible for restoring countless titles. I was fortunate enough to chat with Tiffany earlier this week, during which she talked about some of the challenges that were faced.
"If I remember correctly, it was a dark transfer with a lot of color issues from one scene to the next. I think we had to grab the sound from another source and there was quite a bit of overdubbing in that movie, if I remember right, so the sync was really crazy; really dark scenes made it hard sometimes to see their lips for syncing. It was pretty much a labour of love to get it to a viewable state."
VIDEO AND AUDIO
Despite the issues mentioned above, the finished product achieves a high grade on both fronts, with strong colouring and deep blacks which give the picture depth and contrast. Presented in DTS-HD Master Audio combined with an English language track in Dolby 2.0, sound is clear and perfectly audible not to mention immersive, even with the most modest of surround sound systems.
SPECIAL FEATURES
Liner Notes – Written by Mike Kenny of Mike's Pop Culture Playhouse
Commentary with Alan Ormsby, Jane Daily, and Anya Cronin
Bonus Complete Alternate "U.K." version with commentary by Alan Ormsby, hosted by David Gregory of Severin Films
Memories of Bob Clark – A Tribute to the Later Director
Grindhouse Q&A
Confessions of a Grave Digger: Interview with Ken Goch
Photo Gallery
Dead Girls Don't Say No – Music Video by The Deadthings
Cemetery Mary – Music Video by The Deadthings
Tribute Video by Freak 11
Original Theatrical Trailer Radio Spots with Alan Ormsby
Bonus content is not only plentiful, but shows an enduring affection towards the cult classic from both fans and those who worked on the film. The film's feature length commentary and Memories of Bob Clark are two extras I highly recommend.
I would like to give a most sincere thank you to VCI Entertainment for allowing me to review Children Shouldn't Play with Dead Things on Blu-ray and to Tiffany Beseau Clayton for taking the time to talk to me regarding the production process. While on the funnier side of scary, Bob Clark's grave-robbing classic is a fun late night viewing experience that serves as an overall innocent take on what is now arguable horror's most popular subgenre.
Note: VCI Entertainment have also released this film on DVD.
CHILDREN SHOULDN'T PLAY WITH DEAD THINGS
(1972, dir: Bob Clark)
★★★★
You can follow cinematic randomness on Twitter and Facebook where you'll find all my cinematic exploits. Thank you for visiting!