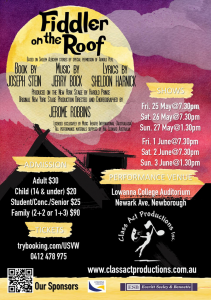 Embedded into our cultural fabric, seeping into almost every facet of popular media, from Mrs. Doubtfire to Gwen Stefani's initial run as a solo artist, Fiddler on the Roof has an undeniably infectious quality. Based on the stories of Sholem Aleichem, the celebrated and record-breaking musical tells of a poor Jewish milkman named Tevye, living in the Russian shtetl of Anatevka during the turn of the 20th century. Blessed with five daughters, he attempts to maintain his religious and cultural traditions despite the growing influence of an emerging Imperial Russia.
Currently being presented by the Gippsland-based theatre group Classic Act Productions Inc., which opened this past Friday night at Lowanna College in Newborough, I was finally able to make proper sense of my limited education on the arm-waving spectacle, previously obtained through television and film. Fiddler on the Roofs encapsulates a universal quality, be it the dignity of constant struggle or the fundamental urge to provide more for oneself or those we love. With many of the songs and dance sequences being culturally unique, a lesser company may place less importance on what is significant about the story as a whole. Class Act Productions however, strive for a level showmanship that extends from start to finish with detailed and ingenious sets that not only capture the modest setting, but the atmosphere derived from simple people leading honest lives; "Sabbath Prayer" being an especially moving example, creating a solemn moment by way of gentle candle light, providing warmth and a sense of spiritual comfort. Seasoned performer and Class Act regular, John Molden appears very comfortable in the principal role of Tevye, a character he suits very well. His candour while speaking of his troubles to God bring a nice lift in mood while the strain of outside forces and inner conflict bring about a heartbreaking despair. Annelise Ainswerth, delivers an amusingly performance as Tevye's somewhat stereotypical wife Golde; whereas their three eldest daughters Tzeitel, Hodel and Chava, symbolic of a break in cultural norms, are played elegantly by Grace Attard, Emily Williams and Tessa Just respectively. Love interests in the form of ambitious tailor Motel (Toby Just) and radical student Perchik (Grady Just) both stand out as admirable players.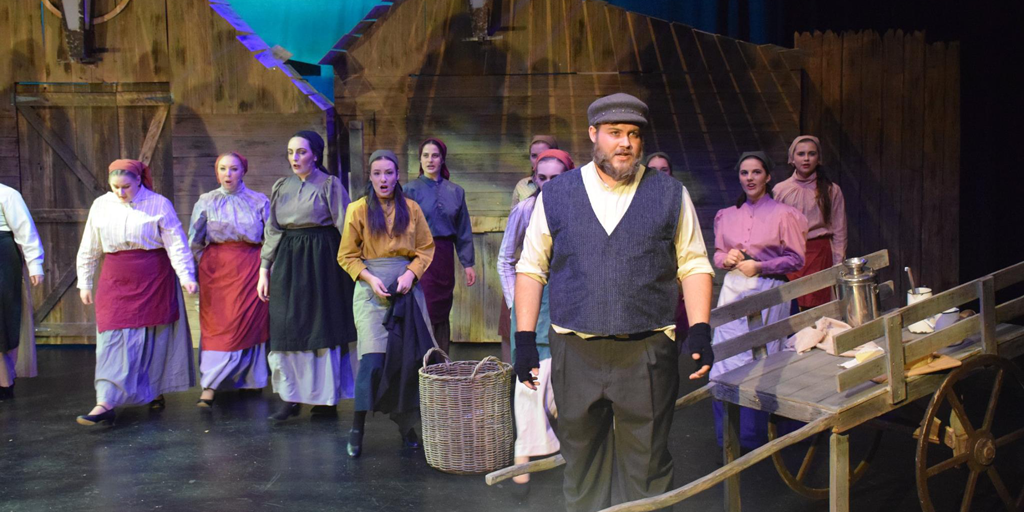 I thoroughly enjoyed Fiddler on the Roof, for all its honesty and humour in the face of much adversity; easily one of best shows I've seen in recent years. Continuing from Friday, June 1st with three more spectacular performances, I urge you to go along as you'll no doubt be impressed with the exceptional calibre of musical theatre with the region.
FIDDLER ON THE ROOF
(2018, dir: Michael Mendez, Mandie Black, David Williams)
You can follow cinematic randomness on Twitter and Facebook where you'll find all my cinematic exploits. Thank you for visiting!