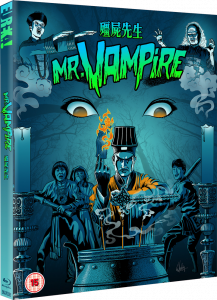 If you've seen one vampire film you've seen them all, right? Well, it may often feel that way, but if you look to Hong Kong cinema you'll find the relentless horror-comedy Mr. Vampire; which has caught wind from the breath of movie-goers, coming to Blu-ray on July 20th from Eureka Entertainment.
An influential classic to say the least, this genre-defining original kicks into gear when a planned reburial of a well-regarded village elder goes wrong. Responsible for this ritualized foul-up are the two bumbling students of Master Kau, a Taoist priest who keeps restless spirits and other forces under control by use of magic. The corpse of the once-respected individual not long after becomes a hopping bloodsucker on the loose. Mr. Vampire takes you to a world that revolves heavily around superstition, which is simultaneously fascinating and bizarre, along with its lore surrounding the undead. Much like the more typical Dracula, our titular creature of the night drinks blood, but uniquely has an aversion to glutinous rice and cannot talk; he's unable to detect his prey if you're holding in your breath and finds hopping with both arms stretched forward preferable over walking. Comedy is laced throughout the film, be it slapstick or crude, and sometimes slightly perverted humour. While it's a significant part of the film's enjoyment, these lighter aspects don't take away from the horror element, which is fairly mild, but some moments are pretty wild and off-the-wall. I haven't seen many Hong Kong films or Chinese cinema in general for that matter, but the English subtitles move by pretty fast as to keep up with the very rapid spoken language. It took me some time to adjust, so be prepared for some quick reading. Not surprisingly, there are some random moments wedged into the narrative, like a subplot involving a seductive female spirit, which again ties into superstition, not to mention the widely accepted existence of the supernatural from practically everyone in this nameless rural region. Lam Ching-ying leads the cast as the no-nonsense Master Kau, whose expertise is on another level and can certainly hold his own in combat. His two subordinates Man Choi and Cho, played respectively by comedian Ricky Hui and action star Chin Siu-ho, are an entertaining pair through their shared and separate experiences. Moon Lee as the granddaughter of Mr. Vampire adds to film's very energized dynamic that's loaded with well-choreographed martial arts, taking the physical comedy to eleven.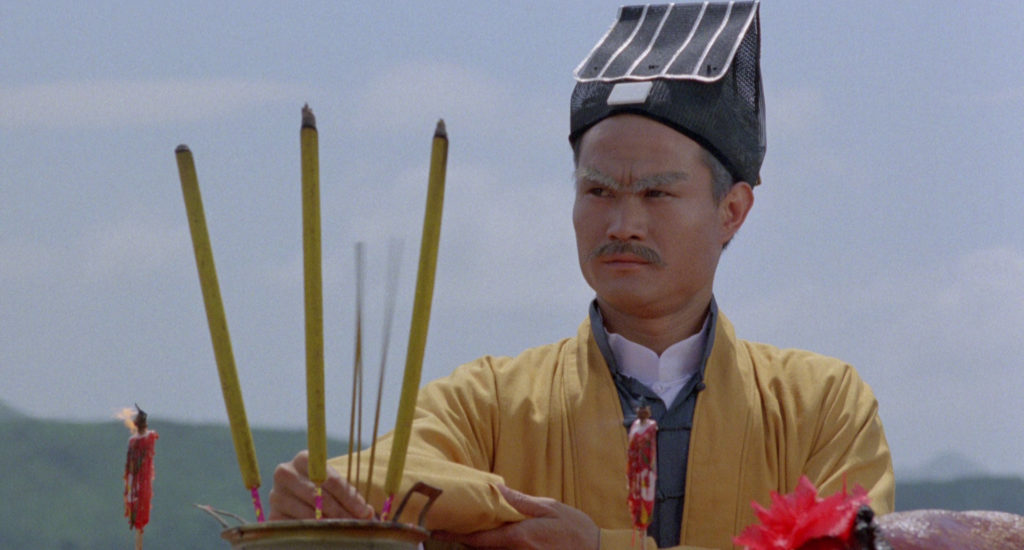 VIDEO AND AUDIO
Presented in 1080p from a brand new 2K restoration, fans who haven't seen Mr. Vampire since the days of VHS will be pleasantly surprised with this excellent 1.85:1 high definition transfer. Digital noise is a little harsh at times, especially during night time sequences, but it does help enhance picture sharpness. Colour is vibrant but not oversaturated and the rich Chinese culture on display throughout the film offers a varied palette and rich aesthetic. Sound is obviously a major factor with this release as it's being marketed to a wide audience, who are treated with two dub tracks originally produced for both the European and American home video release. As it usually goes with many dub tracks, it sounds like three people, probably all the same age, tasked with providing the dialogue. Audibly, the quality is better than the original Cantonese audio, but I would recommend the latter for added authenticity. Sound effects are very stock standard when it comes to Asian cinema from this ear. Now I know where one of my favourite PlayStation games, Jackie Chan Stuntmaster, sourced its audio. Respect!
SPECIAL FEATURES
Limited Edition O-CARD with new artwork by Darren Wheeling [2000 units]
Limited edition collector's booklet featuring new writing on the film [2000 units]
Original Cantonese audio (original mono presentation)
English dub track produced for the film's original European home video release
English dub track produced for the film's original American home video release
Newly translated English subtitles
Brand new and exclusive feature length audio commentary by Asian film expert Frank Djeng (NY Asian Film Festival)
Alternate end credits
Archival interview with Chin Siu-Hou (40 mins)
Archival interview with Moon Lee (15 mins)
Archival interview with Ricky Lau (12 mins)
Original Hong Kong Trailer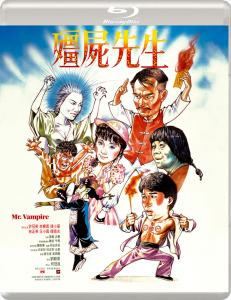 Eureka's supplemental material and viewing options clearly cater towards international customers and they have pulled out all the stops by including a slipcase with amazing new artwork, but even if you're the 2001st customer the standard imagery is equally impressive. There's over an hours' worth of interviewers from what I assume was a DVD release from 2002 and the subjects are very candid in reflecting upon making the film and the impact it had on their respective careers. Director Ricky Lau, in particular, becomes quite emotional when recounting a significant make or break moment.
Mr. Vampire spawned four sequels along with countless spin-offs and imitations. I can only imagine what they're like, but I hope that Eureka are feeling enticed to release the follow-ups at least.
VAMPIRE
(1985, director: Ricky Lau)
★★★★
direct blu-ray screen captures
You can follow cinematic randomness on Twitter and Facebook where you'll find all my cinematic exploits. Thank you for visiting!