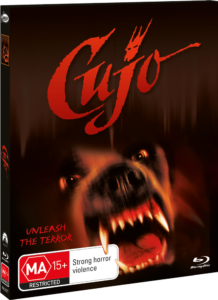 I remember my introduction to rabies came via a re-run episode of Diff'rent Strokes in which Arnold is bitten by a dog that's suspected of being rabid. While the show highlighted the severity of contracting the disease, it was nothing compared to the nightmare scenario presented in Stephen King's Cujo, out now on Blu-ray and exclusive to JB Hi-Fi.
When a curious St. Bernard is bitten by a bat while in pursuit of a bunny rabbit, the once playful and affectionate dog progressively becomes a rabid beast, attacking all who crosses its path. I didn't see Cujo until 2014 and I consider it one of the better Stephen King adaptations, even though the author himself has developed a very blasé attitude towards the movie. While the titular canine's descent into savagery serves as the crux of the film, our story follows two separate narratives that gradually merge for the film's terrifying second half. We first meet the Trentons, an upper-middle-class family under some strain due to wife Donna's extra metrical affair with a family friend while son, Tad, is afraid of monsters in his closet. Over on Cujo's side of the track, his master, a local mechanic and all-around hard-ass, Joe Camber (Ed Lauter) who lives a very abrasive working-class existence much to the anguish of his wife and child. Numerous fatal encounters with the family pet builds up the tension and danger, allowing Cujo to slowly take over as the primary antagonist for his final two would-be victims. For a very simple premise, the film is constructed in a way that gets the most out of its central idea, while playing on the notion of real-life monsters, be it man or man's best friend. Whether they're a product of nature, environment or misadventure, the terror they inflict is not to be underestimated, which the characters in this horror staple demonstrate well. Dee Wallace as Donna along with Danny Pintauro as Tad both give very emotionally charged performances when trapped inside a scorching car and the way in which Cujo is transformed into a mindless killer is impressive in terms on filmmaking, which was a combination of well-trained specimens and literally a guy in a suit.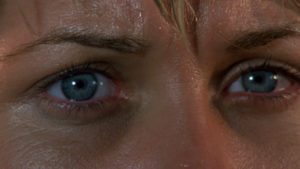 VIDEO AND AUDIO
Unfortunately, don't expect a huge improvement from Paramount's DVD as the 1.78:1 image is merely an HD upscale, presumably from the same master. That being said, the picture is by no means bad quality. It's perfectly watchable and has a nice aged look with a more naturalist colour pallet, which I much prefer to over-saturation; as an overall presentation, it pales in comparison to what is achievable with the Blu-ray format. The Dolby 5.1 track thankfully has a lot of bark, pun intended, with good volume and a nice utilisation of surround sound with English subtitles for the hearing impaired. Complete with a standard menu screen and chapter selection, which are becoming quite scarce this day, the region B disc is certainly good value for money.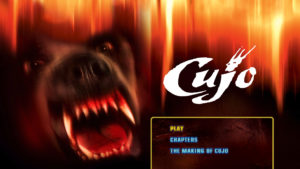 SPECIAL FEATURES
Dog Days: The Making of Cujo
Limited Edition Embossed Slipcase
Often with new editions or format upgrades of classic titles, bonus content is not always carried over, if any at all. In the case of Cujo, the 42-minute featurette Dog Days: The Making of Cujo, produced by Lionsgate in 2007 replaces Lewis Teague's audio commentary from the previous DVD release. While having both would have been ideal, the technical challenges the film presented makes for a mini-documentary about the rabid-dog horror an interesting watch. To help seal the deal for potential customers, JB Hi-Fi's 'Limited Edition' slipcase has an embossed title which feels nice against the matte finish and the overall quality of the bonus cover is decent, despite offering the same artwork.
Cujo has been unleashed at the perfect time with horror fans embarking on a month-long binge, which should definitely include this domesticated creature-feature even if you've seen it multiple times before.
CUJO
(1983, director: Lewis Teague)
★★★½
direct blu-ray screen captures
You can follow cinematic randomness on Twitter and Facebook where you'll find all my cinematic exploits. Thank you for visiting!