While much of 2020 has been a write-off due to COVID-19, the spooky season that is October is immune to social distancing and True Cult with Alex Boniwell is back with a few choice New Releases for your 'Watch-List'. Spanning the spectrum of horror, we have visitors from another world with bad intentions to something in the woods making garments out of human flesh.
PROXIMITY (2020)
Available on DVD from Eagle Entertainment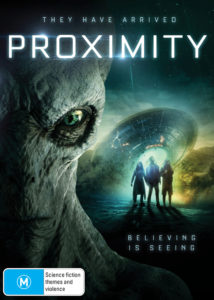 Eric Demeusy steps out of his regular VFX role (Stranger Things, Pacific Rim, Game Of Thrones, Tron Legacy and more) for his first feature and it's a crazy alien abduction tale. Issac (Ryan Mason) is a young NASA employee who no-one believes that he got taken by aliens until he meets up with investigative journalist, but all id not what it seems and Issac is plunged into a cat and mouse chase with secret government agents, cyborg police while trying to get to the truth. Proximity is a fun sci-fi adventure which reminded me of the 1983 government vs geek kids classic War Games. There are also big chunks of THX1138 (the cyborg police), E.T. and Close Encounters Of The Third Kind along the way – this will either delight or infuriate you, depending on how seriously you take this b-grade sci-fi adventure.
PROXIMITY (2020)
(2020, director: Eric Demeusy)
★★★
---
WE HAVE ALWAYS LIVED IN THE CASTLE  (2018)
Available on DVD from Eagle Entertainment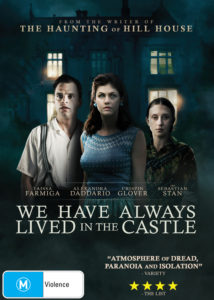 Sisters Merricat (Taissa Farmiga), Constance (Alexandra Daddario) and their Uncle Julian (Crispin Glover) live on the outskirts of town in a grand house that had, six years earlier, seen the tragic death of Merricat and Constance parents. Merricat (the youngest sister) uses magic to protect her remaining family from the unwanted attention of the locals but when conniving cousin Charles turns up wanting a slice of the family fortune things start to go wrong. The film has a naive ambiguity about it too (on behalf of the eldest sister Constance, who is in serene housekeeper/mother mode at all times) and you are never quite sure how their situation came about (you know they are orphaned but the circumstances are odd) or indeed why, as a family, they are disliked quite so much by the everyday folk in town. It is reminiscent of a Del Toro film in the way it dealt with magic (although never as fanciful as a Del Toro movie) and director Stacie Passon gives the film a dark fairy tale feel that highness the feeling of other-worldliness that the sisters and Uncle seem to live in. A very stylish and intriguing film that has you wondering if it is all real or somehow imagined by the main characters.
WE HAVE ALWAYS LIVED IN THE CASTLE
(2018, director: Eric Demeusy)
★★★★
---
WRETCHED  (2019)
Available on DVD from Rialto Distribution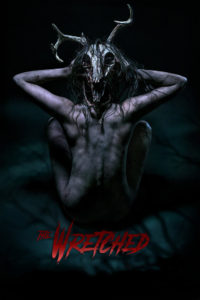 One of the stranger things 2020 threw up was that a low budget horror could be the US number 1 box office film as it is the perfect drive-in movie – and as 2020 is turning the world on its head, it makes sense. So the buzz for The Wretched (directed by brothers Brett Pierce and Drew t. Peirce) was already more than they could have ever imagined, how does that translate to home viewing now we get a chance to see it? Well, the answer is it is a really solid horror. Ben (John-Paul Howard) is a teen whose parents are divorcing and is spending the summer at his dad's coastal home. But there is something in the woods, something dark, something that will skin the woman next door, wear her flesh and try to devour everyone else. Ben, of course, realises something is up (in a great nod to Fright Night) and the battle between teen and a 1000-year-old witch is on. This is great, full of everything you need for a superb Saturday night popcorn and jump scares movie. Incredibly enjoyable b-movie shock-fest with some great practical effects and some excellent creepiness.
WRETCHED
(2019, director: Brett Pierce, Drew T. Pierce)
★★★★
reviews submitted and written by Alex Boniwell – for past episodes of True Cult visit Rhianna Patrick on ABC Radio