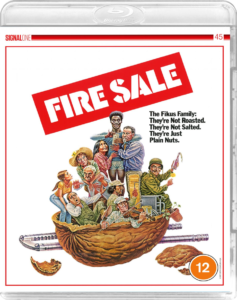 Alan Arkin, an equally comedic and dramatic actor, has only directed two feature films; the first being Little Murders (1971) and the second being the more obscure, Fire Sale, which has made its Blu-ray debut under the UK label, Signal One Entertainment.
With his department store on the verge of bankruptcy, Benny Fikus (Vincent Gardenia) takes a vacation to hatch a scheme with his senile brother-in-law in order to solve his financial troubles. Left in charge of the failing family business is Benny's put-upon son, Russel (Rob Reiner), who hopelessly tries to turn things around while his brother Ezra (Alan Arkin), a failing basketball coach, struggles with work and his wife's insistence on having a baby.
Clearly, there's a lot going on in Fire Sale, which is played as a screwball comedy, often reassembling Looney Tunes, with such classic gags like people surviving fiery explosions and impromptu odd behaviour, like Russel's stress-induced asthma attacks, which sound nothing like asthma attacks. It's a fast-moving comedy that sometimes becomes a little too silly, with jokes often outstaying their welcome or being overplayed. However, I found enjoyment with the more subtle humour or the characters who played it straighter, like the family matriarch, Ruth (Kay Medford) who often can't seem to distinguish reality from fiction.
Ezra's subplot of killing two birds with one stone when he adopts a talented 16-year-old ball player to quiet his wife and finally win a game for the local high school is also quite funny due to the growing absurdity of the situation. Arkin plays Ezra in typical fashion, that of an overly stressed individual constantly making wisecracks while scrambling about, and the eventual merging with the film's main assortment of hijinks comes to a very chaotic climax.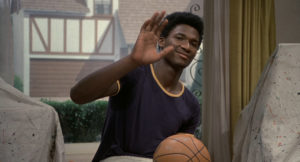 VIDEO AND AUDIO
For your viewing convenience, this dual-format release comes presented in 1.85:1 with a 1.0 Mono PCM audio track, which is a little low in volume, so I would suggest optimising your sound system accordingly should you have the ability. Picture is impressive for a debut release, which offers a lot of detail and texture, while the colour has a typical 70s aesthetic. Interesting runtime varies by three minutes between the discs with the Blu-ray clocking in at 91-minutes while PAL formatted DVD9 comes in at 88-minutes, although you won't notice.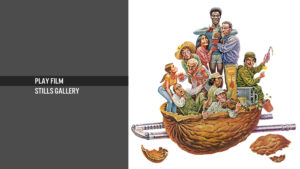 SPECIAL FEATURES
Signal One Entertainment keep things simple with a templated menu screen that's in uniform with the packaging and to compliment this debut release of Fire Sale a gallery of high-quality production stills is a nice bonus.
Fire Sale may not be up there with the more popular and well-now 70s comedies, like The Jerk and Blazing Saddles, but is definitely nuts like the film's tagline suggests and more importantly it's another title from the 20th Century Fox back-catalogue that gets to see the light of day once more.
FIRE SALE  
(1977, director: Alan Arkin)
★★★½
direct blu-ray screen captures
production stills provided by Signal One Entertainment
You can follow cinematic randomness on Twitter and Facebook where you'll find all my cinematic exploits. Thank you for visiting!