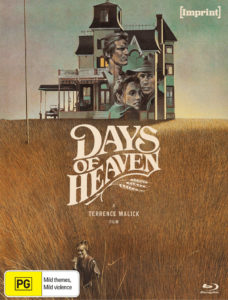 I was quite put off by Terrence Malick's style of cinema, which was introduced to me via the very experimental Tree of Life, but I've since then I've warmed to the director after watching two of his early classics, the more straight-forward, Badlands, and most recently Days of Heaven, which is out now on Blu-ray from Imprint Films.
In what might be the most breathtaking film ever shot, a factory worker, Bill (Richard Gere) with a short fuse flees from Chicago with his girlfriend, Abby (Brooke Adams) and younger sister, Linda (Linda Manz) to the Texas Panhandle, where the three are hired as seasonal workers during a wheat harvest. It's here among the vast rural setting where Abby catches the eye of their sickly but shy boss (Sam Shepard).
Days of Heaven feels like a dream, beginning with a poignant look through various photographs from the early 20th century which epitomise the harsh reality of American's working class in its rapidly growing cities. As we hop a train with our principal cast, we arrive at a place with an otherworldly aura, where a majestic homestead overlooks seemingly endless fields. Watching the countless folk work from sunrise to sunset evokes an almost haunting sensation as if we're watching the spirits of the nation's past, whose efforts contribute to the feeding of millions. In today's society, where success is often equated with excess, the very minimalist style of living enjoyed by those working the land makes me a little envious, especially the simple pleasure of a hardy meal after a long day. I think there's something very admirable about people who are content with a basic, and mundane daily routine.
While there is very much a story being told between our characters, it's not so much explained through dialogue, but rather close up expressions, distant stares and moments of rest. All of which are accompanied by a very candid and unscripted narration from the late Linda Manz, who gives her very wonderous thoughts and observations over the course of the film, allowing the viewer to see this beautiful natural work through a child's eyes during several fleeting moments.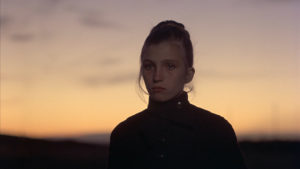 VIDEO AND AUDIO
Even though it was released earlier this year in the U.S. directly through Paramount, this 'Limited Edition' from Imprint Films, avoids the standard treatment with bad photoshop cover design while serving as a nice rival to Criterion's Blu-ray from 2010. However, the transfer appears to be the same, which is a little dated by today's standards. Nevertheless, the naturalistic colour pallet looks nice via the 1080p rendering, presented in 1:78.1 widescreen and the DTS HD 5.1 track definitely complements Ennio Morricone's dreamlike score. Additionally, there's LPCM 2.0 Stereo track of equal quality and English HOH subtitles are included.
SPECIAL FEATURES
1080P High definition restored digital transfer, supervised and approved by director Terrence Malick
New Audio Commentary by film scholar Adrian Martin (2021)
New editor featurette with Billy Weber (2021)
New composer featurette with Film Historian Jeff Bond (2021)
New Visual essay on Linda Manz by filmmaker Chris O'Neill (2021)
English Dolby Digital 2.0/5.1
Trailer
English subtitles
Limited Edition slipcase on the first 2000 copies with unique artwork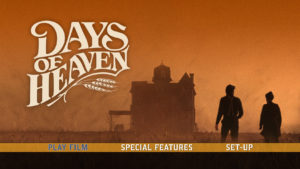 A positive for both new and previous owners of Days of Heaven on Blu-ray is that all the special features on this release are exclusives. The film's reliance on breathtaking natural scenery and cinematography make it a great fit for Imprint's COVID-era audio interviews, which are presented over non-spoiler scenes. First up, editor and close friend of director Terrence Malick, Billy Weber, gives a 20-minute overview of the movie's making-of process from pre-production to distribution. Especially interesting are the filmmaker's insights and anecdotes concerning casting, troubles while shooting, and how the feature's trademark voice-over from Linda Manz came into fruition. Film Historian Jeff Bond's rundown on Day's of Heaven's score is short, but an equally in-depth explanation of the soundtrack's conception by legend Ennio Morricone and application by Malick. The film's storytelling through imagery vs dialogue also works well with Imprint's method of presenting visual essays, unlike previous releases, the film's audio track does not distract from the words on the screen which in this instance concerns the life of Linda Manz and her contributions to her character.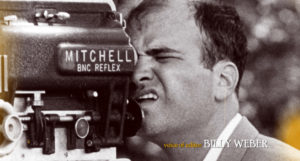 Upon first glance, you may get the impression that Days of Heaven is a longwinded two-hour-plus epic, but it's surprisingly short at 93 minutes, yet feels like a big-budget production despite being made for only $3 million. While undoubtedly cinematic in practically every sense, there's a stunning level of authenticity, all the way down to the actor's performances, which feel very natural in their delivery. You won't be bored. It's absolutely stunning.
DAYS OF HEAVEN
(1978, dir: Terrence Malick)
★★★★½
Head over to the Imprint Films Facebook page for the latest releases, giveaways, great deals and more!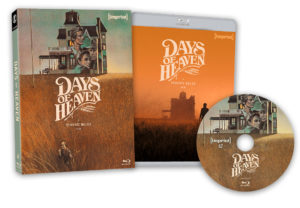 direct blu-ray screen captures
You can follow cinematic randomness on Twitter and Facebook where you'll find all my cinematic exploits. Thank you for visiting!