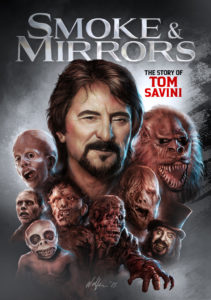 Tom Savini has literally had his hands on some of the most famous horror movies ever made, such as George A. Romero's seminal undead classic, Dawn of the Dead, along with Friday the 13th and Creepshow just to name a few; but who's the man behind the many masks he meticulously crafted to the delight of horror fans?
Smoke and Mirrors: The Story of Tom Savini, now available on digital platforms in Australia and New Zealand, is a candid inside look at Savini's life from childhood to the present day, directed by fellow make-up effects artist, Jason Baker (no relation to Rick Baker).
Most of us know the story about how the horrors of the Vietnam War inspired Savini's work in creating bodily gore for the screen, and while that's mostly true, it was his fascination with simple magic tricks that planted the seed for what would become his profession for the coming decades. I enjoy hearing these origin stories of film icons, especially those of Savini's generation, who were exposed to the public resurgence of Universal's Monster Classics in the early 60s and the slew of public access television programs like Chiller Theatre, based in Savini's hometown of Pittsburgh, Pennsylvania. Smoke and Mirrors does a good job of exploring the artist's roots while conveying how Savini saw the world a little differently from most people. His time in Vietnam is undoubtedly the biggest indicator of his somewhat warped creative prowess.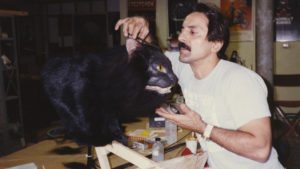 In addition to his sought-after behind-the-scenes work, Savini is no stranger to acting and stunt action, which this documentary highlights via an impressive showreel of his many on-screen appearances. Many of his contemporaries offer their two cents on Savini, such as Tom Atkins, Sid Haig, George A. Romero and Doug Bradley, who open the feature in a traditional carnival sideshow fashion, complete in black and white.
Smoke and Mirrors didn't have the biggest budget, which is a little telling at times through the editing and production value, but the effort is there and those helping to tell Savini's story are clearly fans like you and me. Tom even lets us into his personal life, reflecting on growing up in a typical immigrant house, and his romantic relationships. He's been around the block a few times but remains a very dedicated father to his children, some of whom share his passion for horror artistry. If you have access to this 91-minute doco, it'll lift your mood and remind you why horror movies from a bygone era are awesome.
SMOKE AND MIRRORS: THE STORY OF TIM SAVINI
(2015, dir: Jason Baker)
★★★½
stills provided by Wild Eye Releasing
You can follow cinematic randomness on Twitter and Facebook where you'll find all my cinematic exploits. Thank you for visiting!